Varta Silver Dynamic Auxiliary battery range is now available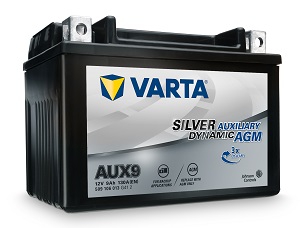 Varta has introduced its new Silver Dynamic Auxiliary battery range in the UK market to address the increasing electrical loads to support comfort features, safety devices, and fuel-saving functions in modern vehicles. The Silver Dynamic Auxiliary range provides two different technology solutions — AGM and conventional flooded – to support this increasing electrification especially in dual-battery systems.
Many vehicles with an internal-combustion engine have two batteries; a regular 12 volt starter battery and an auxiliary battery – known as a "dual-battery system." More than 10 per cent of the car parc with start-stop technology are already equipped with dual-battery systems in order to meet the increased power demands. This percentage is expected to grow even further with the ever-growing number of electrical consumers in start-stop cars. The Varta Silver Dynamic Auxiliary is designed to support back up applications. Popular vehicle models, such as the BMW 5 series, Volvo V40 / V60, and many Mercedes models are all equipped with an auxiliary battery.
Depending on the make and model of the car, auxiliary batteries service different functions. These include: The increase of the start-stop function's duration, support of comfort functions during engine start, support and protection of electrical systems (i.e. brake-by-wire) and emergency support. By providing both AGM and conventional types, Varta offers a "like-for-like" replacement option. When it comes to replacing a weak or defective auxiliary battery, it is vital to rely on a high performing substitute.
Designed to support back up applications
All Varta Silver Dynamic Auxiliary batteries are specifically designed for backup applications. Both the AGM and conventional flooded are maintenance free and equipped with a flame arrestor. An EN compliant degassing hole is also built-in to enable the installation in the passenger cabin and luggage compartment. The Silver Dynamic Auxiliary AGM is spill and leak proof, and comes with three times the cycle life of a conventional flooded battery. To avoid the risk of malfunctions and car breakdowns it is important to always replace an AGM auxiliary battery with another AGM auxiliary battery.
The Silver Dynamic Auxiliary batteries come in two technologies and three case sizes.
Not sure where the battery is located or which technology to choose?
When it comes to the replacement of auxiliary batteries it is essential to know the different installation positions depending on car make and model.
Varta provides workshops with the Varta Partner Portal. Many workshops rely on the portal's battery position guide, battery selection section, fitting instructions and battery knowledge page. All the information can be found on any internet-enabled device. This ensures that the Varta Partner Portal is available anywhere and at any time.