The Motor Ombudsman wins TyreSafe Online and Social Media award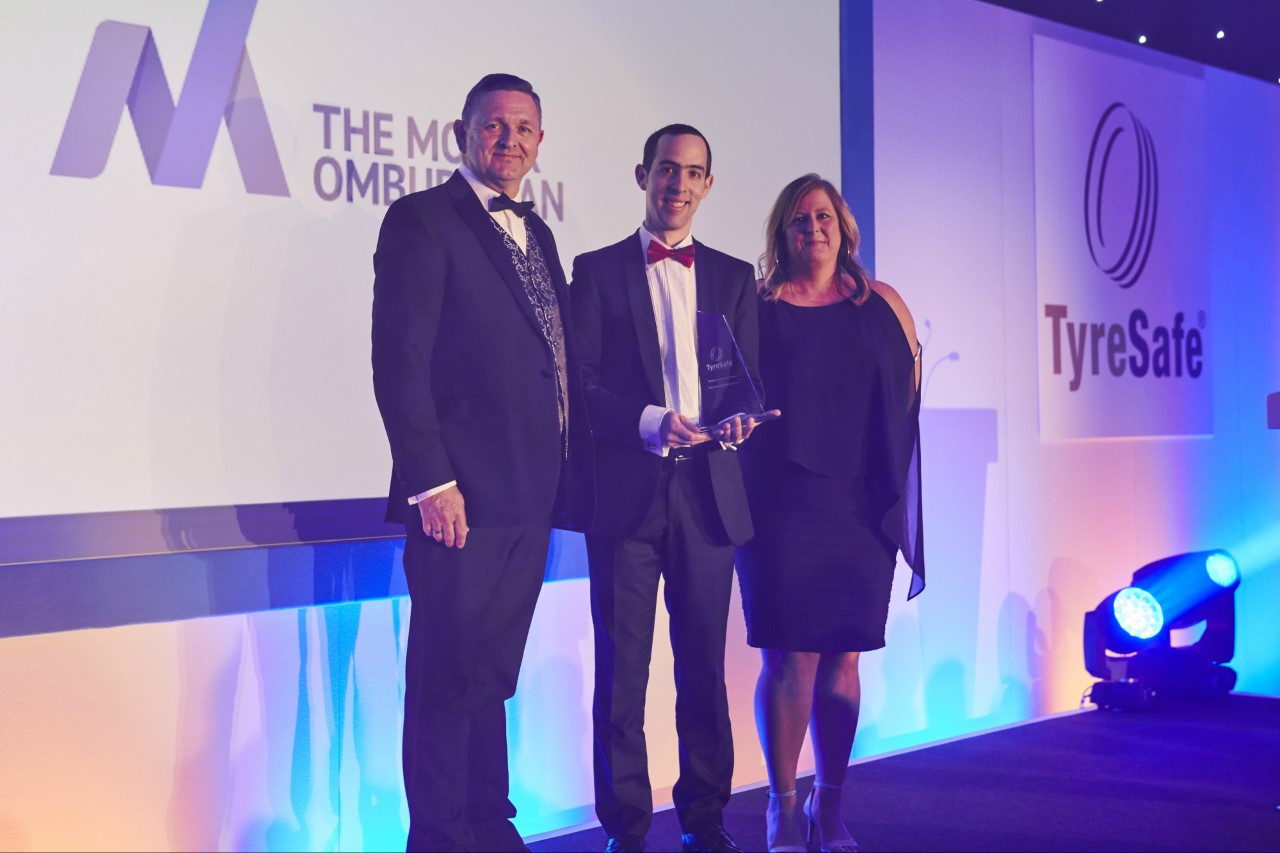 The Motor Ombudsman won the 2019 TyreSafe Online and Social Media award. The tyre safety charity's annual prize giving ceremony, which was recently held at Staffordshire's St George's Park, the home of the National Football Centre, acknowledges businesses and individuals, across eleven different categories, who have made a significant contribution to raising awareness about tyre safety-related issues during the past 12 months.
The Motor Ombudsman was presented with the highly sought-after trophy by sponsor, Hankook Tyre (UK) Ltd, and Stuart Jackson, chairman of TyreSafe, in recognition of the body's winter tyres campaign, launched in the run-up to the 2018 Christmas holiday getaway. It followed the findings of a Motor Ombudsman-commissioned YouGov poll, which revealed that nearly 90 per cent of UK motorists were not familiar with the differing rules governing this type of tyre when driving in Continental Europe. The study also showed that only one in 10 people knew that they would need to change their car tyres to be legally compliant at their destination. The results of the research were widely publicised in the press, whilst the associated posts on social media equally reached a large audience.
To help plug this "gap" in consumer knowledge, The Motor Ombudsman developed new online resources for consumers, including a frequently asked questions page (TheMotorOmbudsman.org/winter) which explains the benefits of winter tyres versus summer equivalents, as well as the merits of cold weather accessories, such as snow chains and socks. In addition, the informative and narrated "Getting to grips with winter tyres" video was also introduced on The Motor Ombudsman's website and on YouTube to take consumers on a journey through the world of winter tyres, in an engaging and non-technical way. Stills from the animation, including stopping distances in the snow, how to find a garage to have winter tyres fitted, as well as a map of where they are mandatory when across the English Channel, were also shared on Facebook and Twitter to reinforce the importance of safety when on the road.
Explaining the decision to award the Online and Social Media trophy to The Motor Ombudsman, from the shortlist of four organisations, Zoe Baldwin, marketing manager of Hankook Tyre (UK) Ltd, explained:
"The judges had a tough time in separating the entries in this category as they were of a very high standard. However, the winner's campaign was outstanding and highly visible, specifically targeted at driver education, and had a very professional appearance to their materials. It's good to have The Motor Ombudsman on board to help raise awareness of issues across the sector."
Stuart Jackson, chairman of TyreSafe, added: "The role of online channels is crucial in spreading the tyre safety message and provides a unique means of engaging with audiences."
Bill Fennell, chief ombudsman and managing director of The Motor Ombudsman, said: "We are extremely proud to have won the award, and it is an honour to be recognised for our hard work that went into the campaign. The subject of consumer knowledge on winter tyres when driving abroad hadn't been widely publicised, and the results of our study clearly demonstrated that further education was needed in this area. This gave us an opportunity to introduce new resources to enhance the knowledge of motorists on this topic and to underline the importance of using a garage which is accredited to a recognised Motor Industry Code of Practice for Service and Repair, for both winter maintenance and all year round. Going forward, tyre safety will continue to play an important role in our marketing programmes, and we will continue to share the valuable guidance issued by TyreSafe."