Dunlop: 3 new motorcycle tyres on their way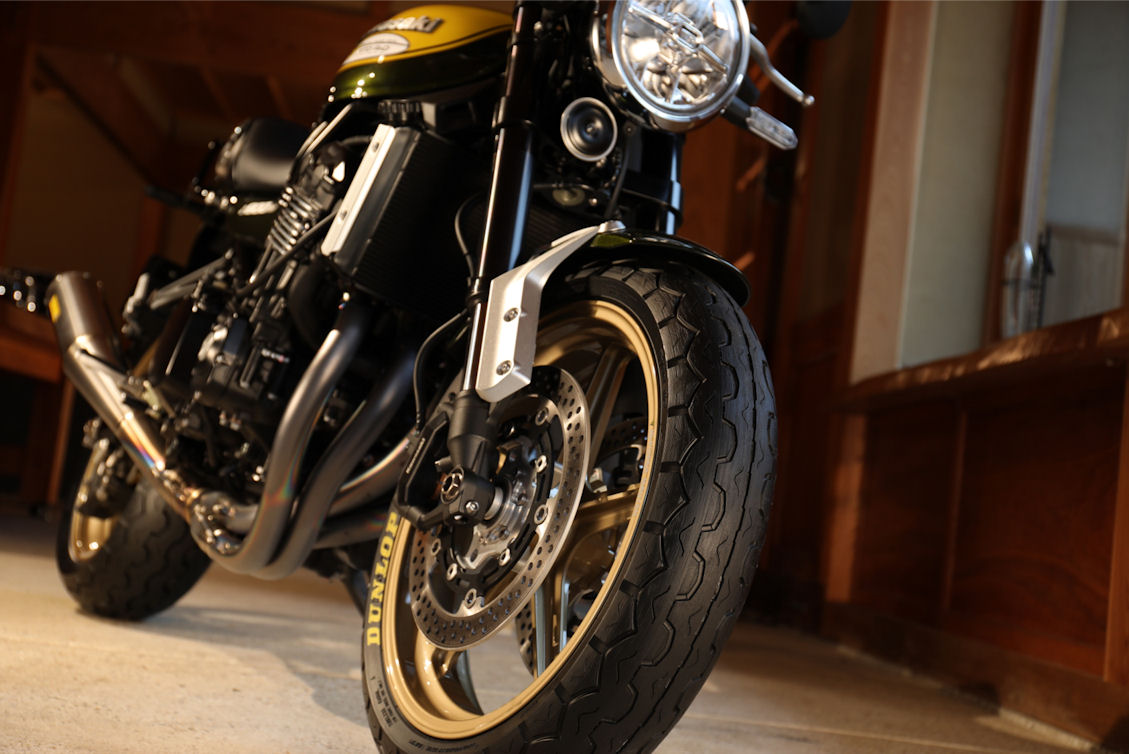 Three new Dunlop motorcycle tyres are scheduled for release in the second half of the year, and with this trio the tyre brand aims to create its "strongest-ever portfolio. The planned launches include a retro-styled tyre featuring modern technology, a new addition to the Geomax range and a trail tyre that "promises to showcase Dunlop's interpretation for this trendsetting segment."
Trailmax Meridian
Details about the latest Dunlop tyre for the adventure market will soon be revealed. What we know so far is that the upcoming product is called Trailmax Meridian and is aimed at riders who used their bikes as "two-wheeled SUVs" and seek strong wet performance, sporty handling, high mileage and off-road adaptability.
"For tyre designers, that's a tough brief but Dunlop has fused the experience of their sports bike and off-road development teams to create a tyre that can conquer this challenge." This latest addition to the Trailmax range will be on sale by the end of 2019.
Geomax EN91
This Autumn, Dunlop will offer a key addition to the Geomax range, the all-new EN91 enduro. This new product will be targeted at the enduro competition market, with compound and construction features designed to maximise the performance throughout long-distance cross-country time trial competitions.
TT100 GP
Retro sports roadster is one of the fastest growing motorcycle market segments in Europe. From BMW Cafe Racers to Yamaha XSRs, the combination of searing modern performance with a nostalgic vibe has captured the imagination of riders. Dunlop's research indicates that many riders want the very latest tyre technology to match the performance of their bikes, but seek a tread pattern with a retro feel to reflect their chosen model's image.
In August, Dunlop will launch a tyre to meet those needs, drawing inspiration from one of the company's greatest racing successes, the TT 100 GP, the first tyre capable of reaching 100 mph average speed on the famous TT course.
"In the last two years, Dunlop has focused on hypersport tyres with an unprecedented five new tyres, all receiving test success and accolades from experienced journalists," comments Luca Davide Andreoni, marketing manager, Dunlop Motorcycle Europe. "Behind the scenes, we've been working on achieving the same heights in other segments too. An exciting but challenging segment is the Trail market. Dunlop has chosen to invest here with Trailmax Meridian – a brand new product design for adventure-seeking riders who are waiting to experience something new for their bikes. On the off road-enduro side, the new Geomax EN91 will move the game on, completing an offer that has already proven to be one of the most competitive in the market. Finally, TT100 GP will offer a vintage sport alternative to our existing hypersport line-up, catering for the retro classic trend we've been seeing in the market in the last few years."
Edouard Carpentier, general manager, Dunlop Motorcycle Europe, adds: "We believe that Dunlop dealers will have the strongest portfolio ever to offer their customers by the end of 2019. Dealers and riders cannot help but have noticed our pace of development in the hypersport market over the last two years, but our passion to innovate is wider than just the sport sector. These new tyres give a truly global portfolio that delivers safety, quality, performance and riding enjoyment for every type of rider. Dunlop commitment to innovation is relentless. Our wins this year in Pro Motocross, Supercross, Women's Motocross, Endurance racing and Dunlop being the most successful tyre of the 2019 Isle of Man TT show our team is building on the winning mindset that began over 130 years ago."