BBS: Handbrake to be released in aftermarket business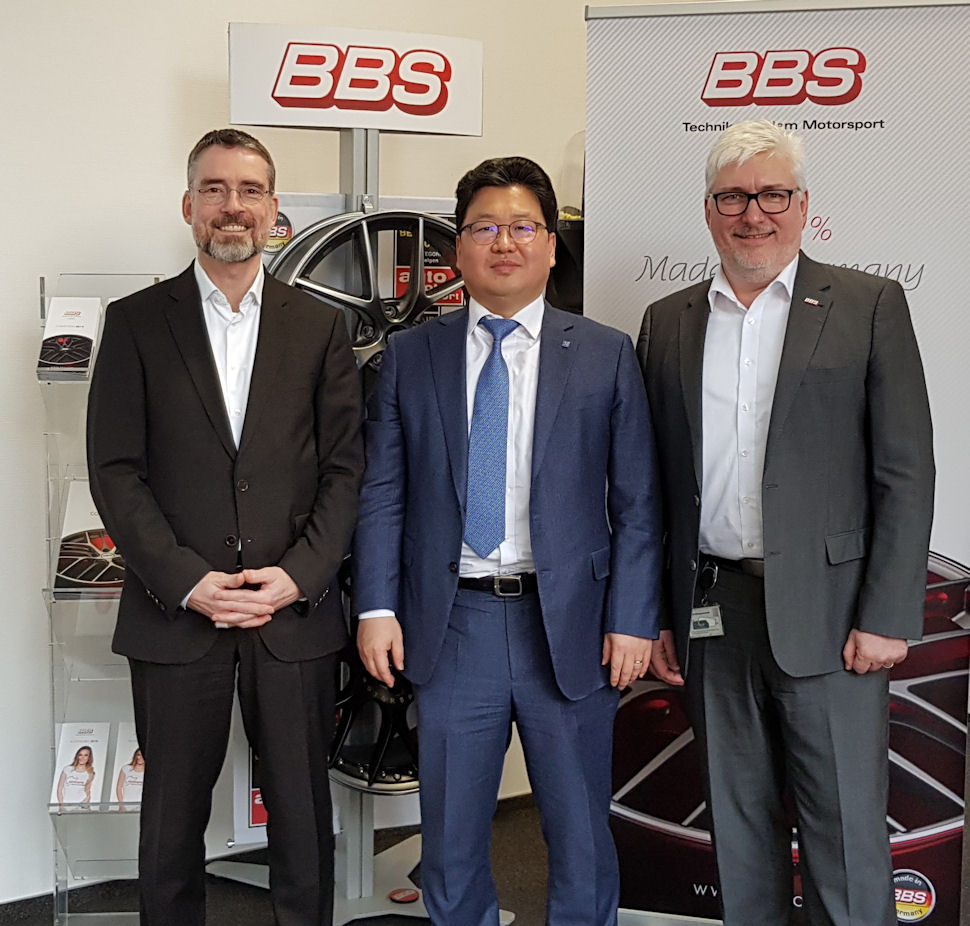 Donghyun Jin has always been a big city lad, but of late he's downsized. From Seoul and its population of ten million to a village of 3,850 in Germany's Black Forest. Donghyun Jin, senior director of the Manufacturing division at NICE Holdings (majority shareholder of the BBS Group since 2015) arrived in the village of Schiltach as interim chief executive officer of BBS in order to navigate the alloy wheel manufacturer through the turbulent waters of Dieselgate and the introduction of WLTP.
He's joined in this capacity by Erwin Eigel as chief strategy officer and Jürgen Klingelmeyer as chief operating officer. Jann Dittmann continues as chief financial officer. Former chief executive officer, Heinz Bartosch, was released from his duties on 2 November 2018.
Jin aims to establish a new BBS corporate culture that is characterised by creativity and flexibility. Creativity is Erwin Eigel's remit; Eigel cut his professional teeth in the wheel industry and since 2012 has worked on expanding the aftermarket business at BBS. Jürgen Klingelmeyer is responsible for flexibility; he's also been with BBS since 2012 and has held a range of positions within the company. With the appointment of these two long-time employees to the company's management team, NICE Group appears willing to draw upon existing experience and place responsibility upon more than just one pair of shoulders.
"Heinz Bartosch was employed in late 2016 as sole managing director to strengthen and further expand the OEM business. His character and his competencies were a good match for this business," comments Jin. "The order books were full and sales of rims rose to more than 800,000. Turnover passed the 100-million-euro mark and the workforce grew from 550 to 680. But then came Dieselgate and the emissions scandal. Such a situation requires different leadership. And through the right people in the right places, we want to provide the company with another corporate culture and structure."
Plans call for improved internal communications and greater flexibility in order to respond to changes within the market more rapidly. Temporary employment contracts are being individually examined as part of the company's reorganisation, and contracted positions will be cut wherever possible. Jürgen Klingelmeyer comments: "Due to capacity utilisation we've reduced the shift model from a four- to a three-shift operation in most areas. Weekend shifts are only implemented for thermal processes and if demand increases. We need to align the employee headcount with capacity and customer needs."
Aftermarket business was driven with the handbrake on
Numerous trophies in Erwin Eigel's office testify to the BBS brand's strength and its global recognition. The company has gone home with almost every piece of silverware on offer for years now. Recent honours from European car magazines such as Auto Bild, Auto, Motor und Sport, Sport Auto and Auto Illustrierte (see textbox) are just a few examples. BBS exhibited at the SEMA show in Las Vegas on four consecutive occasions and, according to the company, has trebled its turnover from wheels in Asia over the past six years. "And this is exactly where we have to start and further expand the aftermarket business. The BBS brand should no longer be treated as secondary," comments Jin, reflecting that this happened in the past. "Due to the many orders from our OE customers and commitments undertaken to this end we couldn't expand the aftermarket. We used all capacities for the OEMs. And we thus couldn't achieve the rate of growth we set for ourselves," shares Eigel. Klingelmeyer adds: "In the aftermarket we drove with the handbrake on."
Of course, an expansion of the BBS brand shouldn't mean that OEMs must go without deliveries. "We know who we owe our sales to." Porsche remains the largest customer the wheel manufacturer works with. It also supplies to Audi, AMG, Bentley, Lamborghini as well as BMW and Jaguar Land Rover. "Meanwhile we're also in talks with new premium customers," says Eigel. "One thing is important for us – we must find the right balance. First between the OE business and aftermarket and then within the OE market."
650,000 rims sold in 2018
From the 650,000 rims sold last year, 95 per cent were flow formed wheels and five per cent cast wheels. The most popular sizes were 19-, 20- and 21-inches. BBS holds a double-digit market share within the premium aftermarket segment (Eigel counts five players active here). Donghyun Jin will remain in the Black Forest for a while to come and continue to lead the company's realignment. Erwin Eigel und Jürgen Klingelmeyer both agree that "the shareholder's active presence is an important signal for the local management and a confidence-building measure for the entire BBS environment."