10th tyre test success for Pirelli Scorpion Trail II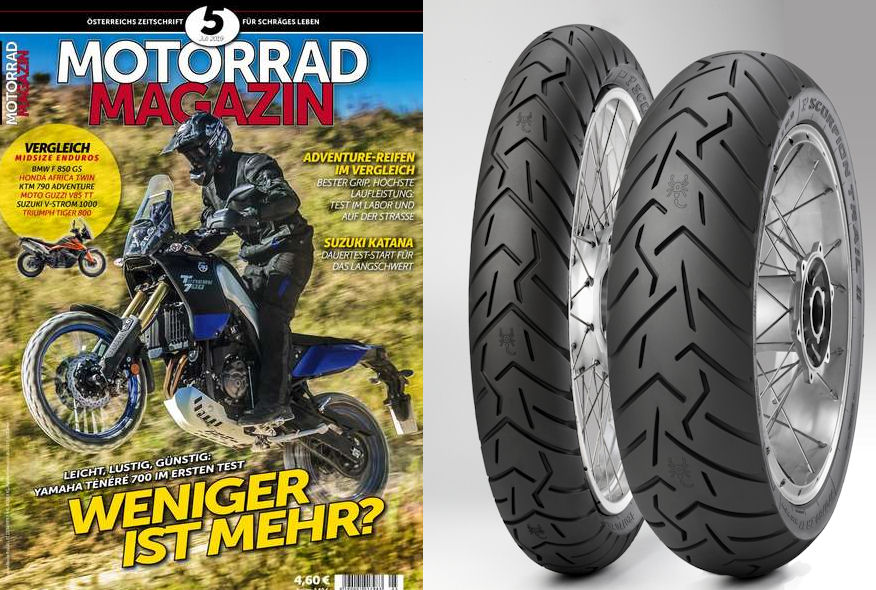 Pirelli is happy about the "tenth important recognition" its Scorpion Trail II has gained in a comparative test. It says the tyre's strong performance in the test conducted by Austrian motorcycling publication Motorrad Magazin (issue 5/2019) "confirms its position at the top of the enduro street segment."
Accolades received since the Scorpion Trail II's introduction in 2015 include a test win in German magazine Motorrad in its debut year and again in 2016. Other successes in 2016 include in tests conducted by InSella, Moto 80, Moto Magazine, Motociclismo España, Motoplus and Red-live.it. Motorrad&Reisen praised the Pirelli tyre in 2017.
Commenting on its latest evaluation in Motorrad Magazin, Pirelli writes: "This recognition further reinforces the supremacy of this tyre in its segment, also underlining how, four years after its introduction on the market, no other tyre manufacturer has managed to match the performance offered by the technological solutions adopted by Pirelli."
The editors of the Austrian magazine compared tyres from five different manufacturers in a 120/70 ZR19 front size and 170/60 ZR17 for the rear wheel, mounted on a KTM 1290 Super Adventure S. Alongside Pirelli's Scorpion Trail II, they tested the Continental Trail Attack 3, Dunlop Trailsmart Max, Bridgestone A41 and Avon Trailrider.
Motorrad Magazin did not crown a particular tyre its test winner – the publication simply wrote that readers can "decide for themselves which tyre is best suited to their personal purposes based upon our detailed evaluation." And while the testers reported that the Pirelli tyre had the longest service life, they commented the Continental Conti TrailAttack was their favourite when looking at sporty performance and controllability on both asphalt and off-road surfaces.
Other 2019 tyre test successes for Pirelli's two-wheel products include a win for the Angel GT II in the sport touring tyre comparative test promoted by Italian magazine Motociclismo and one obtained with the Scorpion Rally in the enduro on/off comparison organised by German publication Motorrad.