Nexen adds to car, 4×4 line-ups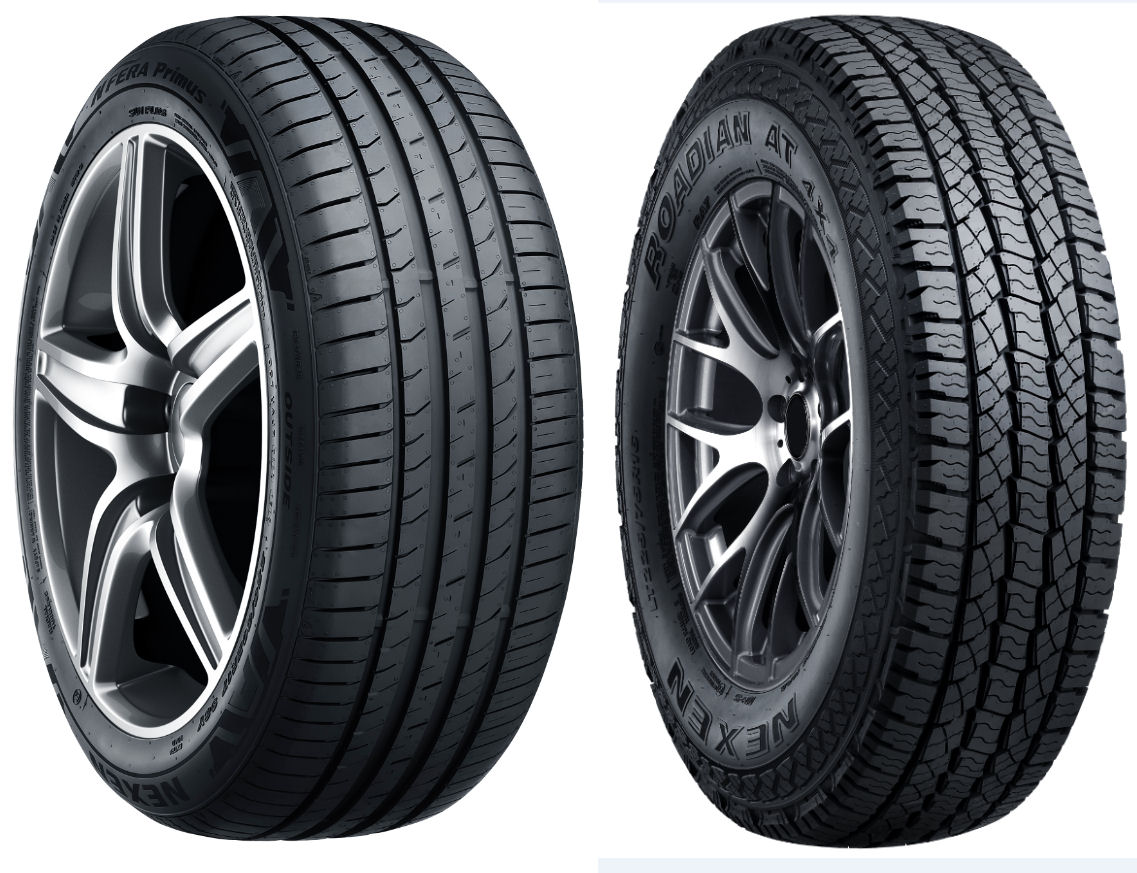 Following on from the two tyres launched last year, the N'Fera Sport and Winguard Sport 2 SUV, Nexen Tire has introduced further additions to its portfolio. The company presented the new pair, the Nexen N'Fera Primus and Nexen Roadian AT 4×4, at the Autopromotec show in Bologna this month.
The N´Fera Primus sits in the summer UHP segment alongside the N'Fera Sport, yet Nexen is targeting a different driving group with the new tyre. While the focus for the N'Fera Sport is on sports driving, the N'Fera Primus was developed for drivers of small to medium-sized cars who place an emphasis on comfort, smooth running and mileage, as well as safety features.
The tyre's tread pattern is asymmetric and features four circumferential grooves. Nexen Tire says the pattern offers "enhanced wet and dry braking performance," while the tread pattern and high silica compound improve handling performance. "N´Fera Primus meets all requirements on an innovative UHP summer tyre designed for strong key performance during all driving conditions," comments Nexen Tire.
"With the presentation of our new summer tyre UHP programme, we set the basis for the growth, particularly in the European market," says John Bosco Kim, chief of sales and marketing, Nexen Tire Europe s.r.o. "We have strengthened ourselves by the development of a second UHP summer tyre pattern with excellent performance under all driving conditions. Continuous R&D investments in our PCR segments make our tyres more attractive for customers who expect most value and quality for their money."
The N´Fera Primus will be produced in Nexen Tire's new factory in Žatec, Czech Republic, where production commenced last month. A total of 32 dimensions will be available in 16- to 18-inch rim diameters, widths of 185mm to 245mm and 55 to 40 aspect ratios.
Roadian AT 4×4: complies with 'strict' EU noise regulations
With the Nexen Roadian AT 4×4, Nexen Tire offers SUV drivers an all-terrain tyre that's been developed to meet noise level requirements for the beefed-up European tyre label, which may arrive as soon as next year.
According to Nexen Tire, the Roadian AT 4×4 features a tread pattern design that has been optimised to maximise performance on dry, wet, snowy and icy surfaces while maintaining a low noise level. Furthermore, Nexen says the tyre shows "superior off-road performance" thanks to a dual-block design that prevents debris build-up and self-cleanses the tread blocks for superior grip.
"We have strengthened us in this year for the development of the SUV business, decided to make our offer also in this area even more attractive," comments Kim.
The Roadian AT 4×4 will be available this year in 16 dimensions for 15- to 18-inch rim diameters, widths of 205mm to 265mm and 80 to 60 aspect ratios.