ATG introduces latest OTR tyres for backhoe, skid steer to heavy loaders, forklifts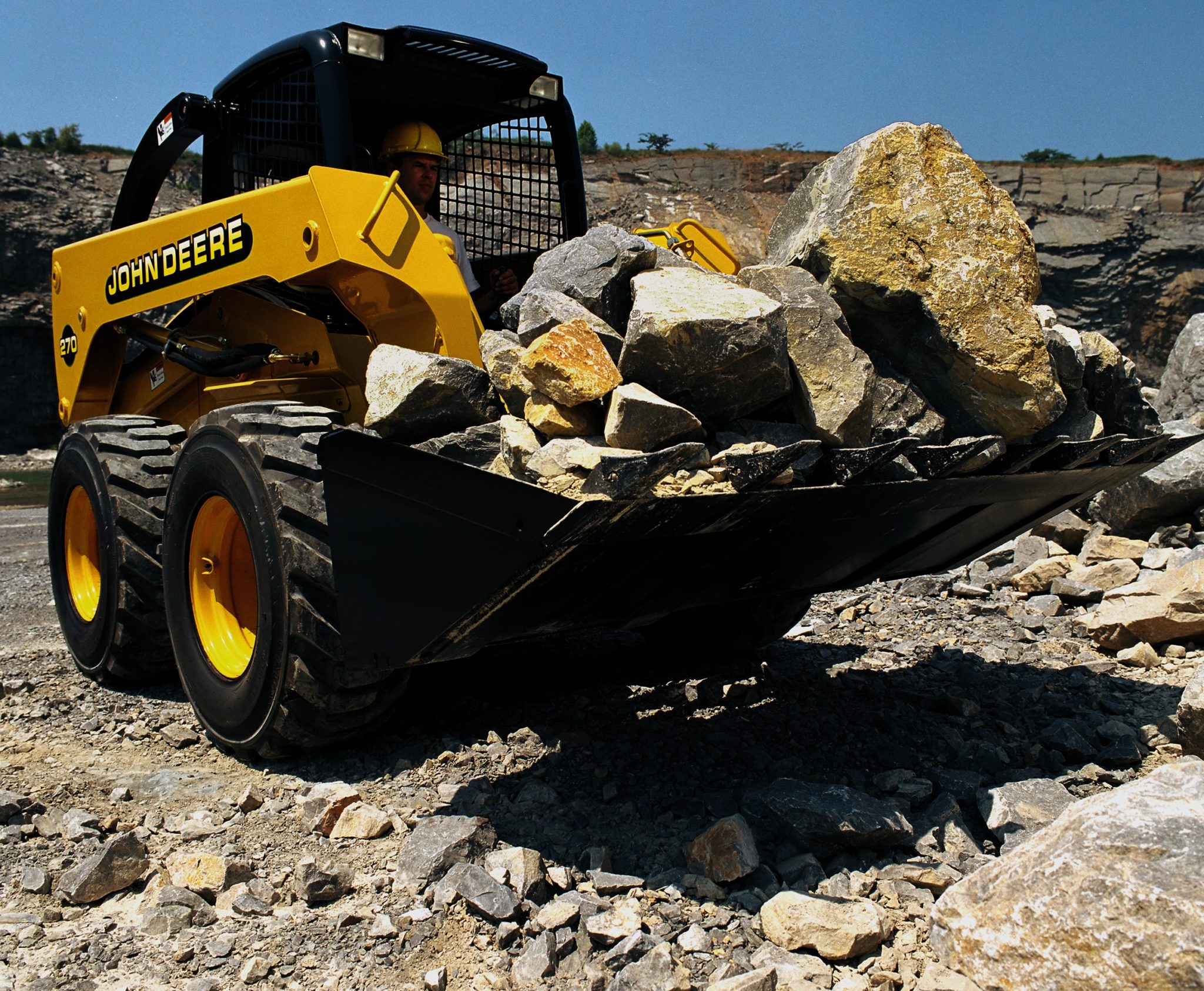 Alliance and Galaxy brands show boosted line-ups for the segment at BAUMA
Alliance Tire Group (ATG) present its latest Alliance and Galaxy branded OTR products for a wide range of machines, from backhoe and skid steer loaders to excavators, heavy loaders and forklifts, at BAUMA. The newest tyres included the Galaxy LHD 500 SDS for heavy forklifts and wheel loaders and the Alliance A585 for compact and backhoe loaders. The company said its exhibition represented a strong cross-section of its high-performance portfolio for a broad range of operations and machines, offered at a price-point to target value for money. ATG claims to have "the most extensive tyre portfolio in the industry", with almost 3,000 SKUs available. Its latest solid tyre expansion has allowed it to offer solutions for more machines, applications, and tyre sizes, it adds.
Alliance launches A585 for compact, backhoe loaders
ATG introduced the Alliance A585, developed for construction machinery such as compact and backhoe loaders. ATG says the A585 offers excellent traction on dry, wet and wintery surfaces. It adds that the tyre also features superior puncture resistance and extremely low wear, particularly when used on hard and highly abrasive surfaces.
"Operating machines instead of waiting for maintenance or replacement makes the difference between profitability and failure. That is why development engineers at Alliance Tire Group looked at the particular requirements of operations in the construction sector," comments the tyre maker. As a result, it designed the Alliance A585 with a steel-belted design that provides "excellent puncture protection" and reinforced sidewalls that are resistant against damage from sharp-edged materials such as gravel. The tyre's non-skid depth and rubber to void ratio reliably "ensure outstanding wear resistance and superior tyre life" even when used on abrasive surfaces such as concrete and tarmac.
To enable the A585 to cope with tight manoeuvring in confined areas as well as quick road transfers from one site to the next, ATG's development engineers chose large and multi-directional tread blocks. "Design and construction of the new A585 thus provide perfect ground stability, ensure optimum load carrying capacity and offer massive grip and traction," writes ATG.
The tyre's tread was designed to possess excellent self-cleaning properties, facilitating a problem-free transition between operation on hard and soft surfaces. Comfort and safety during on-road use were also priorities, and ATG comments that "it goes without saying" that fuel efficiency ranked high on the development list.
The Alliance A585 will be available in six sizes by the end of July 2019. In addition to the 460/70R24 tyre on show at BAUMA, the A585 will be produced in 500/70R24, 440/80R24, 400/70R20, 400/70R18 and 340/80R18.
More Alliance tyres
The new A585 was joined at Bauma by the Alliance 506 Dual Master and the Alliance 528 Dual Master. The sidewall construction of both tyres allows for close contact between pairs of tyres as they are frequently used on excavators, avoiding the need to mount a special rubber ring to prevent stones from getting trapped between the tyres. The compounds as well as the all steel radial construction increases tread life, ride comfort and fuel efficiency. At the same time, the strong carcass of the tyre provides high machine stability along with good puncture protection and retreadability. The shoulder lugs of the Dual Master 506 and the Dual Master 528 provide efficient grip on soft surfaces. Both tyres were displayed in size 315/80R22,5.
Galaxy LHD 500 SDS wheel loader tyre launched
The new Galaxy LHD 500 SDS was also introduced at BAUMA 2019; a "Severe Duty Solid" (which is what SDS stands for) tyre, engineered to cope reliably with extreme working environments. ATG adds that the new Galaxy product offers low wear, a long service life and maximum productivity. With the LHD 500 SDS, ATG extends its solid tyres portfolio for material handling, construction, mining and waste management applications.
The tyre follows the Galaxy principle, "Application specific, purpose built"; the Galaxy LHD 500 SDS solid tyre was specifically developed for heavy duty industrial operations. The robust overall construction with a traction tread pattern more effectively transmits the machine's power to the work surface, the company says, adding that the tread compounds work to protect the LHD 500 SDS against cuts, reducing downtime and giving low and even wear with minimal heat build-up. In addition, its high lug to void ratio improves machine stability, helping to increase service life.
While the new tyre Designed to withstand harsh terrains and extreme conditions, the BAUMA novelty LHD 500 SDS ensures lowest cost of operation and maximum productivity. The single row aperture enhances the riding comfort and also contributes to minimising the heat build-up. Build for drop down rim operation, currently 3 sizes are available in LHD 500 SDS: Tire size 14.00-24 for rim 10.00-24, tire size 14.00-25 for rim 10.00-25, and tire size 17.5-25 for rim 14.00-25.
Additional Galaxy products
In various operations such as in waste management, metal recycling, construction and demolition sites, mining, and so on, where punctures in pneumatic tyres are the primary mode of equipment downtime, Galaxy's Severe Duty Solid tyres offer "three to four times the service life" of pneumatic equivalents, according to ATG. Full rubber construction and special compounds ensure high resistance to abrasion whilst steel wire creel beads provide the necessary strength to handle high torques and eliminate slippage of the rim. The three-stage construction including a central cushion layer ensures a smooth and comfortable ride.
The Galaxy range of solid tyres also includes renowned treads such as Hulk SDS, Beefy Baby SDS, Super Smooth SDS for skid steer loaders as well as Yardmaster SDS and Liftop SDS for material handling with heavy forklifts.
The Galaxy LDSR 300 was developed to handle and load loose material such as sand, dirt or gravel in harsh environments efficiently. Special compounds of the LDSR 300 ensure superior chipping and chunking resistance along with high ground stability and excellent traction. In combination with the all steel carcass, a special belt design and the strong sidewall protector, these tyres offer low wear and effective protection against damage. The stepped lugs provide more "biting edges" for more traction and self-cleaning characteristics. The LDSR 300 was presented in size 23,5R25.
The Galaxy Beefy Baby III in size 10-16,5 completed the Galaxy portfolio on display at the ATG stand. This tyre has 10 per cent more tread depth than the previous Beefy Baby II. Due to an increased overlap, there is a significant increase in the amount of rubber in the centre of the tread pattern. The shallower angles of the shoulder lugs provide increased traction whilst the shape of the under tread enhances its self-cleaning characteristics. The Beefy Baby III was developed for skid steer, backhoe loaders as well as utility tractors and boom lifts used on construction sites.