Goodyear presents Aero 'flying' tyre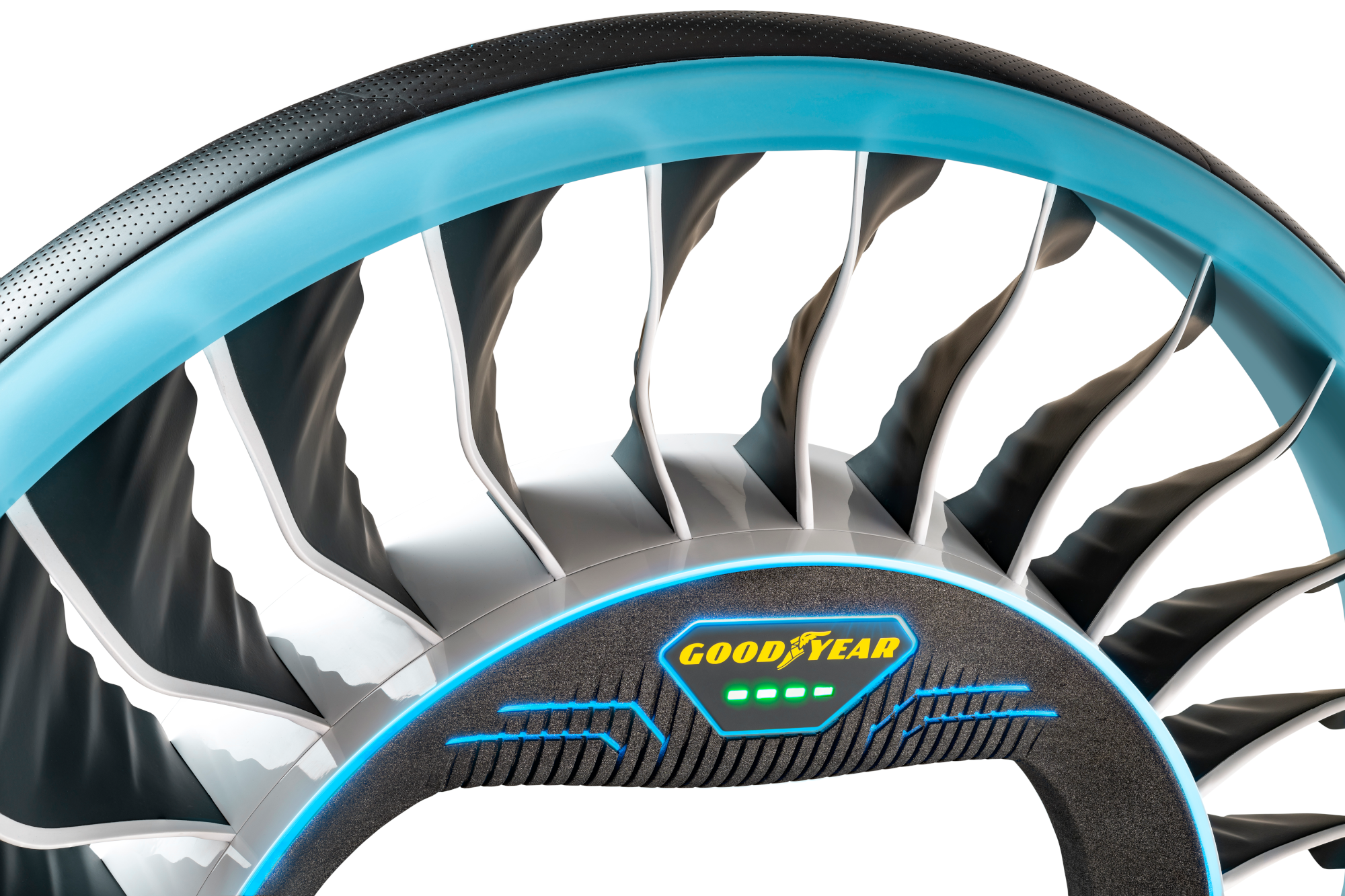 Goodyear has developed a bit of a reputation for exhibiting forward-thinking and even outlandish concept tyres at the Geneva Motor show and the company's presence at the 2019 exhibition is now different. In previous years we have had intelligent tyres and even spherical tyres, but this year it is flying tyres.
According to the company, the Goodyear Aero concept is a two-in-one tyre designed for the autonomous, flying cars of the future. In theory, this concept would work both as a tyre for driving on the road and a "propeller" for flying through the sky. Of course, the goal is to provoke debate as much as to show its technical prowess, so it is interesting to look a little closer.
Goodyear chief technology officer Chris Helsel commented: "For over 120 years Goodyear has obsessively pursued innovations and inventions, partnering with the pioneers driving change and discovery in transport. With mobility companies looking to the sky for the answer to the challenges of urban transport and congestion, our work on advanced tyre architectures and materials led us to imagine a wheel that could serve both as a traditional tire on the road and as a propulsion system in the sky."
The Aero concept includes a number of talking points: its multimodal design, it's non-pneumatic structure, magnetic propulsion, optical sensing and artificial intelligence.
Multimodal design: The Aero is a multimodal tilt-rotor concept. It would serve as a drive train to transfer and absorb forces to and from the road in a traditional orientation and an aircraft propulsion system to provide lift in another orientation. It sounds a bit James Bond, but the idea is to address a much more prosaic problem – the Aero would ease traffic by giving future commuters the freedom to move from the road to the sky.
Non-pneumatic structure: This concept tyre uses a non-pneumatic structure that is flexible enough to dampen shocks when driving on the road, and strong enough to rotate at the high speeds necessary for the rotors to create vertical lift. Sounds like science fiction, but Goodyear and other manufacturers have been working on airless tyre designs for some time. Flying tyres may be as rare as airborne pigs at the moment, but Goodyear-made airless mower tyres are already in the market and high load, low speed as well as high speed, low load airless tyre research and development is already underway.
Magnetic Propulsion: The Aero concept would use magnetic force to provide frictionless propulsion. Again, we are some way from mainstream flying cars, but maglev technology is already working in several major international railway systems around the world.
Optical sensing: The Aero would use light-based, fibre optic sensors to monitor road conditions, tyre wear and the structural integrity of the tyre itself.
Artificial intelligence: Tyres are already intelligent in the sense that the collect and collate lots of data. AI is the obvious next step.
Therefore, while there is a whole bunch of prognostication involved in Goodyear's latest concept, there is still something to be said for having far-sighted discussion starters such as this.