Vredestein introduces new Traxion tyre for compact tractors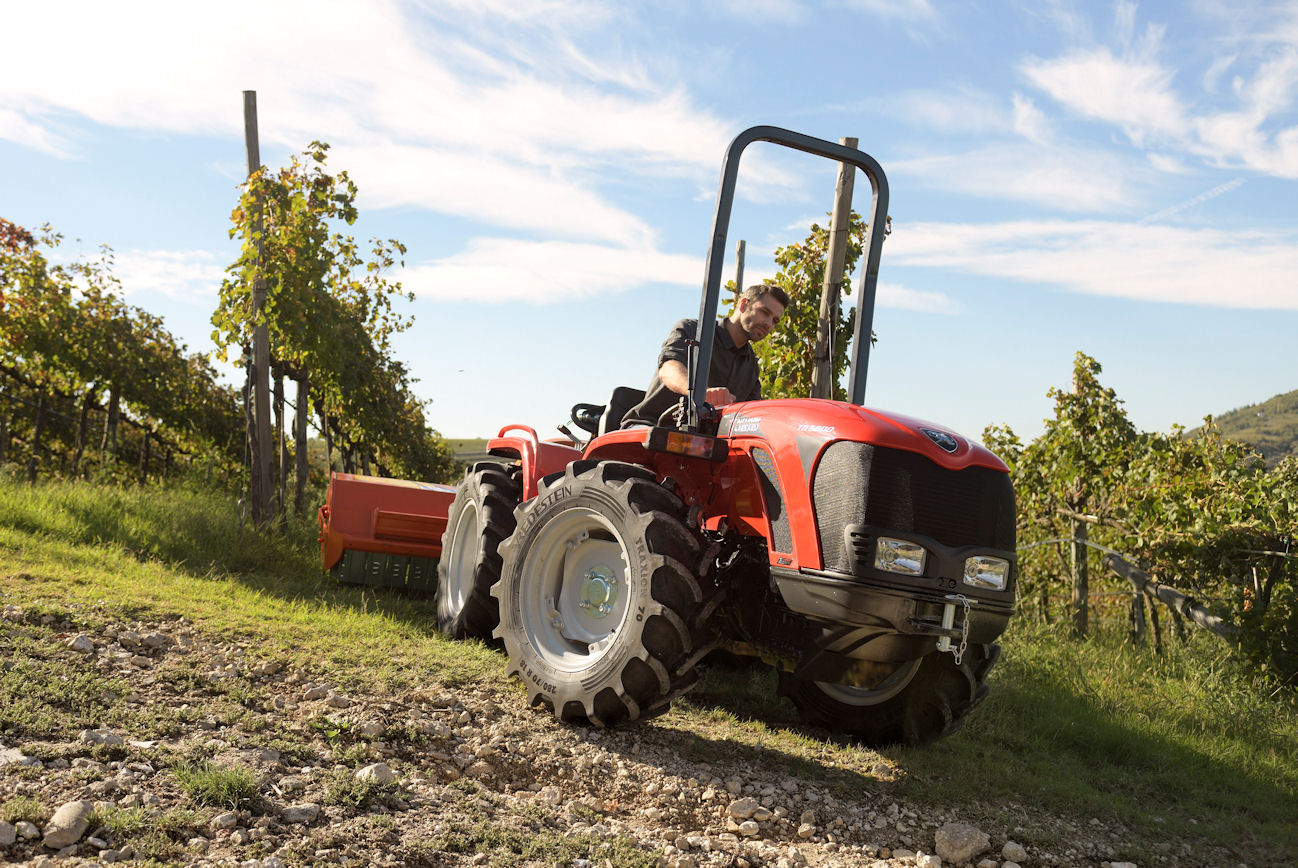 Apollo Vredestein has added a new tyre to its Vredestein Traxion range. The Traxion 65/70 makes the most of proven Traxion technology to meet the specific requirements of standard and articulated compact tractors such as those frequently used in vineyards, orchards and for municipal services. Apollo Vredestein anticipates that the compact Traxion 65/70 will "set new standards" in traction, stability and wear resistance.
The new tyre is said to offer the self-cleaning capabilities, low rolling noise, lower fuel consumption and 30 per cent longer service life than competitors that the Vredestein Traxion range is known for.
"It starts with the unique curvature of the tread cleats," says Ruud Nijland, divisional head of sales for agricultural and industrial tyres Europe at Apollo Vredestein. "They are positioned transversely to the direction of travel in the shoulder – ensuring maximum traction and reduced fuel consumption in the field – and oriented almost in the direction of travel in the middle of the tyre, reducing rolling resistance, noise and vibrations. The space between the cleats increases from the centreline to the shoulder, which means they are not parallel to each other."
Regarding the Traxion's self-cleaning ability, Nijland comments: "The space between the cleats expands outwards towards the shoulder, thereby not allowing the soil to get stuck in-between, and is instead, released. The tyre offers optimum traction, even on heavy soils, and the tractor leaves less dirt on the road when departing."
The centre of the tyre contains more rubber for reduced friction on road surfaces and increased wear resistance. Furthermore, Apollo Vredestein says the compound used in the Traxion 65/70 offers unmatched wear resistance and extra resistance to damage and punctures. The robust lug nose design provides added stability and grip for retaining the turning radius on headlands. The Traxion 65/70 is D-speed rated, allowing it to be used on the road at speeds of up to 40 mph or 65 km/h – with a load capacity up to ten per cent higher or at ten per cent lower inflation pressure.