Brembo unveils MotoE brake solution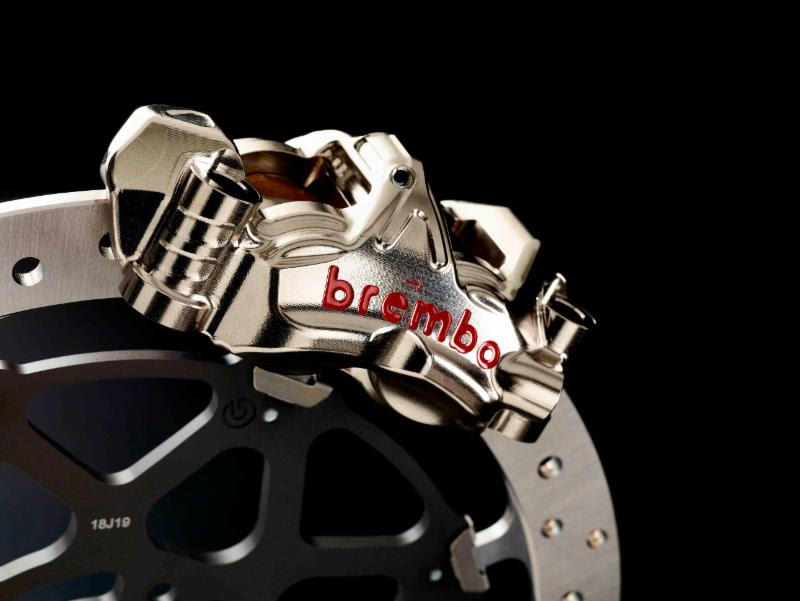 The inaugural season of the FIM Enel MotoE World Cup – MotoE for short – next year will support the MotoGP championship at five European circuits. Each ten-lap race will be contested by 18 Electric-powered 'Energica Ego Corsa' motorcycles, with two of the 110kW (147hp) bikes fielded by each MotoGP team and four by Moto2 and Moto3 teams.
Electric motorcycles are quieter that their combustion cousins, and this allows fans to hear the sounds that would normally be lost in the roar of an engine – the sound of the machines slicing through the air and the squeal of the tyres. The squeal of Michelin tyres, to be precise. It was announced earlier in the year that Michelin will act as sole tyre supply to the new MotoE series, a role it takes on alongside its exclusive tyre supply to MotoGP. Michelin comments that it "shares the same values as the new series, which is poised to combine exciting racing with innovative technology."
Stopping the bikes is Brembo's department. Brembo SpA has been appointed exclusive brake supplier to MotoE, and last week it officially launched its braking system for all Energica bikes competing in the championship. Brembo MotoE products include the T-Drive steel disc, GP4-PR enbloc front caliper, radial master cylinder and z04 pads.
T-Drive steel disc: Developed from experience Brembo gained through supplying the top teams in Superbike and every MotoGP competitor, the T-Drive steel disc is 336 millimetres in diameter and 7.1 millimetres thick, with a configuration specifically designed for the Energica Ego Corsa bikes. Eight 'T' pins machined into the disc and eight outlines on the bell make it possible to eliminate the drive pawls (a pawl is a mechanical component that engages with another component to prevent movement in one direction, or prevent movement altogether). This special configuration enables braking torque to be transmitted more effectively, based on specific studies into manufacturing tolerances.
T-Drive also offers better resistance to thermal-mechanical stress, especially in very extreme conditions, such as racing. The T-Drive system allows both radial and axial flotation and reduces the overall weight of the disc, thereby ensuring considerable driving advantages.
The GP4-PR enbloc front caliper: Machined from solid aluminium, this caliper was previously used in the MotoGP championship together with steel discs until the 2017 season, when steel discs were used for races in wet conditions. It has four titanium pistons with different diameters.
Radial master cylinder: 19-millimetre diameter and 18-millimetre centre.
Z04 pads: Already used in Superbike championship races, the SuperSport championship and Moto2, these pads are also available on the market for ordinary enthusiasts who enjoy track driving on their own bikes. Characterized by high friction and constant performance, especially at high disc temperatures, Brembo Z04 pads ensure excellent and uniform braking for the entire duration of a race, making fading effects much less likely.
Another important innovation is the absence of the clutch pump, as there is no clutch on Energica bikes in competition races.
In addition to Brembo's brake system supply, Brembo group company Marchesini will equip all Ego Corsa motorbikes with Marchesini 7-spoke forged aluminium rims.
Brembo views MotoE as a "very interesting development platform for Brembo braking components." As already seen in other classes, the championship will enable Brembo to experiment with technical solutions in the coming years that can be transferred to roadgoing electric motorcycles and scooters in future.