September car registrations down 20.5 per cent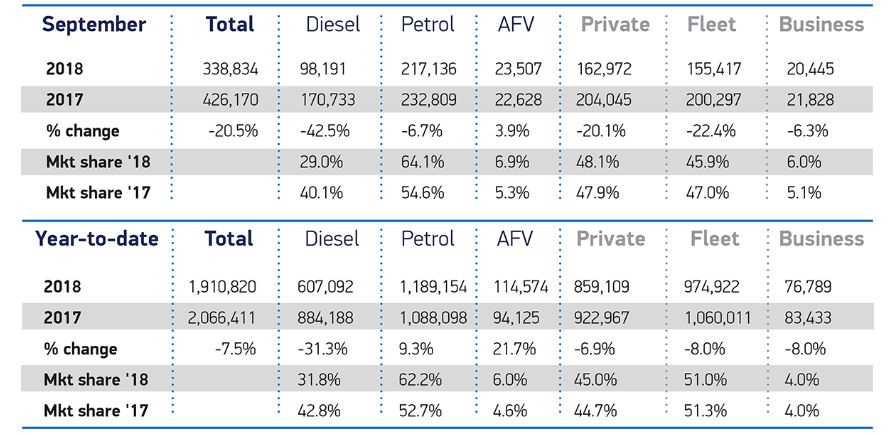 The UK new car market fell by -20.5 per cent in September, according to the latest figures released by the Society of Motor Manufacturers and Traders (SMMT). 338,834 vehicles were registered in the month, down around 87,000 on the previous year as new testing requirements continue to affect supply and distort the market.
The impact was felt across the board, with registrations by private consumers, fleets and businesses all declining, by -20.1 per cent, -22.4 per cent and -6.3 per cent respectively. Registrations of petrol and diesel cars also fell, while hybrids and plug-in electrics fared better, up a modest 3.9 per cent.
Declines were seen across almost every vehicle segment, with MPVs and Specialist Sports cars showing the biggest falls, down -54.8 and -50.9 per cent. Luxury saloons were the only segment to register growth, up +3.5 per cent, while Dual Purpose cars, which have enjoyed strong growth over the year to date, held steadier than most, falling just -3.5 per cent in the month.
September's large decline follows an unusually high August and a turbulent first eight months of the year as the market responded to a raft of upheavals, from confusion over diesel policy to VED changes and, latterly, transition to the new WLTP emissions standards. Year-to-date performance is currently -7.5 per cent behind 2017, reflecting these factors and a drop in business and consumer confidence. Over the coming months, however, some rebalancing is expected as an increasing range of new models are certified for sale and backlogs ease.
Mike Hawes, SMMT chief executive, said: "With the industry given barely a year to reapprove the entire European model line-up, it's no surprise that we've seen bottlenecks and a squeeze on supply. These are exceptional circumstances with similar declines seen in other major European markets. The good news is that, as backlogs ease, consumers and businesses can look forward to a raft of exciting high-tech cars and a market keen to recover lost momentum."
From 1 September, all cars sold in the EU have to undergo a new test called the Worldwide Harmonised Light Vehicle Test Procedure (WLTP). The test measures all regulated emissions, as well as CO2 and fuel economy. Like the old test it replaces, it is conducted in controlled laboratory conditions for consistency across every test and every new vehicle in every country. However, it is conducted at faster speeds, over a longer distance and is more dynamic, with a greater range of vehicle and engine speeds, engine load, gear changes and temperatures, while also taking into account modern vehicle technology. And, because it is based upon some half a million miles of real driving data, it is far closer to the conditions most people experience on the road today.
In addition, new cars will also need to prove their air quality credentials 'on the road' by passing the new Real Driving Emissions (RDE) test. This rigorous test, which takes around four days to complete, is supplementary to WLTP and uses specially calibrated state-of-the-art portable emissions measurement (PEMS) equipment. This very sensitive equipment analyses the trace tailpipe emissions of pollutants while the car is driven in a wide range of both every-day and extreme conditions, from stop-start inner-city, to open road driving, and even at rarely, if ever, encountered speeds of 100mph and altitudes equivalent to Ben Nevis.
Mike Hawes said: "Thanks to more realistic performance data, car buyers will be better informed to choose the cars that best suit their driving needs in full confidence that they are the cleanest and most fuel-efficient ever produced."
KPMG comment
Commenting on the car registration figures, Justin Benson, UK head of automotive at KPMG, said: "Given the strong performance in August – when consumers took advantage of the deals available ahead of the changes to the new registration plates – it is unsurprising that September would realise a fall in growth. While a fall of -20.5 per cent in September may paint a rather bleak picture at first glance, year-to-date the numbers are still holding up against previous record years.
"Cars are a big ticket purchase, so any confusion around what type of car to buy will impede growth in sales, and the downbeat messaging from automakers regarding Brexit will inevitably have made consumers think twice before driving off the forecourt. Meanwhile, the new emission testing regime may have proved a bottleneck this month, but in the long run it will really help consumers decide which car is best for them and the environment."