9 in 10 UK car dealers unhappy with today's car buying process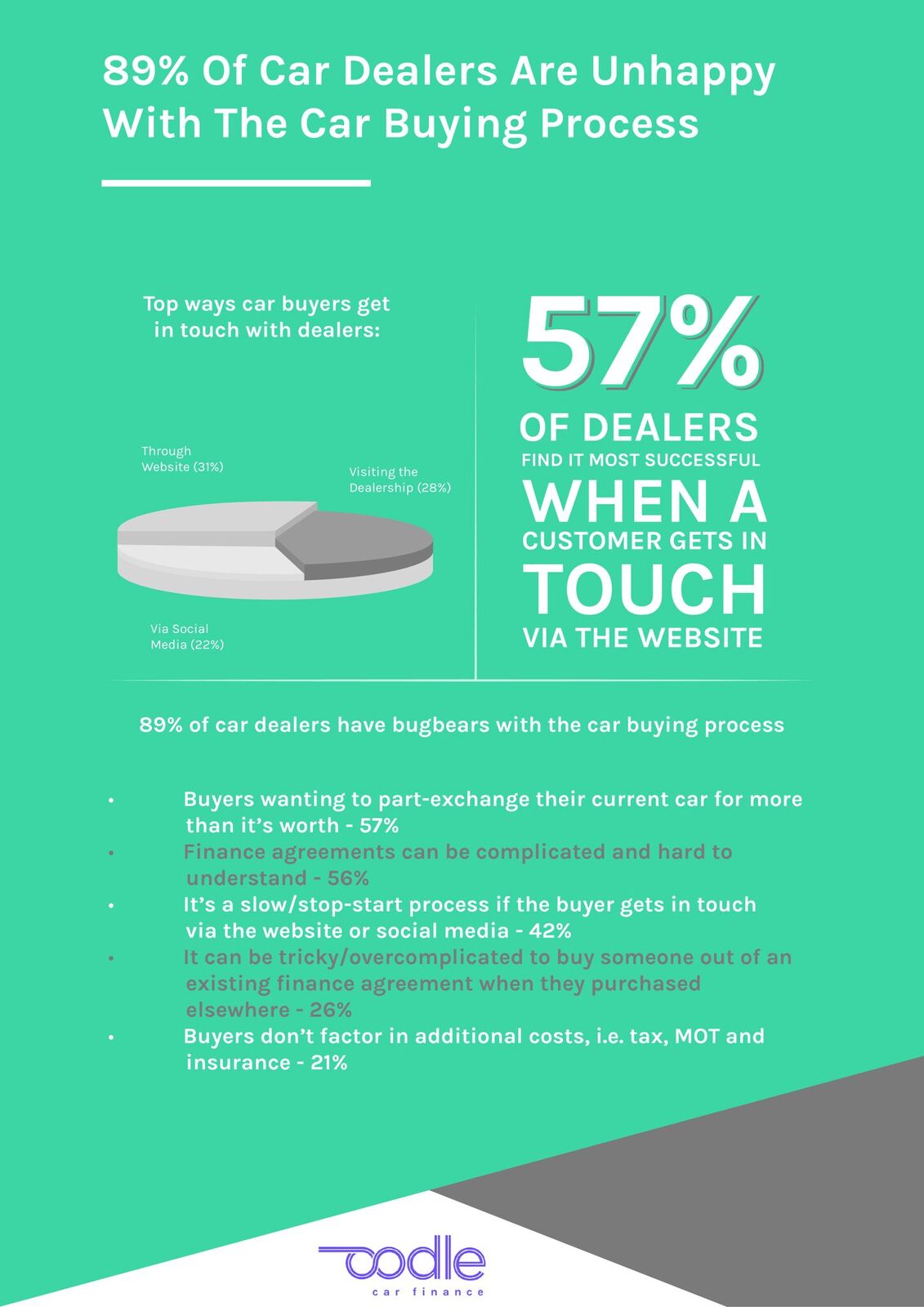 A new study has found that almost nine in 10 car dealership owners have bugbears when it comes to the car buying process, with buyers wanting more for their part-ex vehicles, finance agreements being too complicated and online conversations being very stop-start being the top issues that they face.
More than half of Britons who purchase a car through a dealership get in touch via the dealer's website or social media accounts, which is deemed the most successful method for dealers, however can lead to on-off conversations and draw the process out. Alongside this, dealers find buyers consistently want to part-exchange their current cars for more than they're worth and that finance agreements are complicated and hard to explain.
The research was carried out by car finance provider www.oodlecarfinance.com as part of an ongoing study into the car buying process. 591 car dealership owners and employees from around the UK were quizzed about their thoughts on the car buying process.
Initially, all respondents were asked "How do you find that most of your customers get in touch?" to which the top response was 'through the website' (31 per cent), while others cited their customers got in touch by 'visiting the dealership' (28 per cent) or 'via social media' (22 per cent). When asked if they were aware of how their customers found their dealership or a specific car that was on offer, the top responses were found to be 'from referral sites' (28 per cent), 'by driving past and seeing the car for sale' (24 per cent) and 'by doing an online search for local dealers/specific cars for sale' (23 per cent).
All respondents were then asked "Do you have any bugbears when it comes to the car buying process?" to which 89 per cent of respondents confessed that 'yes' they did. These respondents were then asked what it was that annoyed them, provided with a list of possible responses and told to select all those that applied. The top dealership owner bugbears were found to be:
Buyers wanting to part-exchange their current car for more than it's worth – 57 per cent
Finance agreements can be complicated and hard to understand – 56 per cent
It's a slow/stop-start process if the buyer gets in touch via the website or social media – 42 per cent
It can be tricky/overcomplicated to buy someone out of an existing finance agreement when they purchased elsewhere – 26 per cent
Buyers don't factor in additional costs, i.e. tax, MOT and insurance – 21 per cent
Finally, when asked which method of getting in touch they felt was the most successful for them, almost three fifths of dealers stated that it was when the customer 'visited the website' as their first point of call (57 per cent) as they were able to see plenty of pictures, read the spec of the car and shop around online before enquiring.
Jonny Clayton, CEO of Oodle Car Finance, commented: "The car buying process needs to be a simple one for everyone involved. It shouldn't involve a lot of sitting around waiting and everyone should go away from the transaction happy with the results. Unfortunately, the results here show that the online car buying journey is not as joined up as we'd like and there's still some way to go. The fact even car dealers are struggling with things like finance agreements isn't ideal – if they can't understand them or get buyers to understand them, it's a bit of a struggle for everyone involved. More needs to be done to make the process a simpler one."