The usual suspects and others – Auto Bild winter tyre test knockout round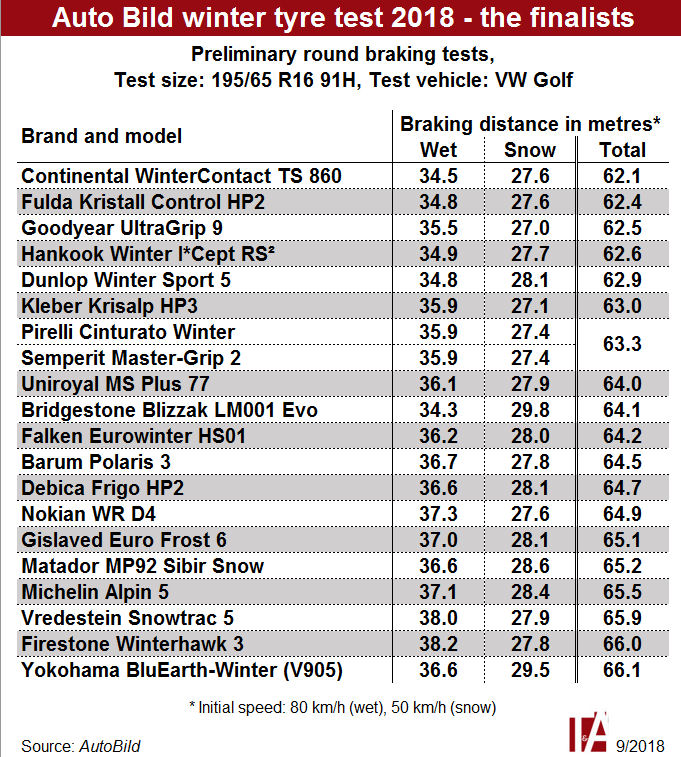 Whereas most publications and organisations typically include no more than ten contenders in their tyre tests, Germany's Auto Bild prefers to line up dozens of products and then eliminate all but the most promising in a knockout round. The latest Auto Bild winter tyre test is no exception – no less than 51 tyres were subject to wet and snow braking tests to determine which would stay in the running to be evaluated in greater detail. The results of this initial round have now been published.
From the 51 size 195/65 R15 91H that began the Auto Bild test, 21 were sent home after shaming themselves in the 80 to 0 km/h wet braking test. The remaining 30 were then brought to a stop on snow from 50 km/h and the average stopping distance for both tests was calculated. The ten tyres with the longest average braking distance were then given their marching orders, leaving 20 finalists to slug it out for glory in the more comprehensive second round of evaluations.
The list of tyres continuing on to the second round contains numerous 'usual suspects' – and so does the list of tyres that didn't make the grade. The first of these groups includes many premium brands while the second is quite budget-heavy.
The top 20, in order of performance, is as follows: Continental WinterContact TS 860, Fulda Kristall Control HP2, Goodyear UltraGrip 9, Hankook Winter I*Cept RS², Dunlop Winter Sport 5, Kleber Krisalp HS3, Pirelli Cinturato Winter, Semperit Master Grip 2, Uniroyal MS Plus 77, Bridgestone Blizzak LM001 Evo, Falken Eurowinter HS01, Barum Polaris 3, Debica Frigo HP2, Nokian WR D4, Gislaved Euro Frost 6, Matador MP92 Sibir Snow, Michelin Alpin 5, Vredestein Snowtrac 5, Firestone Winterhawk 3 and Yokohama BluEarth Winter (V905).
The tyres weeded out by wet braking test were: Antares Grip 20, Maxtrek Trek M7, Z-Tyre Z8 Winter, Chengshan Montice CSC-901, Momo W1 North Pole, Taurus 601 Winter, Syron Everest 1 Plus, Meteor Winter, Laufenn I Fit, Compasal Iceblazer II, Star Performer SPTS Winter AS, Nankang NK Snow SV-2, King-Meiler Winter Tact WT 81, Tristar Snowpower HP, Minerva Frostrack HP, Fortuna Winter, Kenda Wintergen 2, Dayton DW 510 Evo, Tomket Snowroad 3, Lassa Snoways 3 and Imperial Snowdragon HP. The average of the wet and snow braking tests put the lid on the following tyres' dreams of victory: Westlake Snowmaster SW608, Aoteli Ecosnow, Goodride SW608, Maxxis Arctictrekker WP-05, Toyo Snowprox S943, Cooper WeatherMaster SA2+, Giti Winter W1, Kumho Wintercraft WP51, Apollo Alnac 4G Winter and Nexen Winguard Snow'G WH2.
The results of the following round of testing are due to be published before the end of this week.