BKT sponsoring Australian cricket league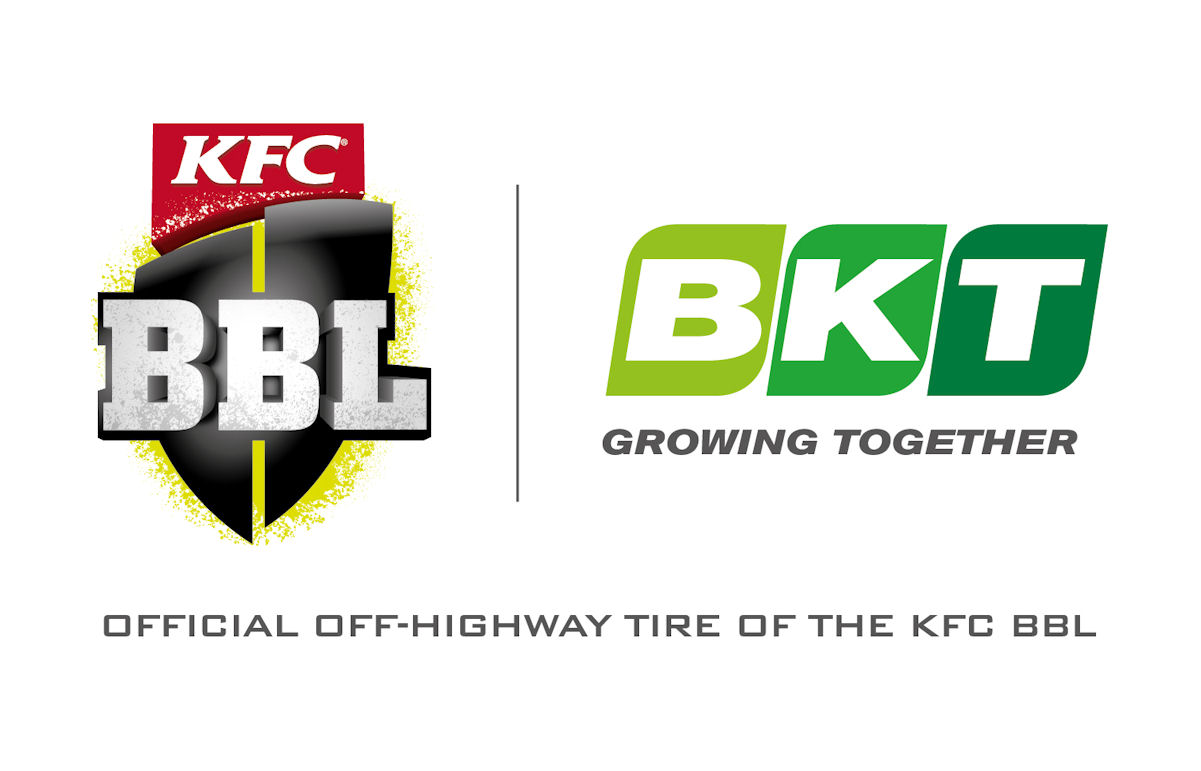 Yet another sports sponsorship for BKT – following on from the start of its Serie B and Coupe de la Ligue title sponsorships in Italy and France, the off-highway tyre specialist has entered into a partnership with the KFC Big Bash League (BBL) cricket league in Australia. BKT has signed an agreement with governing body Cricket Australia that secures its status as off-highway tyre supplier to the Twenty20 cricket league for three years.
The partnership was announced today at the Melbourne Cricket Ground (MCG) during an event attended by former Australian international cricketer Ricky Ponting, BKT joint managing director Rajiv Poddar and other executives from the tyre maker, BBL head Kim McConnie and Hari Parsad, India's Acting Counsel General in Melbourne.
BKT agricultural and mining tyres have been available in Australia through local distributor Tradefaire for almost a decade. The tyre maker says its decision to partner with the BBL was motivated by its "passion and enthusiasm" for cricket, by the opportunity of reinforcing its brand awareness in Australia and the BBL's commitment to BKT's 'Growing Together' philosophy. In this specific case, BKT says growing together means to support and sustain cricket in Australia in order to see talent grow and attract attention for the competition on an international level – not least of all thanks to BKT's presence in 160 countries around the world.
Rajiv Poddar, an ardent cricket fan, said: "I am really glad about this partnership since cricket has been my great passion ever. Being able to support it and cheer at a close makes us proud. Not only do we appreciate its dynamics, but also the team play and above all the spirit of the game ruling this sport, or else the unwritten fair play every player adheres to. On the contrary, unfair play means a damage for the game itself. Here in BKT, we have the same philosophy: to do our best paying full respect to everybody."
"We are very excited to be welcoming BKT as a partner of the KFC Big Bash League as we draw closer to the highly anticipated BBL|08 season," shared Kim McConnie. "BKT's decision to come on board as a supplier of the BBL shows the growing appeal of the competition not just in Australia but overseas as well, and also demonstrates the value partners see in being associated with Australia's most exciting sporting league."
Steve Ryan, general manager of Tradefaire, added: "This agreement is invaluable and unprecedented. Australia's passion for cricket is timeless. During summer all parks become crowded with children and teenagers playing cricket whilst enthusiastic parents keep up with the game from the sidelines. The family barbecue at weekends cannot be considered complete without the cricket match on lawn in the back garden or beach cricket on a sunny day on the beach. Whether it is in the farthest outback or in the big cities, all Australians have one great passion in common, namely cricket. A topic that inspires and thrills an entire nation. Indeed, one can listen and follow long and lively discussions on match days. Standing by the KFC Big Bash League, being associated to both its name and activities as well as benefitting from the high level of media attention especially on TV will certainly make the brand awareness of BKT in Australia fly high."
As part of today's BBL announcement, BKT and Tradefaire handed over cheques totalling AU$30,000 to provide support to the Australian charities, particularly assisting struggling farming communities. BKT comments that charity, tradition, history, environment and social events are all keywords of its CSR vision, reflected in the motto 'We Care' and made real by "countless initiatives all over the world."
BKT's BBL partnership builds on its sponsorship of international sports worldwide. In addition to the Serie B and Coupe de la Ligue deals signed this year, the tyre maker has sponsored the Monster Jam circuit since 2013.
The agreement between BKT and Cricket Australia bears the signature of Havas Sports & Entertainment (HSE), whose Italian team is BKT's global advisor for the selection, negotiation and activation of sports sponsorship.