Auto Bild winter tyre test: Premiums, mid-brands share top rating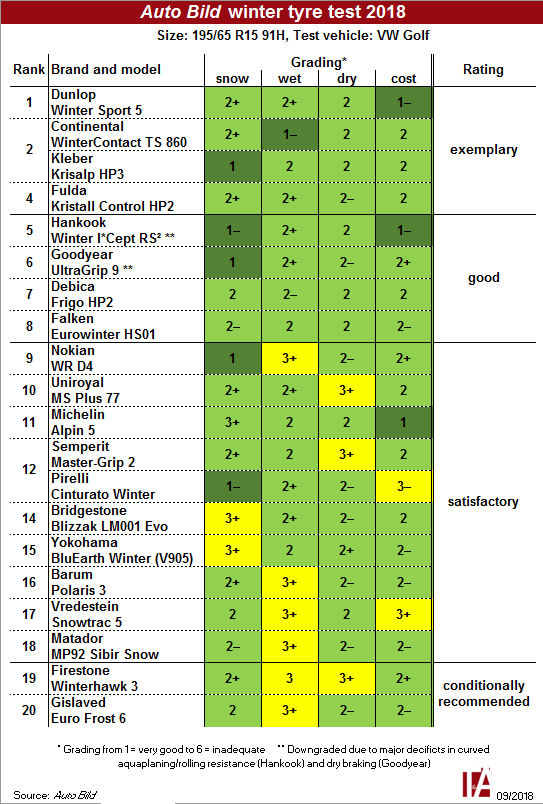 After narrowing the starting grid of 51 protagonists down to 20 in a preliminary knockout round, the team at Auto Bild got busy subjecting the survivors to a battery of tests in various conditions. The results of this second, decisive round of winter tyre tests have been announced, and it is a win for Dunlop. Sharing the podium were joint runners-up from Continental and – having delivered a more convincing result than its flagship-brand sibling – Kleber.
Auto Bild testers Henning Klipp and Dierk Möller rated the Dunlop Winter Sport 5, Continental WinterContact TS 860 and Kleber Krisalp HP3 as 'exemplary' tyres, a lofty status they shared with fourth-placed finisher, the Fulda Kristall Control HP2.
It seems Klipp and Möller searched in vain for weaknesses amongst the top four; the test report only lists their strengths, including "stable handling qualities in all weather conditions, precise and responsive steering behaviour, best efficiency" (Dunlop); "good winter characteristics, high steering precision and dynamic handling on snowy and wet surfaces, good comfort, low rolling resistance" (Continental); good value for money, best driving characteristics on packed snow, short stopping distance and low rolling noise (Kleber); balance, short snow and wet braking distances, high aquaplaning safety, low rolling noise and rolling resistance (Fulda).
Weaknesses were identified in the tyres finishing behind the top four: The Hankook I*Cept RS² displayed slightly elevated rolling resistance and undistinguished curved aquaplaning results, the Goodyear UltraGrip 9 an extended dry braking distance, and the Debica Frigo HP2 and Falken Eurowinter HS01 issues with lateral control. Nevertheless, all four tyres were rated 'good'. They delivered positive results for handling, mileage and value for money (Hankook), steering precision in the wet and on snow, aquaplaning safety, mileage and rolling resistance (Goodyear), balance on snow and in the dry, short braking distances (Debica) as well as snow and dry handling, aquaplaning prevention and price (Falken).
The next ten tyres were rated 'satisfactory'. "Modest wet qualities" held the Nokian WR D4 back from a better result, while the Uniroyal MS Plus 7 was marked down for extended braking distances as well as its handling characteristics on dry road surfaces. Ranked eight places beneath its mid-brand stablemate from Kleber, the Michelin Alpin 5 was handicapped by limited performance on snow and highish rolling resistance. The Semperit Master Grip 2 displayed a lengthy braking distance and lukewarm handling in the dry, and the latter also plagued the Cinturato Winter. The Pirelli tyre was also deemed to have "limited mileage performance." The Bridgestone Blizzak LM001 Evo was found wanting in lateral control and took too long to stop in the snow, while the Yokohama BluEarth Winter (V905) displayed "only average grip levels" on snow-covered roads.
"Understeering wet handling, extended dry braking distances, limited mileage" were criticisms levelled against the Barum Polaris 3. Testers Klipp and Möller found the Vredestein Snowtrac 5 to have restricted wet grip levels and only average mileage and efficiency. Rounding out the crop of tyres with a 'satisfactory' rating was the Matador MP92 Sibir Snow, which lost points for delayed steering response, lengthy braking distances in the dry and limited mileage.
For two tyres, the second round of testing resulted in a 'conditionally recommended' rating. The first of these was the Firestone Winterhawk 3, whose grip was notably limited and its steering response in the wet delayed. The second of the pair, the Gislaved Euro Frost 6, displayed lengthy wet and dry braking distances and only moderate comfort levels.
It's worth bearing in mind, however, that the both Firestone and Gislaved tyres performed well enough to progress to the second round of testing. This wasn't the case for 31 of the 51 tyres evaluated by Auto Bild. "All budget tyres and no-names were already eliminated through our safety check in the preliminary round," noted Henning Klipp and Dierk Möller in their concluding comments. "In contrast, the low-priced candidates from the Kleber and Fulda second brands presented themselves as affordable and without blemish."