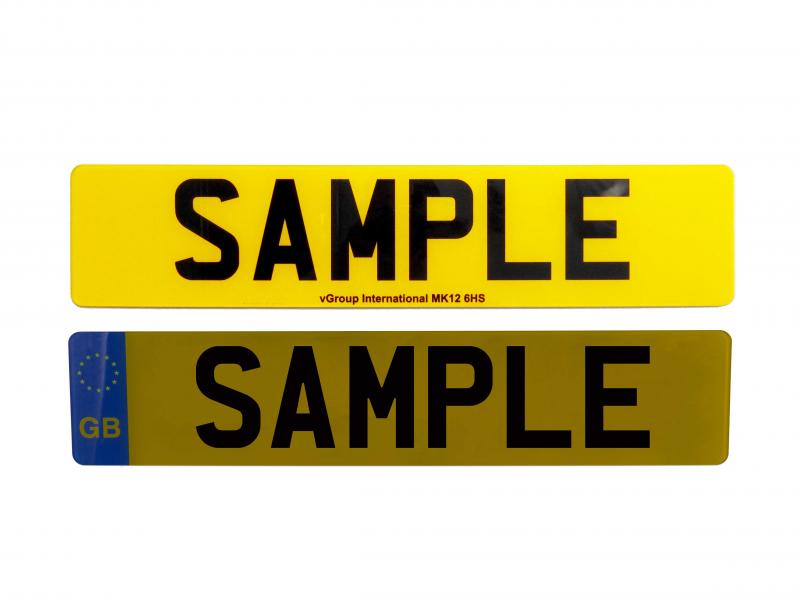 Reflectivity is the difference between old number plate and vPlate
vGroup International has launched vPlate, a new number plate that ensures re-sellers remain compliant under new legislation coming into effect later this year.
The new number plate standard, BSAU145e, improves compatibility with automatic number plate recognition (ANPR) systems and requires plates to be resistant to bending, impact, abrasion, corrosion, solvents, weathering and extremes of temperature.
Due to the overwhelming requirement from resellers for clarity and support on the new legislation – expected to affect thousands of companies throughout the UK – vGroup has worked tirelessly to arrive at a plate solution in vPlate that complies with the new standard and offers confidence throughout the entire automotive supply chain.
Coming complete with a five-year warranty, all vPlate number plates are individually cut using laser technology and all sides are hermetically sealed. vPlate uses a special bonding process that increases the bond between the reflective and acrylic, thereby significantly reducing the risk of delamination and water ingress.
vPlate uses 3mm thick acrylic polymer material giving it impact resistance, thereby far exceeding the new requirements. The waterproof plate is also 50percent more reflective than current plates, giving off 100 lumens. vPlate number plates come with a full range of accessories and components, including fixing plates.
With local production of plates at motor factors and accessory retailers to decline considerably under the new law, vGroup is working with resellers to ensure they benefit from a solution that offers ease of ordering and next day delivery.
James Nash, vGroup managing director, said: "We're new entrants into the number plate market and we've been delighted to take a leading role in producing a solution that is not only fully compliant with the upcoming number plate legislation, but that offers complete traceability and reassurance to re-sellers."
It is expected that there will be much greater enforcement of the new legislation with fines handed down to companies that fall foul of the rules.
vGroup is a leading manufacturer in the UK of automotive car mats, producing over two million mat sets per year. The group is an innovator in design and is committed to reducing death and injury in the car, commercial vehicle, workplace and home. Its preferred charity, Driver First Assist (DFA) is a charity dedicated to training drivers who have been trained to provide lifesaving first aid and manage the scene at a road traffic collision prior to the arrival of the emergency services.
Category: Legislation, Product News, UK News