Is ATS Euromaster's Dave Mellett Britain's longest-serving tyre fitter?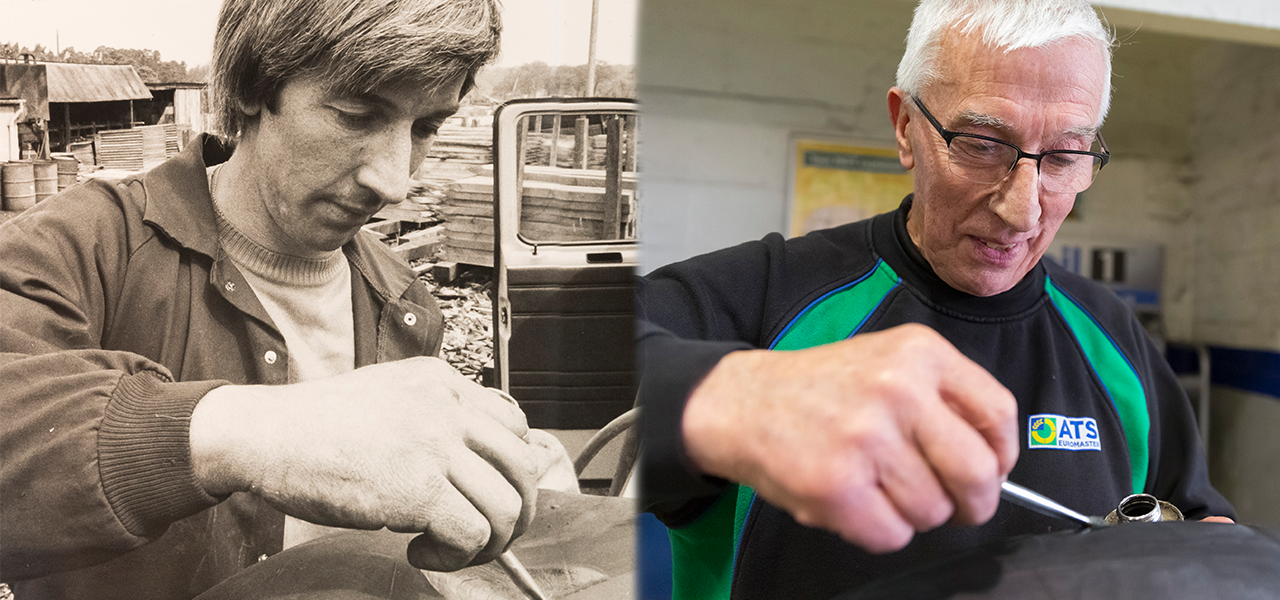 Neil Armstrong and Buzz Aldrin walked on the moon, The Beatles performed for the last time and the Boeing 747 jumbo jet took off for its maiden flight. But for tyre fitter Dave Mellett, the year 1969 marked the beginning of his career as a tyre fitter at ATS Euromaster in Newbury – a job he's still doing at the same centre almost 50 years later.
As a result, Mellett, now aged 66, has been crowned ATS Euromaster's longest-serving tyre fitter ever – and quite possibly the UK's.
"It feels brilliant," he says of his unique achievement at the company, which was established just four years earlier. "The job has kept me going. I'm the first to arrive in the morning and the last to leave. I know every customer that comes in the door. Would I change anything in my career? Absolutely not."
And Mellett credits his loyal 'fan base' of customers with keeping him fulfilled and motivated within the walls of the workshop at ATS Euromaster's Newbury centre. "I've fitted tyres for grandfathers, their sons and now their grandsons," says Mellett proudly. "Generations of people have come to me. People say, 'My granddad told me if I've got any problems with my car, I must go and see Dave at ATS Euromaster because he'll get it sorted – and if he can't, he'll know somebody who can.'
"I do loads for little old ladies. They've baked me cakes, all sorts. One day I had a bit of a sore throat, so this little old lady wandered off and came back with cough sweets for me. It's those little things that make my job so enjoyable.
"I've got a lot of return customers. They just want to come back to see Dave. 'Dave will sort it'. That's what keeps me going."
Casting his mind back to 1969, Mellett recalls the day he turned up at the Newbury centre in search of employment.
There was one minor snag though – he didn't have a clue about tyres. "I left school and worked at a place in Thatcham for a short time, but I didn't like it," he recalls. "I popped in to ATS in Newbury and asked if there were any jobs going. The manager at the time said, 'Do you know how to fit tyres?' I said, 'No, I have absolutely no idea how to. My family doesn't even own a car.' I knew absolutely nothing about tyres.
"Then he said, 'Do you know how to make tea?' So I made him a cuppa and he asked when I'd be available to start. And that was the beginning of it all."
Recruitment for ATS Euromaster is rather different today, with would-be apprentices assessed for their ability to learn and their personal skills. But what hasn't changed is a focus on training to be the very best – something Mellett studiously strived for on the job, subsequently becoming the expert technician he is today and passing on his skills to the next generation.
Mellett reveals: "I learnt to become an inside fitter, workshop foreman, outside fitter, night fitter, earthmover fitter, agricultural fitter, and a City & Guilds examiner – which meant I was responsible for getting other fitters up to standard."
The industry landscape has changed dramatically over the course of Mellett's career, not least in such vital areas as health and safety. ATS Euromaster says this is a key focus, and this is reflected in the fact that it is the only company of its type to hold the Gold Award from the Royal Society for the Prevention of Accidents.
"Health and safety is taken much more seriously today and rightly so. We receive a lot of training to ensure we and our customers are protected, and we keep detailed records," comments Mellett. "Also, the high-tech equipment means we can work quickly but safely at all times. We've got diagnostics machines, computer tracking equipment, ramps, everything. It's all done very professionally now. We've got live data that's updating all the time that alerts us to anything we need to address.
"We didn't have any of that in the olden days. Just a set of very basic tools. There have been so many changes – and I've been here for all of them."
His customers have also changed – these days they turn up at his Newbury workplace armed with far more tyre knowledge than in decades past. "Customers know more of what they want now," says Mellett. "They can go on the internet and research what tyres they need, what's good in the wet, what's best suited to the type of driving they do and roads they use, so when they come in they already know roughly what they want, and we've got the knowledge and experience to help them make their final choice."
Aside from the strong ties he's harnessed with customers, Mellett says his employer is another key factor behind his admirable length of service at ATS Euromaster. "Even from an early age, they've always been honest with me. I've always given them 100 per cent, and they always have to me too. They've been fair to me and have kept me well informed on changes in the centre, which direction we are going in, and so on. I've never felt on the outside looking in – I've always felt like I'm a big part of it."
No doubt he'll be given a special send-off when he finally hangs up his torque wrench for a well-deserved retirement – although colleagues and customers will have to put their party planning on hold for the foreseeable future. "People always ask me, 'When are you going to retire, Dave?' But I'm still good to go. If my health's alright, I'll keep working," he says. "I've got absolutely no retirement plans. They asked me if I wanted to cut my hours and I said, 'No way, thanks.' I'd love to achieve 50 years at the company. That's my target."
As for the UK's oldest tyre dealer – that honour goes to Hawleys Tyres.