IRC Tire: Work begins on JV motorcycle tyre plant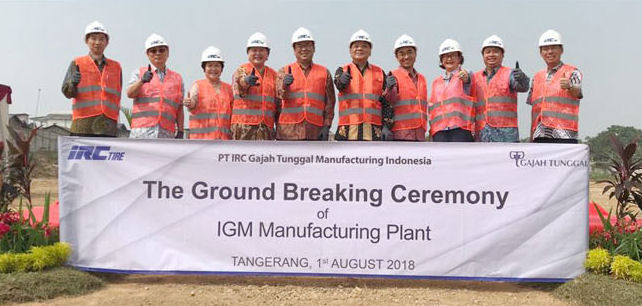 A groundbreaking ceremony took place on 1 August for the joint venture tyre plant that Indonesian tyre maker PT Gajah Tunggal is setting up with Inoue Rubber Co., Ltd., a subsidiary of Japan's Inoac Corporation. The joint venture, known as IGM, is located in Tangerang, Indonesia and will manufacture motorcycle tyres sold under the IRC Tire brand name.
The ceremony was attended by Budhi Tanasaleh, chief executive officer of Gajah Tunggal, Masayuki Inoue, representative director of IRC Japan, and Kazuo Sato, director of IRC Tire. Members of the Gajah Tunggal Board of Directors were also present.
Speaking at the groundbreaking, Hirozo Misuno, president director of IGM, said that the joint venture company is a "concrete step" towards greater cooperation at a higher level between IRC and Gajah Tunggal and represents "a new chapter of cooperation" between the two companies, which have worked together since 1971.
The IGM facility will be the first factory outside Japan to produce IRC motorcycle tyres. Gajah Tunggal says Tangerang plant output will be supplied to OEMs and sold in the replacement market, both locally and further afield. The plant is expected to begin operations in September 2019.