The Parts Alliance's Garage Essentials summer offers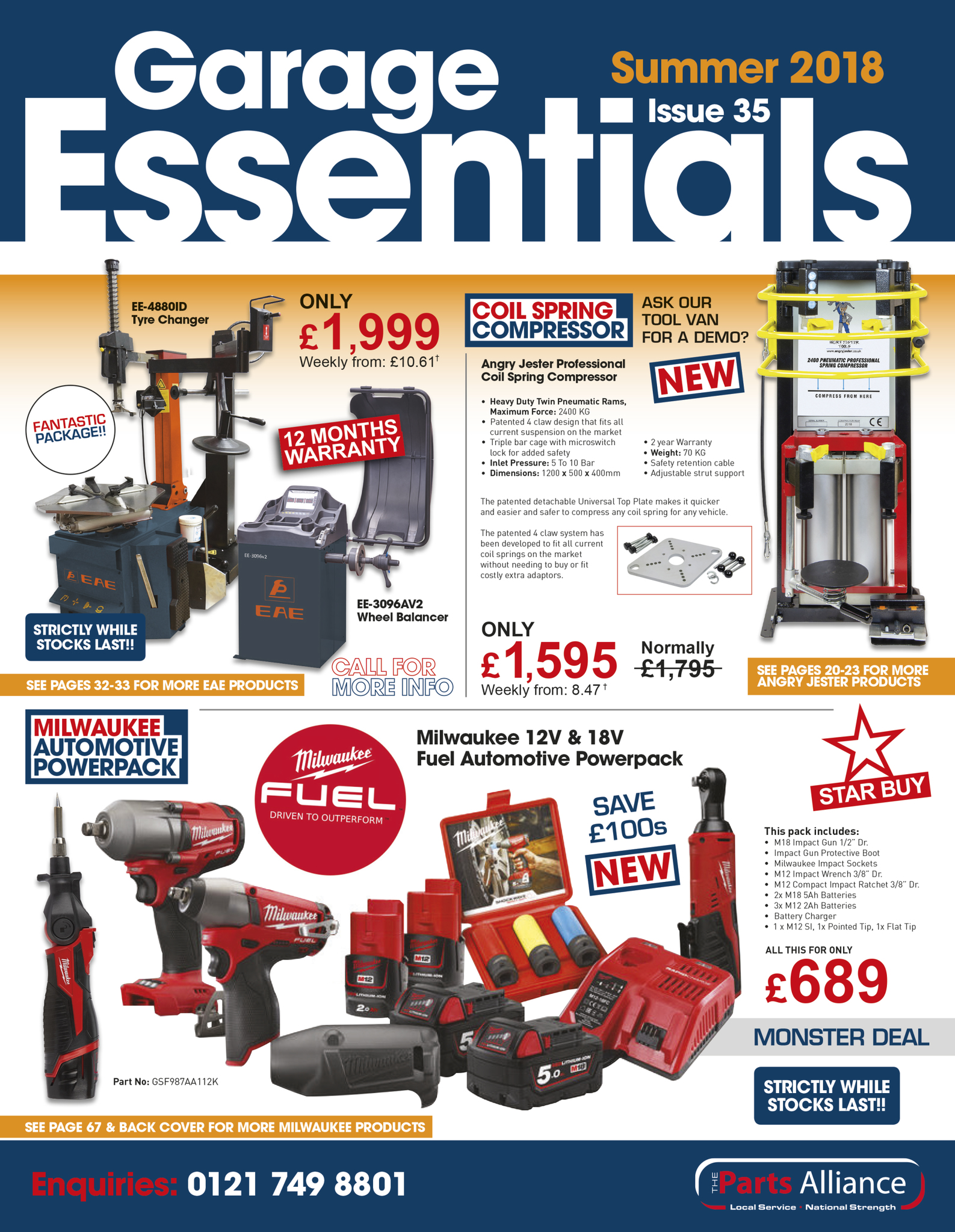 The Parts Alliance's Summer Garage Essentials has arrived mid heat-wave with some incredible offers that are guaranteed to keep things hot.
The glossy 68 page A4 publication is available on request from all branches of The Parts Alliance members Allparts, Bromsgrove Motor Factors, Car Parts & Accessories, CES, GMF, SAS Autoparts, SC Motor Factors, Waterloo, GSF Car Parts – and now Dingbro too.
For garages looking to maximise the opportunities created by power tool battery technology, the Milwaukee 'Star Buy' will appeal. It combines several high performance impact drives and ratchets with genuine Milwaukee accessories.
Angry Jester, renowned for problem-solver tools exclusively available from The Parts Alliance, has a new air operated professional coil spring compressor for under £1,600 + VAT. Despite the small price, the unit packs a big punch with 2,400 kg maximum force and a patented 'four claw' connection, ensuring it's compatible with all current suspension systems.
Also exclusive to The Parts Alliance, equipment specialists EAE showcase tyre packages alongside their popular range of workshop lifting solutions.
With many garages reporting record levels of interest in air con this summer there are automatic service station packages from Bosch Cooling Edge and Dunlop at lowest ever prices.
Hand tools from Sealey, Laser Tools and Angry Jester feature prominently alongside all the latest diagnostics platforms.
"On the diagnostics side, it's all about offering garages choice," said John John Wright Head of Garage Equipment and Customer Development at The Parts Alliance. "The Bendix diagnostic unit is proving to be a really popular 'all rounder.
"Other systems are showcased from Autel, TEXA, VDO, Bosch and Delphi with cost-effective online training available from Our Virtual Academy."