Wider Bridgestone fitment providing more grip for BMW i3s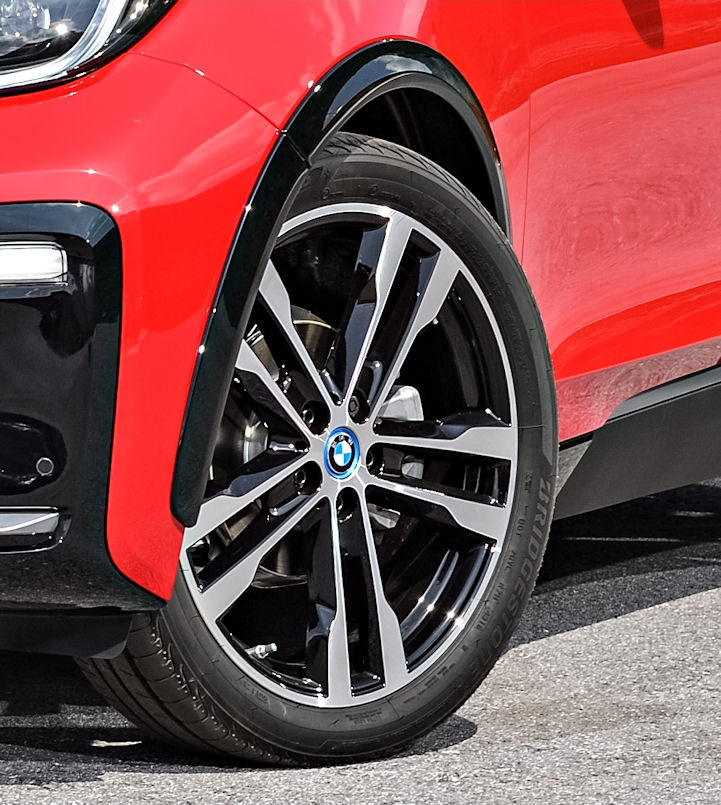 The original equipment tyre Bridgestone supplies to the BMW i3 was updated this year to accommodate the introduction of a sporty version of the car, the i3s. The new model has a broader rear track and more expansive rear wheel wells than the regular i3, and Bridgestone is supplying it with OEM tyres that are 20mm wider than the dimension it produces for the standard model.
Fitted to the 20-inch rims that are standard on the BMW i3s, the 195/50 R20 tyres continue Bridgestone's exclusive original equipment supply to the model. Bridgestone comments that the new dimension enhances the sport version's wider, sportier look while "ensuring adequate traction to maximise the increased power and torque." Reports from those who have tested the i3s indicate that the wider tyre's larger contact patch has improved grip, and while some have noted higher rolling resistance than encountered with the standard model's 155/70 R19 rubber, the larger tyre nevertheless carries a B label rating for this criterion.
Electric vehicles such as the i3 and i3s demand a completely different tyre concept, and Bridgestone has addressed this need with its 'ologic' technology, an in-house tyre specifically designed for electric vehicles.
Christophe de Valroger, vice-president of Original Equipment at Bridgestone EMEA, comments that "ologic technology helps these vehicles optimise performance." It does so, he adds, without any trade-off in terms of safety. "We use a narrow Ecopia EP500 tread pattern that ensures excellent grip, even in wet weather conditions. In fact, it has been awarded EU label B-grade in rolling resistance and wet grip.
"Bridgestone and BMW share a commitment to develop products that contribute to a sustainable future," de Valroger continues. "Ologic technology should help us in achieving one of our long-term goals: a 50 per cent global reduction in CO2 emissions by 2050. We have created a unique tyre for unique vehicles. We are proud to have them guide us into the future."