Michelin introduces Tweel for UTVs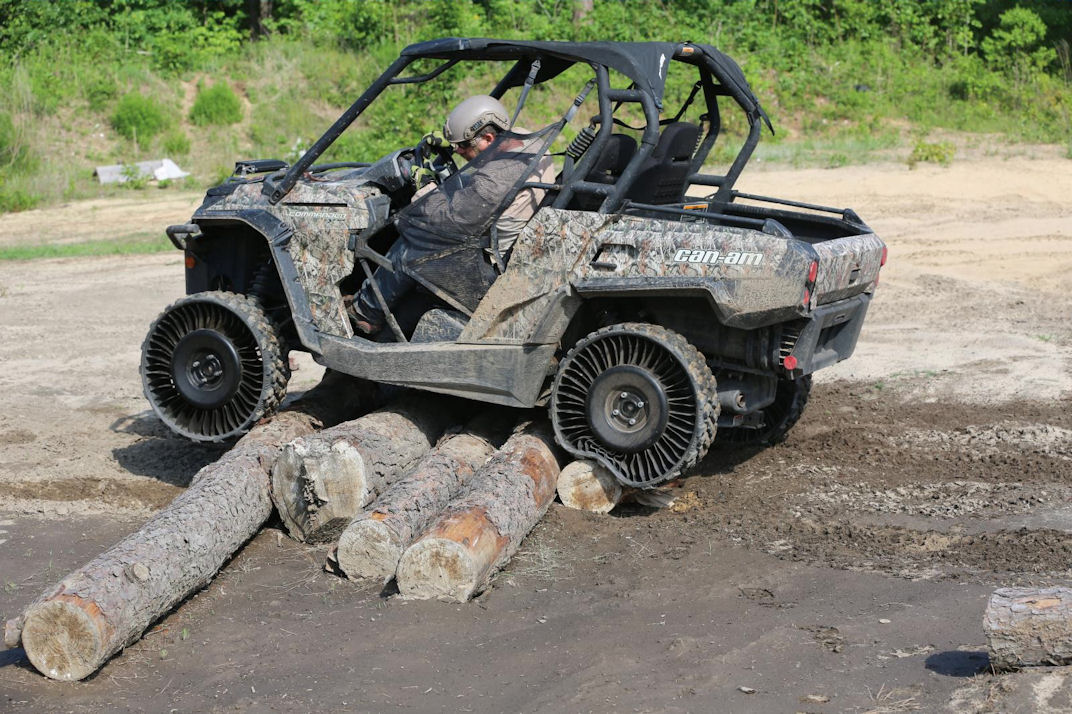 The Michelin Tweel, available as of this year in the UK and Europe for industrial applications, is now also offered as a UTV fitment. Michelin Tweel Technologies, a division of Michelin North America, Inc., is introducing a new 26-inch airless radial UTV tyre with a four-bolt wheel-pattern. Originally designed for military special operations use on light-tactical vehicles, the Michelin X Tweel UTV 26x9N14 unit replaces pneumatic tyre/wheel/valve assemblies and to start with will be sold as a replacement market fitment.
"UTV users operate these machines in arduous environments and extreme conditions where vehicles are exposed to rugged roads, jagged terrain and other hostile elements," said Olivier Brauen, vice-president of Michelin Tweel Technologies. "The Michelin X Tweel UTV airless radial tyre is a solution that will provide unmatched traction and uninterrupted vehicle mobility during long journeys or in remote areas where a flat tyre can be problematic."
Michelin considers the X Tweel UTV suitable for a broad range of applications, including construction, farm, landscape, recreation, quarry, mine, emergency service response, logging, parks, hunting, military operations, universities, beach patrol, camping, hurricane/tornado and other debris-laden areas where flat tyres cause serious and extreme interruptions.
In the face of obstacles, the Michelin X Tweel UTV is designed to perform like a pneumatic radial tyre, but with the durability and high damage resistance of an airless tyre. "The advanced spoke technology helps dampen the ride for enhanced operator comfort, while providing outstanding lateral stiffness for excellent cornering and side-hill stability," comments Michelin. The tyre maker adds that the low-pressure contact helps provide "outstanding off-road traction performance."
The X Tweel UTV is speed rated to 37 mph at a maximum gross vehicle weight of 2,860 pounds (1,297 kilograms), and users may choose from three hub configurations that will fit 4×137 and 4×156 bolt patterns for a variety of machines, including BRP Can-Am Defender, Kawasaki Mule and Polaris Ranger. Additional hub configurations for John Deere, Honda, Kubota and Argo will be available later in 2018 and 2019.