Investor Day: Cooper Tires outlines strategies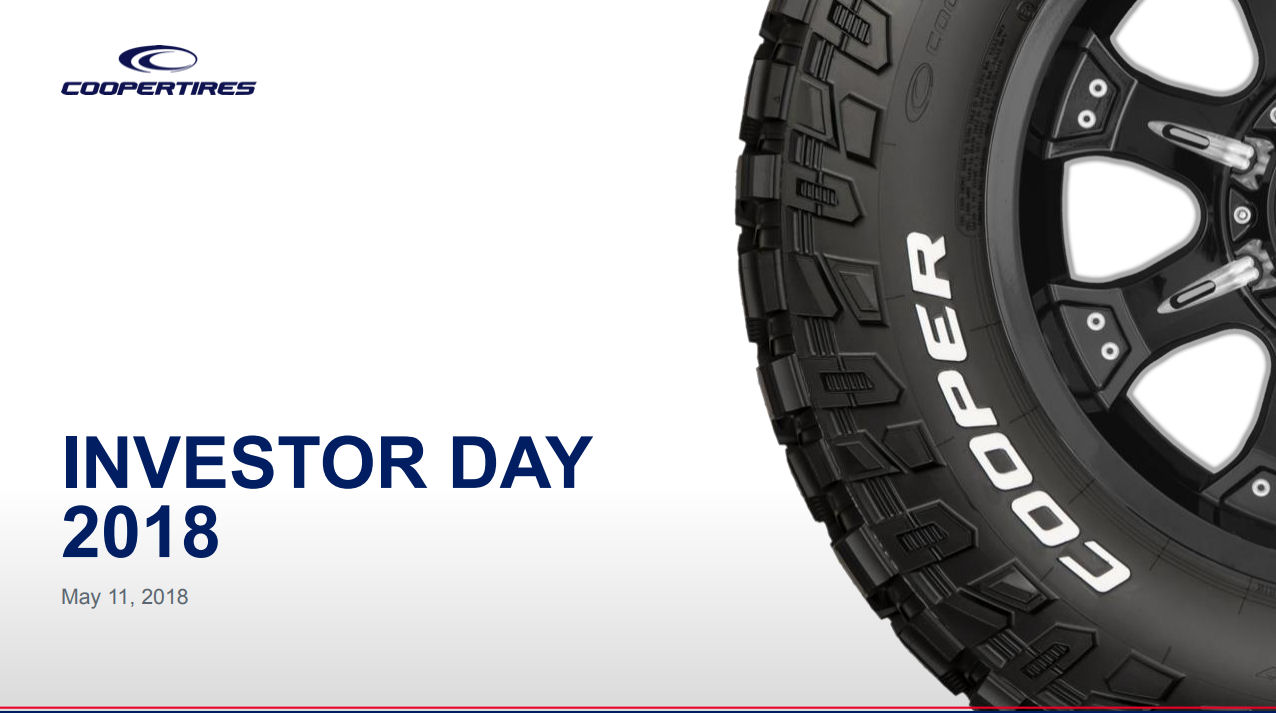 At its Investor Day in New York last Friday, Cooper Tire & Rubber Company outlined strategies for continued shareholder value creation. Management detailed plans to support five-year mid-term targets for operating profit of ten per cent to 14 per cent as well as annual unit volume growth in the low- to mid-single digits and return on invested capital of 14 per cent to 16 per cent.
"Three themes – the increased influence of consumers, underlying trends in the auto industry and consolidation in distribution – are driving changes in the tyre business, and Cooper is well positioned to benefit from them," said Brad Hughes, president and chief executive officer of Cooper Tire & Rubber. "Our brand strength and attractive value proposition represent a solid foundation to build on with consumers, which is important as we move into additional growth channels. Cooper's emerging OE business will drive enhanced product technology and keep us current with emerging trends such as electric and autonomous vehicles that we believe will be positive for the replacement tire market going forward. Finally, recent consolidation in distribution within the industry has created disruption and is pressuring long-standing relationships. Disruption creates opportunities, and Cooper is taking immediate action to benefit."
Aftermarket business
Cooper is implementing strategic initiatives to leverage its strong position with consumers, who have increased knowledge and power in the tyre business. The company is enhancing its focus on fast-growing premium product lines, accelerating the cadence of new product introductions and enhancing consumer involvement in product development and testing.
At the same time, Cooper is also focused on maximising its core positions in the independent dealer and national and regional retail channels by enhancing distributor programs and strengthening partnerships. In addition, Cooper is focused on increasing its presence in the fastest-growing sales channels, including mass merchandisers, auto dealers and e-commerce.
OE business
Cooper is focused on continuing to build its original equipment business in Asia. In China, the company has fitments on 47 platforms including five of the top-ten selling SUVs in 2017. In the global OE market, Cooper has established a partnership with Volkswagen and is finalising collaboration with a premium European auto maker. The company's OE business gives Cooper early product development insight into changing tyre requirements driven by the latest vehicle designs, technologies and trends, as well as strengthens the Cooper brand among consumers and retailers.
Consolidation in tyre distribution offers opportunities
Recent consolidation in tyre distribution is disrupting the industry landscape. Management believes that such disruption presents opportunity for Cooper. The company is in a position to benefit as changes in distribution entities pressure long-standing relationships between distributors and tyre manufacturers. Cooper's core strengths, including brand equity, quality products, and strategic relationships with national and regional distributors, will allow the company to harness certain opportunities and Cooper is actively pursuing a joint action plan with key distributors and a conquest plan to increase its associate dealer program exposure and participation.
Financial plans include mid-term growth in volume and operating profit
As previously reported, Cooper's results for 2017 and the first quarter of this year were affected by market headwinds related to raw materials, increased competitor promotional activity and generally weak consumer sell-out. Management expects that the market environment will stabilise in the future and that the key strategic initiatives intended to enhance Cooper's performance will translate into tangible financial benefits in the mid-term. As mentioned above, Cooper has announced five-year financial targets of annual unit volume growth in the low- to mid-single digits and operating profit margin in the range of ten to 14 per cent, as well as return on invested capital (ROIC) of 14 to 16 per cent.
The Cooper Tires Investment Day presentation can be viewed here.