TYM's Steve Eke running the London Marathon for Prostate Cancer UK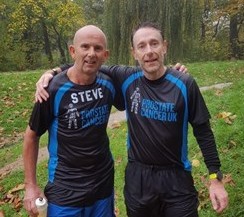 Steve Eke, 52 of Kings Lynn, will be joining the fight against prostate cancer by running this year's Virgin Money London Marathon for Prostate Cancer UK.
On Sunday 22 April Steve will be pounding the pavements across the capital's fabled 26.2 mile course to support the leading men's health charity against a disease that kills one man every hour. He will be a part of Prostate Cancer UK's 180-strong squad, all raising money to stop prostate cancer being a killer.
The marathon is more than a run for Eke, who was inspired to go the distance for Prostate Cancer UK after losing his father to the disease:
"I decided to run for Prostate Cancer UK because it's a charity very close to my heart. For 15 years my father battled with prostate cancer and it eventually led to his death."
James Beeby, director of Fundraising at Prostate Cancer UK, said: "We're delighted that Steve will be part of our team this year, raising vital funds for Prostate Cancer UK. Our amazing cast of runners from across the UK show a brilliant demonstration of Men United: people joining one team to fight a common opposition – prostate cancer.
"For the first time, the number of men dying from prostate cancer every year has overtaken the number of women dying from breast cancer, making prostate cancer the third biggest cancer killer in the UK."
Many people are unaware that prostate cancer is the most common cancer in men. It's a huge issue that cannot be ignored. In 2018 one man every 45 minutes will die from prostate cancer in the UK. That's more than 11,000 men this year. Based on current trends, if we ignore prostate cancer and do nothing, this number will rise to over 14,500 men a year by 2026.