Michelin takes home more JD Power silverware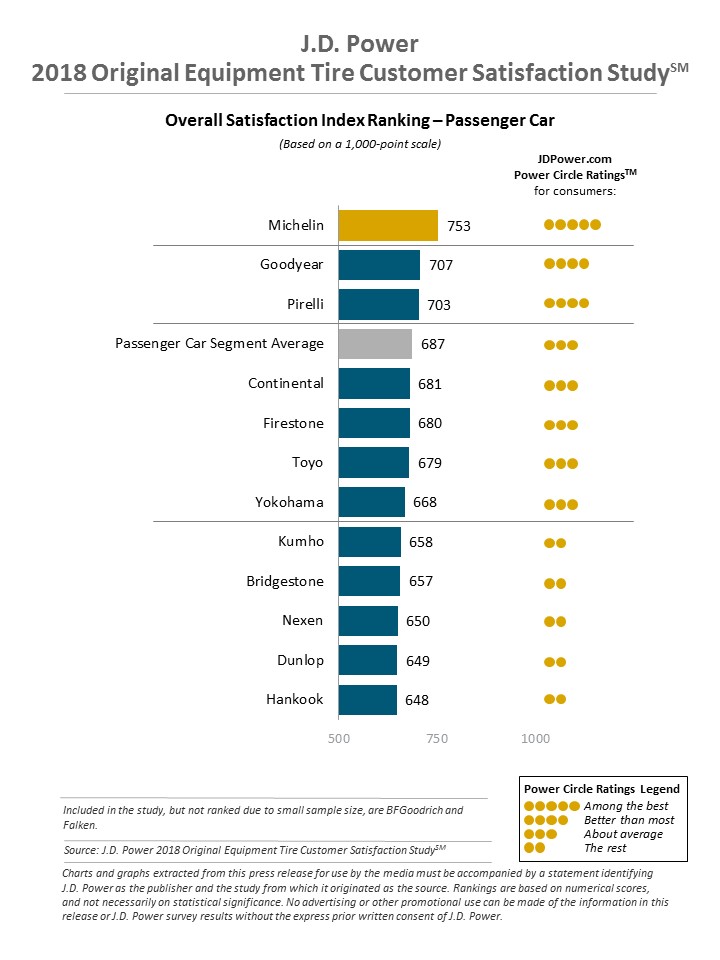 The results of the JD Power 2018 US Original Equipment Tire Satisfaction Study have been released, and the winner is…Michelin. The tyre maker received top customer satisfaction scores in all four segments of the study for the second consecutive year. Michelin's total tally since the study began in 1989 is 88 awards, more than the number received by any other tyre manufacturer.
Michelin took top honours in the Luxury, Passenger Car, Performance Sport and Truck/Utility segments. It was the Company's 15th consecutive highest ranking in the Luxury category, 10th consecutive highest ranking in the Passenger Car segment and third consecutive top ranking in the Truck/Utility category. Overall, Michelin scored 753 points out of a possible 1,000; this score, plus those achieved by Goodyear (707 points) and Pirelli (703) points, were the only scores to exceed the average of 687.
"Michelin is dedicated to a renewed focus on customers, from our manufacturing partners to the dealers who buy our tyres to the consumers who use them," said Scott Clark, chairman and president, Michelin North America. "This recognition validates Michelin's organisational approach to quality, which results in products that consistently exceed performance expectations and an ongoing improvement in service to our customers."
Customer satisfaction with Michelin's original equipment tyres improved over 2017 results in all four categories, including a 28-point gain in the Performance Sport segment and 19 points in the Truck/Utility category.
The 2018 US Original Equipment Tire Customer Satisfaction Study is based on responses from more than 30,477 US-based vehicle owners of 2016 and 2017 model-year vehicles. Satisfaction was examined in four areas: tyre wear, tyre ride, tyre appearance and tyre traction/handling.