Goodyear Tyres warns drivers: 'Donut Ignore the Signs'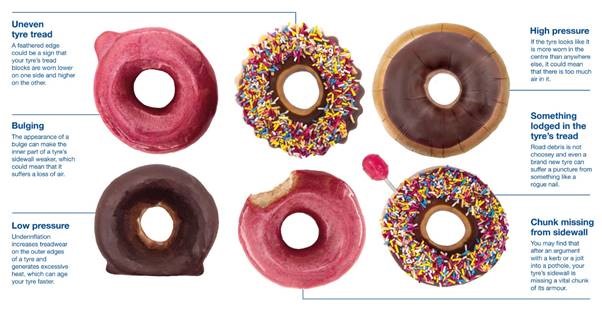 Confusion over what to look and feel for when checking tyres is not unfamiliar. But Goodyear's new campaign has recruited an unlikely ally to boost tyre safety knowledge amongst drivers.
Goodyear Tyres has launched 'Donut Ignore the Signs' – a campaign designed to educate drivers on the signs and symptoms of unhealthy tyres and encourage them to commit to the habit of checking their tyres once a month.
When fleet and commercial vehicles are off-road, it directly impacts service levels and bottom lines, so minimising vehicle downtime is a priority. Committing to regular tyre checks, for drivers and fleet managers, will help ensure vehicles are safe, with a reduced risk of breakdowns and accidents.
Poor tyre maintenance was the most common reason for car accidents in the UK in 2016 (DfT), and whilst it's natural for tyres to change over time, there is a clear unease when it comes to checking their health.
New research from Goodyear Tyres has also revealed that more than a quarter (27 per cent) of people don't know what the legal minimum tread depth limit is for their tyres, while a further 28 per cent haven't a clue what the purpose of an EU tyre label is.
The six donut metaphors present the most common unhealthy tyre conditions in a clear, visual way, helping with the difficulties of at-home tyre checks.
David Morris, Business Account Manager – Fleet & Public Sector, Goodyear Tyres, comments: "Ultimately, it is down to the motorist to ensure that their tyres are in good health, but many drivers struggle to easily identify dangerous tyre conditions.
"By presenting potential tyre conditions in a playful image, our hope is that drivers will become more in-tune with their rubber and feel confident to complete at-home or at-work checks".
Drivers and fleet managers can join in the conversation on social media using #DonutIgnoreTheSigns.