Arsenal players have 'paw-some' time in latest Cooper Tire challenge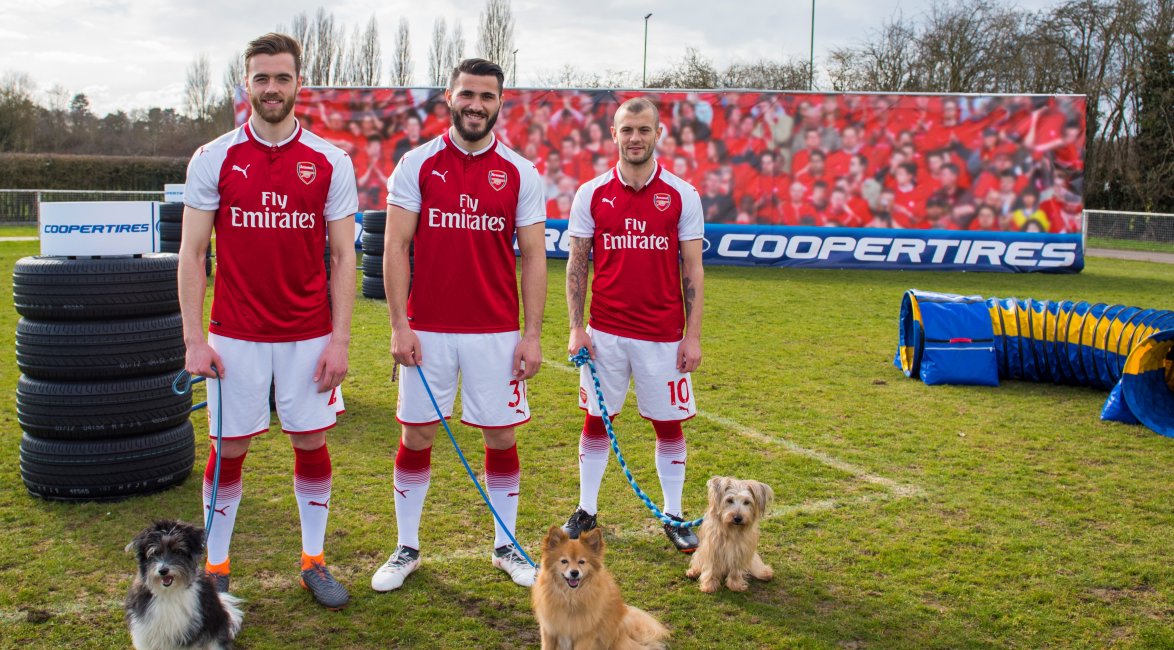 Football skills from a leading Premier League team? Yawn – seen it. But Cooper Tire Europe has served us something new and different, a footballer-dog combination. It paired the talents of Arsenal FC players with a trio of clever canines and filmed the results for our entertainment.
Three members of the Arsenal squad took part in the 'Cooper Tire Agility Course' challenge. Defenders Sead Kolašinac and Calum Chambers and midfielder Jack Wilshere were each partnered with a four-legged friend and given the chance to prove their dog-handling skills against the clock.
Kolašinac teamed up with Battersea dog 'Woody', Chambers with rescue dog 'Buddy' and – last but not leashed – Wilshere joined forced with cross-breed 'Cheeky'. Each player was challenged to lead their respective dogs around a custom-built dog agility course, with obstacles made from the Cooper Zeon 4XS Sport, tyres designed for the medium and large SUVs favoured by many Premier League footballers.
The challenge finished with three attempts to kick a ball through a tyre hanging from the crossbar – with the clock stopping if the ball went through the tyre or after three unsuccessful attempts.
Chambers and his partner 'Woody' triumphed on the day, lapping the course in a time of 28.76 seconds. Kolašinac and 'Buddy' finished second in a time of 30.87 seconds, while it was a 'tail of two halves' for Wilshere and 'Cheeky' who struggled home in third with a time of 36.52 seconds.
The three players were suitably qualified to represent Arsenal in this latest challenge: Wilshere, recently recalled to the England squad, is well known for his pack of three dogs – Rex, Dolly and new addition Winston. Meanwhile, Kolašinac has recently added a ridgeback called Vuj (or Wolf in Bosnian) to his household and Chambers has been a self-confessed dog lover since he was a small boy.
"Congratulations to Calum Chambers and Buddy on winning our latest player challenge," said Sarah McRoberts, Cooper Tire Europe marketing communications manager. "It was wonderful to see the dog-loving players in their element away from the pitch with their canine partners. Jack did very well to tame the suitably named 'Cheeky' but, ultimately, Calum's determination and empathy with 'Buddy' shone through and got them a deserved win.
"As the end of yet another season approaches, Cooper wishes Arsenal the best of luck in the club's remaining games," McRoberts added.