Servicesure garage named 'Best Newcomer' after Car Leasing Bargains success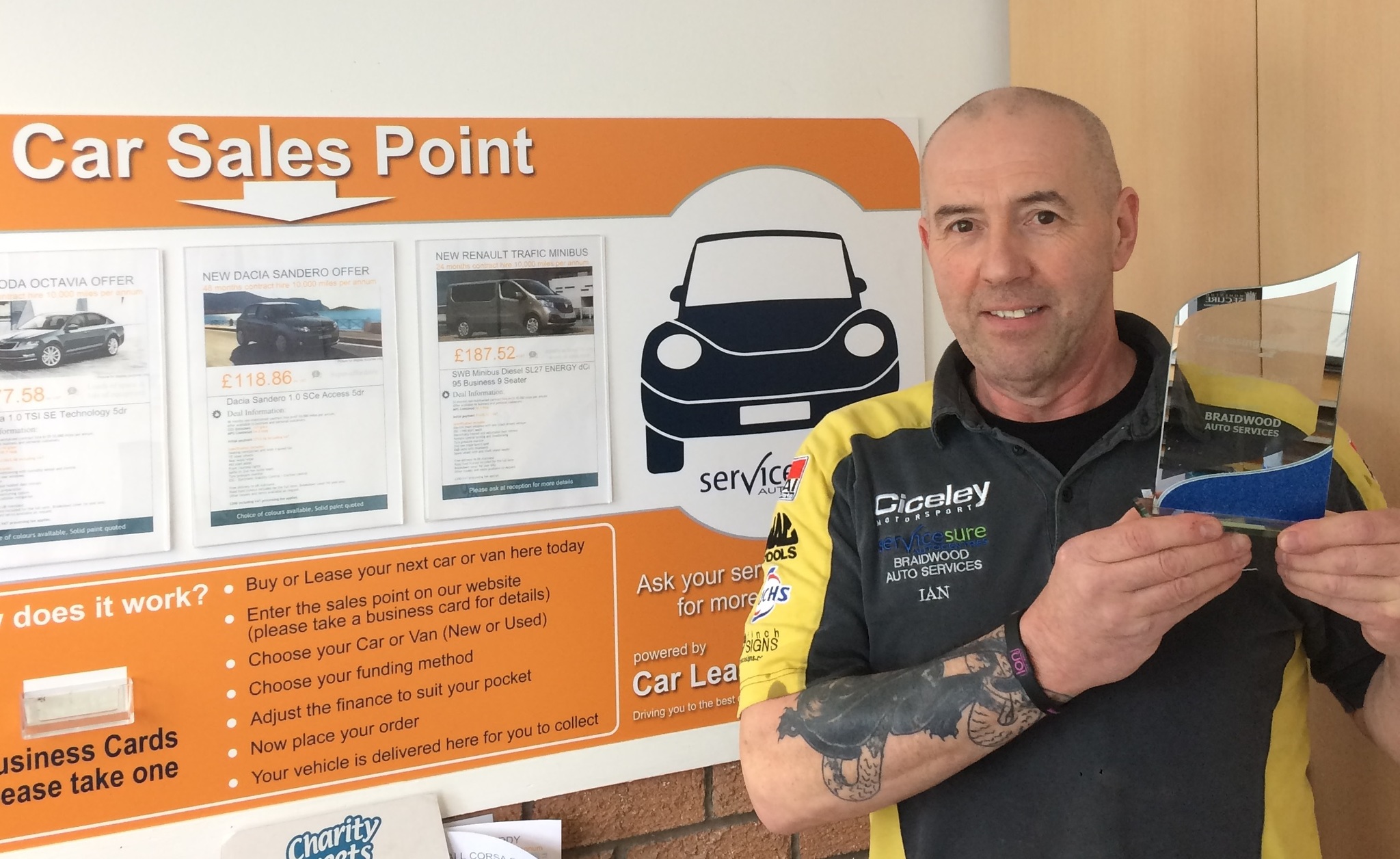 Braidwood Auto Services, a South Lanarkshire-based Servicesure Autocentre, has been awarded Car Leasing Bargain's 'Best Newcomer Award', just five months after joining the network.
The award recognises Braidwood's instant success in selling CLB finance products after becoming a member of its nationwide network of independents in November 2017.
According to Ruth Leighton, business development manager at CLB: "Not only has Braidwood Auto Services managed to successfully sell HP, PCP and contract hire from the outset, but the team have also sold two fridge van conversions as well!
"Their customer care is exemplary, and we are proud to have Ian and his team as part of the Car Leasing Bargains network."
As a local independent service and repair garage, owner Ian Thomson has worked hard to ensure that Braidwood's capabilities match – and in many cases better – the services on offer from the main franchise dealerships, which are usually anything up to 70 per cent more expensive than independents.
Thomson says that the garage boasts, "a reputation built on local, friendly service, backed up by the staff who collectively have over 30 years industry experience. We're happy to always go the extra mile for our customers."
According to Thomson, "The CLB award is absolutely brilliant, it makes the hard work all worthwhile."
Looking to the future, he plans to keep expanding the Braidwood customer base, offering competitive deals and the best service possible.
Paul Dineen, head of garage programmes at The Parts Alliance, said: "The award from CLB shows that the relationship with Braidwood Auto Services is already off to a fantastic start.
"I'd like to offer Ian and the team my congratulations, and I'm sure that this will be the first of many CLB awards for them."
Braidwood Auto Services is a customer of Dingbro Ltd, an associate member of The Parts Alliance.
"To make such an impact with CLB in such a short space of time is very impressive, and is a real testimony to the work ethic employed by Ian and everyone else who works at Braidwoods," said Duncan Davidson, Customer Programmes Consultant at Dingbro.