Michelin enters African tyre distribution joint venture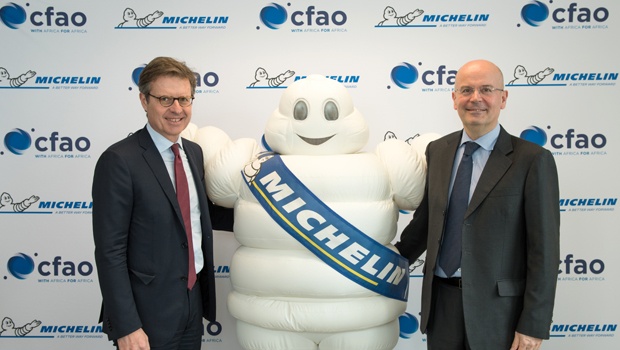 A new joint venture has been set up between Michelin and industrial products distributor CFAO for importing and distributing premium and quality segment tyres into Kenya and Uganda. CFAO holds a 51 per cent share in the new entity and Michelin the remaining 49 per cent. The joint venture's governance is equally divided between CFAO and Michelin.
This new entity will provide the two countries, which have a total population of over 90 million people, with tyres for cars, vans and light trucks, and it will also import heavy goods vehicle, two-wheel, civil engineering and agricultural tyres. The joint venture will rely on Michelin's long-standing partners in Kenya and Uganda.
"The growth prospects of the African continent are immense," comments Yves Chapot, executive vice-president of Michelin's Automotive Business lines in the Asia, Africa, India and Middle East regions. "We want to offer Kenyan and Ugandan motorists and businesses, the best of our technologies to sustainably support their mobility. It is with this ambition in mind that we are working with CFAO, whose expertise and commercial footprint on the continent will be two of the levers for the success of this partnership serving our East African customers."
"With growth rates of 4.5 per cent for Uganda and 5.5 per cent for Kenya in 2017, these markets are very dynamic," adds Richard Bielle, chairman and chief executive officer of CFAO. "As a result, they are of interest to the biggest players in the global industry. CFAO's alliance with Michelin illustrates our know-how on the continent – providing our partners with immediate solutions to develop markets and to offer consumers high quality products and services."
CFAO, the Compagnie Française de l'Afrique Occidentale was established in 1887 out of the shipping company Établissements Verminck, and initially engaged in trade in French colonies, predominantly in Africa. Today CFAO is a wholly-owned subsidiary of Toyota Tsusho Corporation and is France's largest trading company, with 15,200 employees and operations in 36 countries in Africa as well as access to numerous other markets around the world. Approximately 80 per cent of the 4.2 billion euros turnover CFAO realised in 2016 came from sales in Africa.
The new joint venture with CFAO continues the recent interest Michelin has shown in securing a stake in  its (and its competitors) distribution channels. The French tyre maker has invested in wholesalers in Germany through its 2014 acquisition of Ihle Holding AG and its purchase of Meyer Lissendorf the following year, and it is also a 50/50 partner in the Nex Tyres SL wholesaling joint venture in Spain. At the start of this year, Michelin announced a 50/50 joint venture in North America, under which it is combining its tyre wholesale resources with those of Sumitomo Corporation of Americas in the US and Mexican markets.