Launch UK's new PRO-Series leak detectors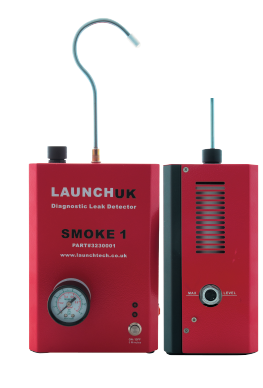 Launch UK, a leading UK suppliers of automotive diagnostics equipment, has announced that it has brought two new automotive diagnostic leak detectors to the UK aftermarket, that have been specifically engineered for vehicles sold in the EU.
As part of the PRO-Series range, SMOKE1 and SMOKE2 are ideal for quickly finding leaks in petrol and diesel turbo systems, operating at higher pressure than EVAP models. The emitted smoke vapour will find leaks in many closed systems such as engines, cooling systems, transmissions, EGR valves, exhaust systems, vacuum systems and many others. Both models will also find hard to locate leaks in passenger compartment areas.
The SMOKE1 is an entry level, portable leak detector weighing just under 4kg and has an inbuilt compressor that delivers 10L per minute of air or smoke vapour. As it does not require a separate compressed air supply, the SMOKE1 is highly useful for the workshop or off-site. It also comes with an impressive standard specification, featuring a universal bladder to seal openings from 6cm to 14cm including irregular shapes. It now comes with a cap plug set to introduce smoke and seal numerous vehicle systems, now included free as an introductory offer, with an optional adapter cone and UV kit also available.
The SMOKE2 is a professionally engineered workshop tool for fast diagnosis of frequently set pressure related DTCs, featuring scan tools that will provide the fault code to help technicians quickly and effectively find the cause of the problem. The inbuilt compressor, delivering up to 10L minute flow rate, enables full portability around the garage or in remote locations when 12v battery power is added, allowing the unit to be ready within just two minutes.
Both tools support UV detection for small leaks and offer efficient diagnosis when it is needed most, thanks to instant smoke generation and a smart five-minute smoke cycle.
Launch UK offers a raft of diagnostics solutions for automotive enthusiasts, professionals and businesses alike, including the acclaimed X-431 range of OE level diagnostic equipment. The full potential of its range has increasingly gathered momentum across the aftermarket in the past few years, thanks to Launch UK's focus on promoting connectivity and diagnosis to a wider vehicle parc.