Goodyear named Girteka Logistics' main tyre partner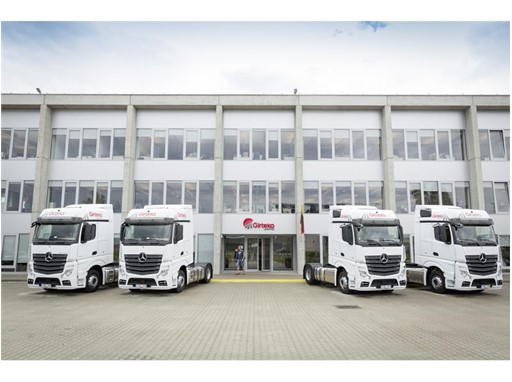 Girteka Logistics has chosen Goodyear as its main tyre partner for the 4,000 trucks and 4,300 trailers it operates on its pan-European freight services. Under this partnership, Goodyear tyres will be supplied to cover 80 per cent of the fleet's requirements. Girteka operates two and three axle tractor units and mainly refrigerated tri-axle trailers, along with a growing number of tilt trailers.
The Lithuania-based company, which began as a one-truck operation just over 20 years ago, now delivers more than 320,000 full truckloads of goods to all corners of Europe each year.
"We carried out a detailed evaluation of a variety of tyre brands with a focus on cost per kilometer," said Kristian Kaas Mortensen, chief communications officer at Girteka Logistics. "Based on the results of that programme, we have made the decision to use mainly Goodyear tyres for our more than 8,000 trucks and trailers."
As part of its tyre management strategy, Girteka Logistics is planning to install a Goodyear Drive-Over-Reader at its largest depot in Siauliai, Lithuania. This automated tyre inspection technology checks tyre pressure, tread depth and the weight of each vehicle entering or exiting the depot.
"We are delighted that Girteka Logistics has chosen the Goodyear one stop value proposition comprising premium tyres and advanced technology," said Gregory Boucharlat, Goodyear's director Fleet & Retread Commercial Tires Europe. "Their evaluation programme proved that our cost per kilometre was best. Currently we are discussing how other elements of our Goodyear FleetFirst operator support programme can benefit their operation. With more than 2,000 TruckForce service providers strategically located in 28 countries across Europe, we are close at hand wherever Girteka Logistics operates its vehicles."