Dezent launches 5-spoke TY range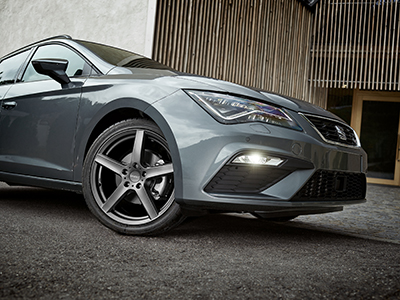 A new five-spoke, one-piece cast alloy rim has joined the Dezent portfolio. Called the TY, the rim was developed to offer an optimal balance between material strength and weight, and is available in silver or dark grey – graphite matte, as Dezent calls it – finishes.
"Oozing a modern look and reduced to the bare essentials, convex and concave surfaces mix and offer one thing in particular: a variety of application possibilities for cars featuring four and five hole attachments in the 15 to 18-inch range," writes Dezent range manufacturer Alcar regarding the new rim. "The classic elegance of the Dezent TY gives models such as VW Golf, VW Passat, Audi A4 Avant or Mercedes C-Class extra dynamic. Furthermore, VTA is available for a number of other cars, which saves the trouble of registration. In short, it's just plug and drive."
Alcar adds that the TY's five-spoke design is easy to clean and offers "a perfect alternative to more expensive original rims, especially for compact car owners." All sizes (6.0×15, 6.5×16, 7.0×16, 7.0×17, 7.5×17, 7.5×18 and 8.0×18-inch) are suitable for use with TPMS and can accommodate loads up to 730 kilogrammes.