Cambrian Tyres welcoming new products in 2018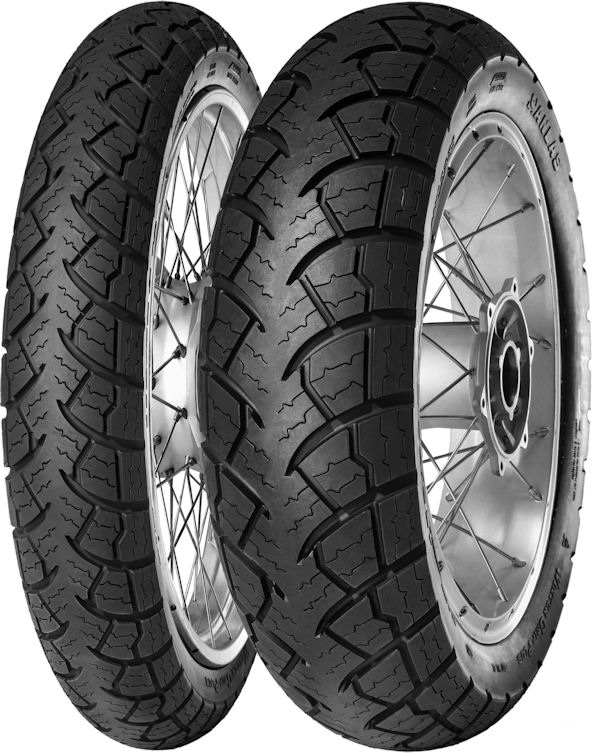 When we spoke with Cambrian Tyres just over a year ago, the specialist motorcycle distributor shared news of a new UK exclusive brand in its portfolio, Anlas. Cambrian began its association with the Turkish manufacturer with the Winter Grip 2, a scooter tyre intended for year-round use, and sales were good from the very start. Based on this early success, Cambrian Tyres has gradually built up its Anlas offer, and in 2018 this will continue growing to include more products for scooters, lightweight motorcycles and adventure bikes. At the same time, new additions will join Cambrian's house brands as well as its exclusive Continental range.
The wholesaler had just returned from Motorcycle Trade Expo in Coventry when we spoke with Richard Hemingway in mid-January. The 2018 show marked Cambrian Tyres' return after an absence of several years and was the very first UK trade exhibition at which it presented the Anlas range. The marketing manager told us that the response to Anlas during Motorcycle Trade Expo was overwhelmingly positive, with visitor attention particularly focused upon the winter tyres on display. "There's been a lot of interest in winter tyres overall," he comments. "Out of all the months since Anlas products first arrived with us in November 2016, the best two for sales were November and December 2017. Sales during these months were very much driven by the popularity of the Winter Grip 2."
This tyre is now available in a total of 32 sizes, including three radial dimensions for maxi scooters, and is M+S rated. The range currently available will soon be joined by sizes for lightweight motorcycles. "Winter Grip 2 fitments coming this year will be suitable for lightweight and small capacity machines," comments Hemingway. "The size range for light motorcycles will be concise, but does cover a number of the popular small capacity bikes on the market."
Big brother to the Winter Grip 2 is the Winter Grip Plus. First introduced last year in popular sport touring and adventure bike sizes, such as for the BMW 1200 GS, the range will soon expand with the arrival of a further three sizes, bringing Cambrian Tyres' Winter Grip Plus range up to ten sizes. The new additions are a 21-inch front size and two new rear options; these open the range up to a wider number of motorcycles, including the Honda Africa Twin. Hemingway thinks it unlikely that the new sizes will arrive with Cambrian this winter, but stocks will be in place for late 2018.
A number of Anlas adventure bike tyres joined the Cambrian portfolio in 2017, and further sizes are coming this year. The road-focused Capra RD will include an 18-inch rear size as used by the Africa Twin, while two further 17-inch sizes have joined the Capra X off-road range. The Anlas Capra R is aimed at riders looking for an on- and off-road option, and five new sizes will arrive this year. "We've seen a rising demand for these tyres" comments Hemingway. "We took them to several shows last year, including the Overland Event in Oxford, and there was certainly a lot of interest from riders."
The biggest growth, however, is taking place in the Anlas Tournee range. This is an all-round scooter tyre, and Richard Hemingway shares that demand for this product has been strong, particularly in the smaller, 10-inch sizes. "We're taking on a much wider range of dimensions. The range is more than doubling in size, with 18 new additions bringing the total up to 31." Cambrian Tyres sees the Tournee as competitively priced against the 'A' products offered by the major brands while providing comparable performance. Dimensions to fit lightweight and commuter motorcycles (up to around 250cc) are sold under the Tournee Sport name, and the two sizes already available will be joined by two further sizes this year.
An entirely new Anlas product for Cambrian is the Sports White Wall. Only available in size 3.50-10 51J TL, this whitewall scooter tyre is aimed at classic scooters such as the Vespa and Lambretta. "Some other manufacturers already offer similar products," observes Hemingway. "But the Anlas tyre is keenly priced, and if it's anything like the other Anlas products we supply we've no reason to believe it doesn't offer comparable performance as well." The marketing manager adds that the Anlas brand is already becoming known in the classic scooter market through the winter tyre, therefore the Sports White Wall should be "a welcome product."
Most new sizes coming in 2018 aren't new Anlas releases. Rather, it is more a case of putting meat on the bones – when introducing Anlas, Cambrian Tyres initially selected only the most popular sizes and those that weren't covered by major manufacturers. "To begin with we cherry-picked to see what the response would be." shares Hemmingway. "Once we'd dipped our toe in the water and seen that people were responding well to the brand, we decided to take on a broader range. There's certainly been a demand for us to increase the number of machines we can equip with these tyres."
Awaited sizes, new ranges joining Continental line-up
Richard Hemingway states that Cambrian Tyres is "very happy" with the line-up of house brands it offers. Out of these, the brand undergoing the greatest changes in 2018 is Bridgestone – the five new tyres joining the Battlax portfolio this month are covered elsewhere in this feature. New additions are also anticipated in the Continental motorcycle tyre range that Cambrian Tyres exclusively distributes in UK, although as Hemingway points out, some of these are products originally expected in 2017. "Not all tyres we talked about a year ago (see Tyres & Accessories February 2017) arrived in all sizes last year. The ContiCity, a classic style tyre for lightweight bikes, is now expected in the 2nd quarter of 2018, as is the ContiLegend whitewall tyre for Harley-Davidsons and similar bikes. Some sizes of the ContiTour, successor tyre to the Milestone range for big custom bikes, cruisers and choppers, did arrive in 2017, however the rest of the range will be with us this year.
In addition to these much-anticipated products, two new Continental ranges are scheduled to arrive this year. This pair, the Continental RoadAttack 3 CR and the ContiAttack SM EVO, were launched at the EICMA show in Milan last November.
Successor to the ContiRoadAttack 2 CR, the first of the new tyre lines is a road-homologated racing tyre for classic sport motorcycles. With the ContiRoadAttack 3 CR, Continental launches a radial tyre with a casing for narrow rims that aims to offer maximum grip, outstanding handling and high levels of stability. The tyre's optimised racing compound was developed for endurance racing, and the customised 150/65 R18 rear wheel size is designed to provide optimal performance when exiting corners. In addition to this rear size, the ContiRoadAttack 3 CR will be available in the front sizes 100/90 R18 and 110/80 ZR18. All sizes will be available from the second quarter of the year.
The ContiAttack SM EVO is designed for supermoto and small sport motorcycles. A newly-developed compound offers higher levels of grip in changing conditions, such as semi wet roads, as well as greater mileage from the rear tyre. Continental shares that the ContiAttack SM EVO offers easy handling with controllable reaction on the limit, while its 0° steel-belt construction provides high stability and direct feedback when braking into and accelerating out of curves. And thanks to the presence of TractionSkin – a micro-rough tread surface – break-in times are safe and short. The ContiAttack SM EVO will be available in two front wheel sizes (110/70 R17 and 120/70 R17) and three rear sizes (140/70 R17, 150/60 R17 and 160/60 R17) from the second quarter of 2018.
The ContiAttack SM EVO doesn't replace the original ContiAttack SM, rather it sits in the range above it in Continental's range for supermoto and small capacity sportsbikes to help riders push their performance to the very limits.
The RoadAttack 3 sport touring tyre did arrive last year, and in May was honoured by German biking magazine Motorrad as winner of its test of six leading sport touring tyres. Noting that the Motorrad test is often seen as the industry benchmark, Hemingway shares that the RoadAttack 3 "has been a strong performer on the back of that win." When sister publication PS calculated scores for its sportier slant on the joint comparative evaluation, it too named the Continental tyre its test winner. "A double win in two of the most highly regarded tests has definitely given us something to shout about."
One further change in the Continental range is a small expansion to the TKC 70 on-/off-road tyre range. The main addition is aimed at the Ducati Scrambler, which has proven hugely popular in the UK.
Sales of Continental product are currently being helped by a Cambrian Tyres promotion. The distributor is giving away a Continental-branded Nelson Rigg tank bag with every pair of RoadAttack 3 tyres it sells. "It's quite a nice selling point and a lot of our dealers have been using this to advertise the product and to get customers through the door," says Hemingway. A similar deal is available for those purchasing a pair of TKC 70 tyres – while stocks last, these come with a free Ortlieb dry bag.
New 2018 print catalogues for the Anlas, Bridgestone and Continental ranges can all be obtained from Cambrian. stephen.goodchild@tyrepress.com