98-year old garage amongst the first 'City Brakes' winners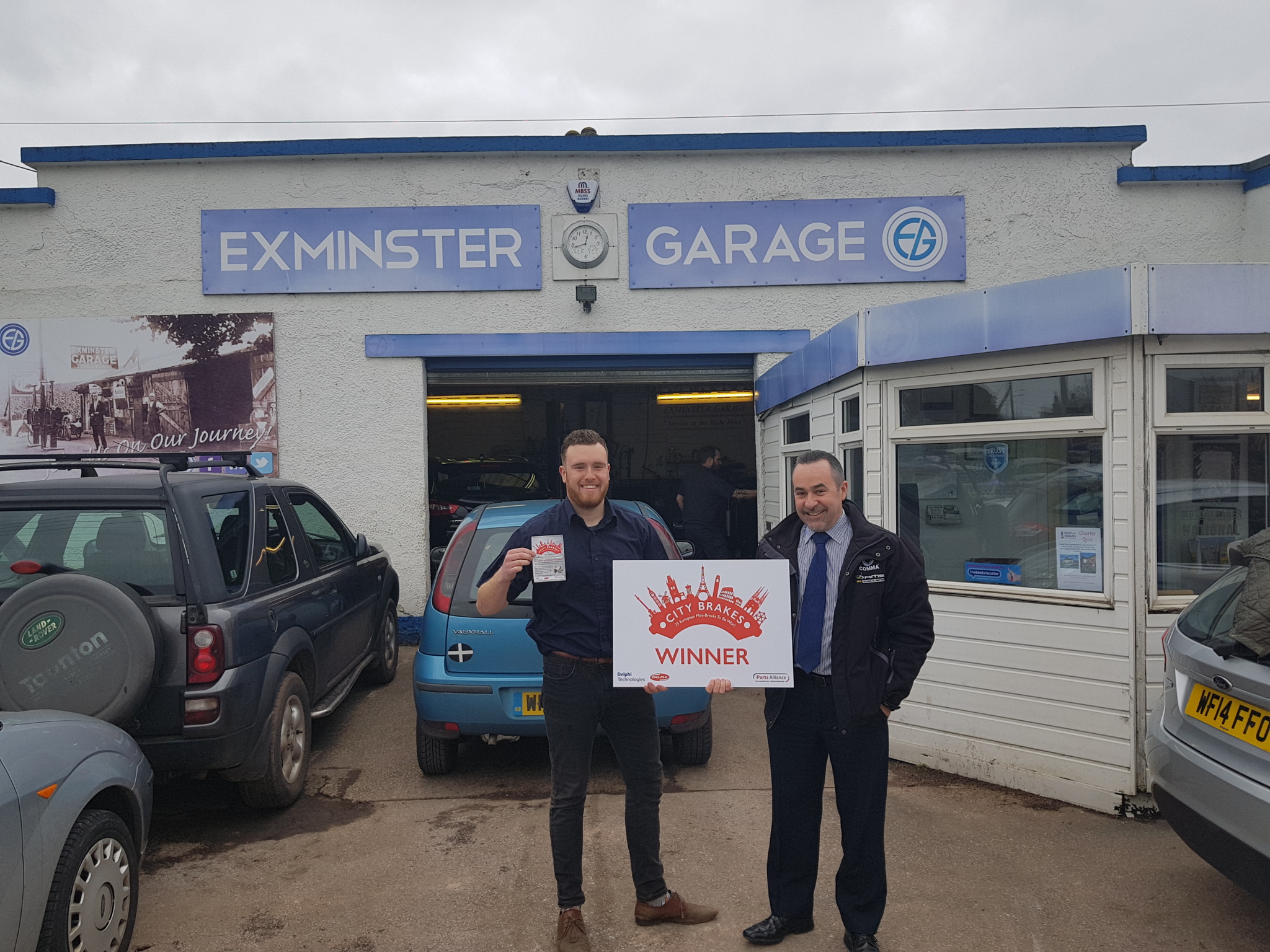 The Parts Alliance's 'City Brakes' promotion, which runs until the end of April,  has found some of the 25 garages set to win luxury trips to top European cities.
The holidays include three nights' accommodation with flights and transfers for two people to Budapest, London, Amsterdam, Prague, Edinburgh, Paris, Dubrovnik, Rome, Barcelona or Brussels.
"Customers are finding winning scratch cards but there are still lots more holidays to be won," said Simon Moore, head of marketing at The Parts Alliance. "'City Brakes' is proving popular with customers and is helping our member branches promote the benefits of fitting better quality braking components.
Winner Exminster Garage boasts an impressive history stretching back virtually 100 years to 1920. Today the garage offers service, repairs and MOTs on all makes and models.
Service director Sam Strachan received the winning card and was congratulated in person by The Parts Alliance's Regional Business Director Paul Dineen.
Father Glen Strachan has worked at the garage which employs six staff for 23 years and owned it for the last nine. He's been a customer of The Parts Alliance's Exeter branch for six years.
"We get excellent service from a knowledgeable and helpful team, they're just a nice bunch to deal with," said Glen. "I'm delighted, we haven't had a holiday for a while and my wife and I have always wanted to visit Prague.
"We like Delphi pads as they fit first time and we don't ever get warranty issues or customer complaints."
The Parts Alliance is now urging garages not to miss out as the promotion moves towards its mid-point.
Besides the holidays, further prizes include 150 essential gadgets such as smart speakers, fitness trackers, tablets, DAB radios and power banks along with a merchandise pool of 27,000 items with mugs, tins of sweets, snack packs, torches and USB chargers all there to be claimed.
For a chance to win any of the prizes customers need to purchase Delphi or Bendix brake pads from their nearest branch before the end of April.