Servicesure garage wins second consecutive outstanding achievement award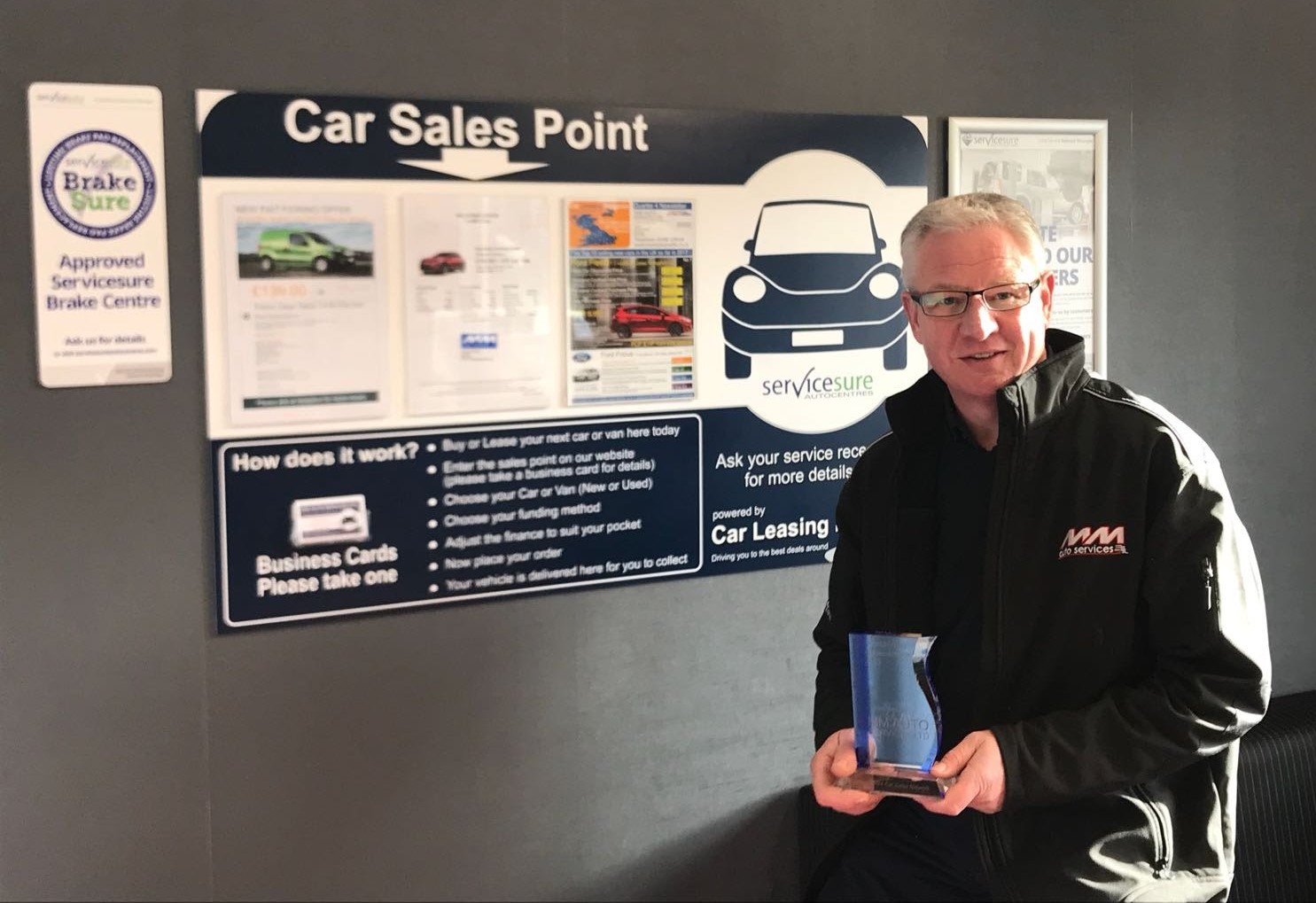 M M Auto Services, a Dingbro Ltd customer and member of the Servicesure Autocentre network, has received Car Leasing Bargain's 'Outstanding Achievement Award' for the second year in a row. The award recognises its innovative approach to vehicle sales. Owner Murdo MacIntosh decided to diversify the aftermarket independent business by selling new cars. The Dundee garage sold 38 vehicles through its 'virtual forecourt' in the past year, covering vehicles from a range of 11 different manufacturers.
Murdo believes that the broad range of marques sold is significant: "It demonstrates that our virtual approach makes car buying much simpler for the customer, allowing them to shop from a range of manufacturers on one site."
Since winning last year, the business has invested into new premises three times the size of the previous site, with a new internal car showroom that holds up to 16 cars and a dedicated customer reception compete with an HD viewing screen, plus additional customer parking spaces.
The relocation also allows for a new Class 7 and 4 MOT lanes, as well as two additional ramps and a new tyre bay.
And according to Murdo, the investment plans don't end there: "In the coming year we will be adding a valet bay to cater for service customers, as well as the preparation of used cars and lease returns, and we intend to have an open day to launch the new indoor used car sales area."
The team is set to expand too, with Murdo having recently recruited a second apprentice in addition to a new 'Master Technician' who will join the business in February from a franchised dealer background.
Commenting on the award, Murdo said: "We consider the new car sales aspect of our business to be a real growth opportunity. Our customer base has grown in workshop terms by 45% since relocating and Car Leasing Bargains is now a significant part of our profit contribution, perfectly complementing our 'One Stop Shop' product offer.
"I am obviously extremely proud to have won this again, as we are a quality-driven business and this is a clear reflection of how we treat every customer in every aspect of our business."
Duncan Davidson, customer programmes consultant at Dingbro Ltd. Said: "Congratulations once again to Murdo and the MM Auto Services team: a much deserved win recognising their inventive approach to business."