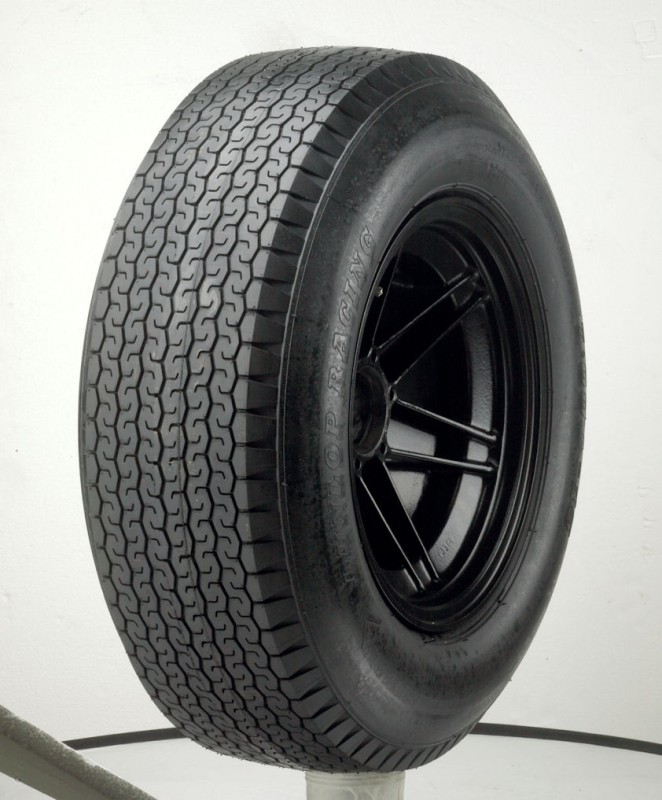 Dunlop says it puts its 'go faster' instincts on hold for the historic racing market and produces tyres with the correct period performance
Dunlop is optimistic about the future of historic motorsport. This was the message given at the Historic Motorsport International (HMI) show last Friday, a London-based event that sees a wide range of companies involved in the classic car and historic motorsport markets meet to prepare for the coming season.
A major supporter of historic racing, Dunlop recently confirmed its commitment to the continued supply of authentic 1950s and 1960s racing tyres. This commitment means that cars racing at iconic events such as the Le Mans Classic and Goodwood Festival of Speed can continue to use the original specification of tyre. By doing so, handling characteristics remain true to the experience when the car was new, something that wouldn't be possible if the cars used Dunlop's modern tyre range.
Together with long-time service partner, HP Tyres, Dunlop services more than 30 historic racing events a year. Speaking on the HMI conference stage on behalf of Dunlop and HP Tyres, James Bailey outlined the importance of authenticity:
"Historic racing is booming, as circuits realise that nostalgia can draw more spectators than some modern races and seasoned racers choose the investment potential, and driving rewards, of a historic, classic or vintage car. There is a genuine feel-good interest in nostalgia, and event promoters are capitalising on this," he stated.
"Innovative event promotion is key to the continued success of historic racing. This year is the 20th Goodwood Revival, and the fastidious attention to detail of such events means that authenticity matters. That's why Dunlop believe in the FIA's Appendix K regulations, which insist on authentic period tyres. We could easily develop a tyre that makes these cars considerably faster, but we put our 'go faster' instincts on hold for this market and produce tyres with the correct period performance. That matters, as the tyre is the last balance of performance factor in historic racing. The level of car development may be higher than in period, leading to more power, but if all the cars have the same contact patch and same compound then the authenticity of racing is preserved."
Dunlop supplies tyres in the same designs as used in the 1950 and 1960s Le Mans and Touring Car events, meaning 'fan favourite' cars ranging from Jaguar D-Types to Lotus Cortinas and Alfa Romeo GTAs can race in a truly authentic style.
In addition to the 1950s and 1960s ranges, Dunlop introduced a new tyre for 1970s and 1980s cars last year. The new Sport Classic has a different philosophy to Dunlop's classic race tyres. Designed for road use, combines a classic look and feel with modern handling and braking performance – important for road car drivers using their cherished classics on public roads.
Category: Motorsport, Product News