LIQUI MOLY partners Turner Motorsport in IMSA series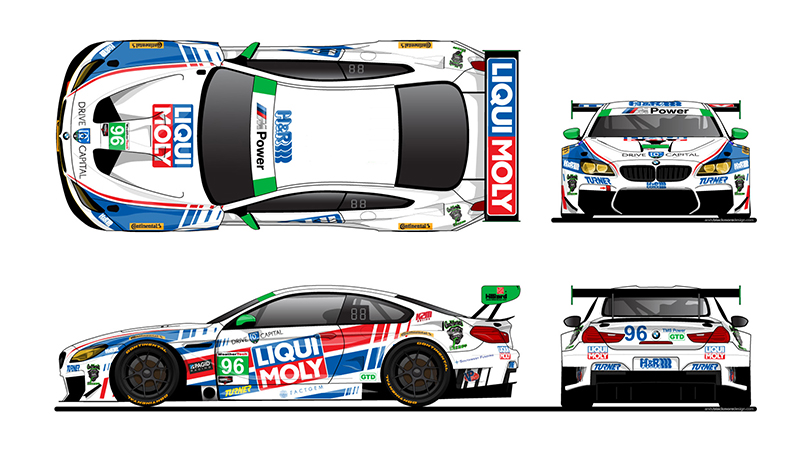 It is LIQUI MOLY's largest sponsorship investment in the US. The German oil specialist enters the International Motor Sports Association WeatherTech SportsCar Championship with Turner Motorsport. "That adds a big boost to LIQUI MOLY's reputation," said Peter Baumann, marketing director for LIQUI MOLY.
LIQUI MOLY becomes official lubricant supplier of Turner Motorsport. "This means we are subjecting our oils to one of the toughest tests," says Baumann. The prelude will be in a few days' time at the Daytona 24 Hoursevent. There, Turner Motorsport starts with a BMW M6 GT3 in LIQUI MOLY livery.
"LIQUI MOLY was our dream partner," said Will Turner, president of Turner Motorsport. "Without the perfect oil, you cannot compete in a long-distance race. Here, short-term peak performance is not enough. The oil must withstand extreme endurance." That's why Turner Motorsport will now use and sell LIQUI MOLY not only on the track, but also in their workshops. Sebastian Zelger, Director LIQUI MOLY USA is also excited about the partnership: "Turner Motorsport is the 7 time championship winning race team. They are an excellent fit to us."
Daytona is familiar territory for LIQUI MOLY. The brand competed there in 1980 with a Porsche 935. At that time, the LIQUI MOLY-Porsche won the 24-hour race with a lead of 33 laps. "It would be great if we could bring in such a result again," says Peter Baumann.
Formerly Porsche, now Turner Motorsport with a BMW: "We maintain a long cooperation with the German auto companies," said Baumann. "Our oils are officially approved by BMW and the other manufacturers like Mercedes and Volkswagen.
"By participating in the IMSA series and promoting it, we are strengthening our brand awareness and showing the quality that LIQUI MOLY provides," adds Baumann. "Because what performs well on the racetrack will also perform well on the road."