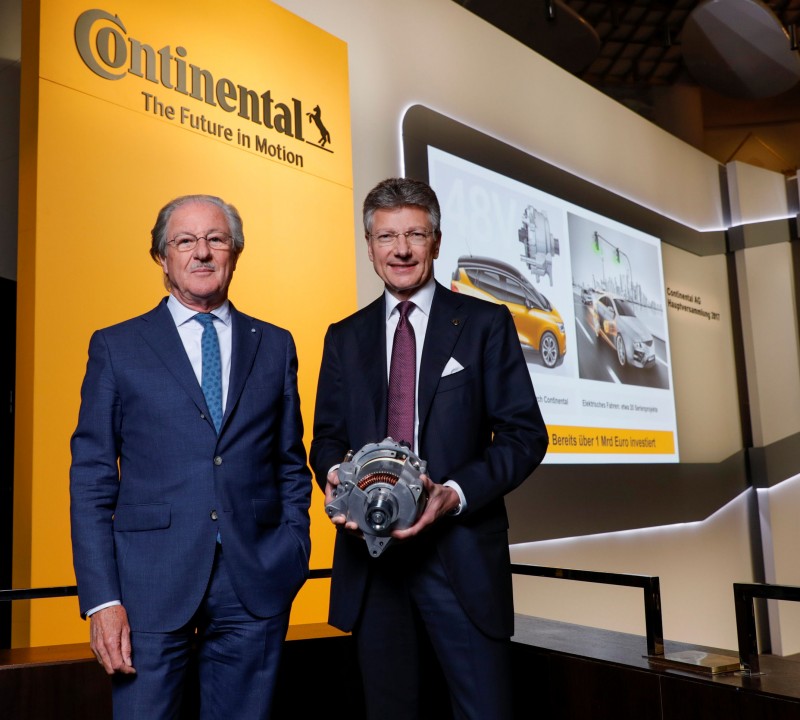 Supervisory board chairman Wolfgang Reitzle (l), seen here with Elmar Degenhart, chairman of Continental's Executive Board, believes we may see the first company arising from the company's breakup listed on the stock exchange this year
We may see a breakup of Continental AG commencing before the end of this year. German business publication Manager Magazin writes that Wolfgang Reitzle, chairman of the tyre maker and automotive technology company's Supervisory Board, foresees the first subsidiary to emerge from this breakup being listed on the stock exchange some time in 2018. He sees this as being the direction Continental will clearly take, even though to-date neither the Supervisory Board nor the Executive Board has decided upon a concrete course of action.
Manager Magazin notes that the preferred option from those being looked at by Continental is allegedly a form of three-way company split, as this approach would facilitate a relatively speedy stock exchange listing for the subsidiary companies. It adds that the three companies created under this scenario would be one comprised of the current Rubber Group, which is primarily engaged in tyre manufacture, while today's Automotive Group would be divided into a company made from the Powertrain division, and one combining the Chassis & Safety and Interior divisions. Should Continental decide upon this option, it would initially retain a majority shareholding.
The likely first candidate for stock exchange listing, writes Manager Magazin, would be the companies made from the Rubber or the Powertrain businesses.
Category: Company News