ATG: New ranges, OEM focus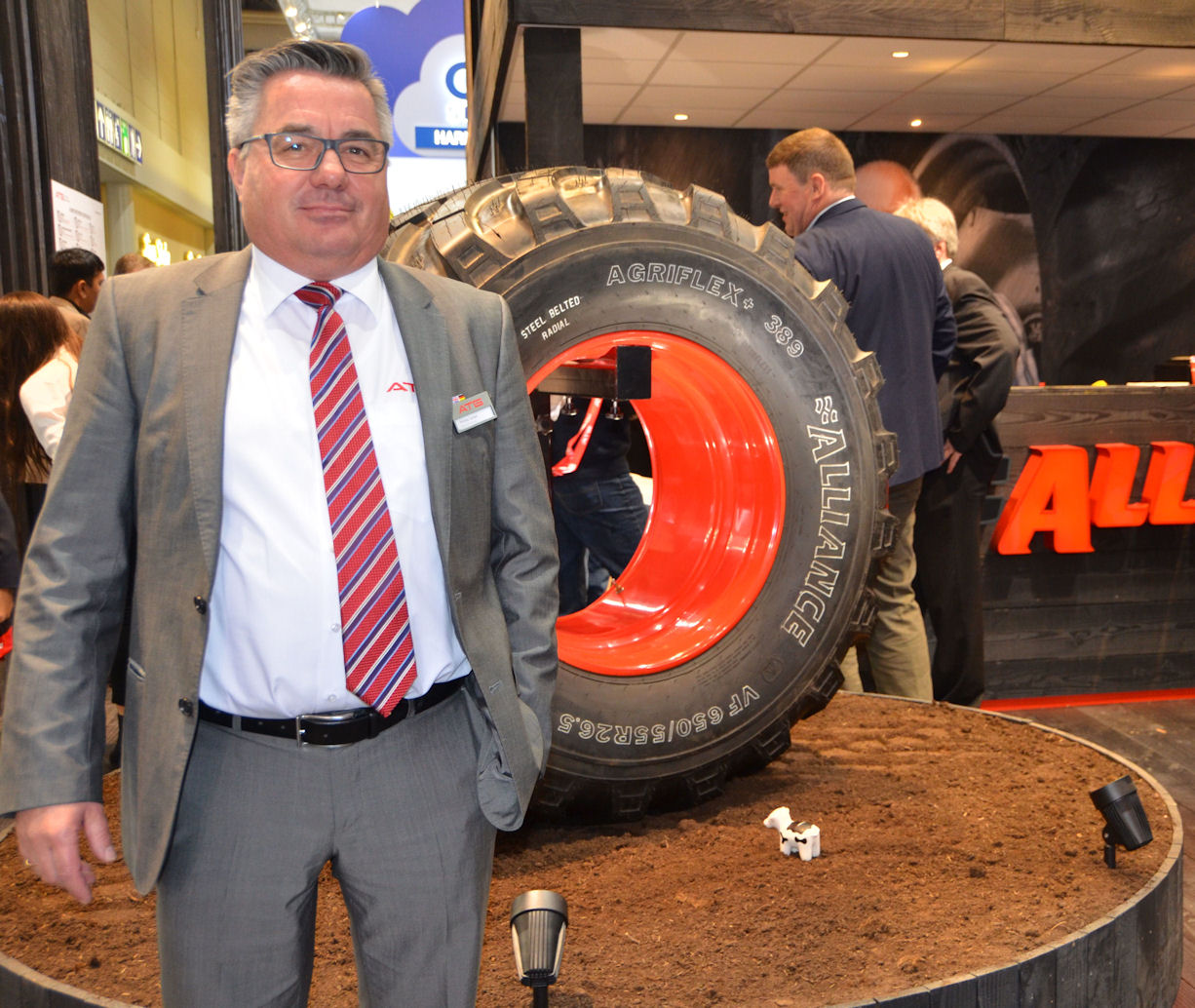 Following on from the launch at last year's SIMA show of the Agriflex+ 389 VF, Alliance Tire Group (ATG) released further agricultural tyre lines during 2017, including the Alliance 128. The Yokohama Rubber-owned tyre maker also announced its intention to intensify its activities with OEM customers and has appointed a dedicated original equipment team.
Alliance 389VF
With the Alliance 389VF, the off-road tyre specialist says it launched the very first product to bring together the reduced soil pressure offered by flotation tyres and the superior load carrying/tyre pressure combination of a VF design. The 389VF is capable of being either operated at 30 per cent lower tyre pressure or with 30 per cent more load at the same pressure as a conventional flotation tyre. Six dimensions of the Alliance 389VF flotation tyre for trailers, sprayers and spreaders are now available, and Alliance Tire Group reports two additional sizes are now under development.
"Alliance tyres are already recognised as the leaders in the global flotation radial market," comments ATG. "The fact that innovative patterns such as Alliance 380 and Alliance 390 are used by some of the most prestigious trailer and machinery manufacturers in Europe clearly shows that these tyres are highly appreciated in the industry. The world premiere of the Alliance 389 VF now opens the next round of innovation."
Alliance 128
The Alliance 128 High Speed Flotation is a newly-developed tyre for agricultural trailers, spreader trucks and balers. It features tread pattern that combines shoulder lugs for high tractive force, centre-rib lugs for a smooth ride and low rolling resistance as well as rounded shoulders for efficient soil protection.
In order to meet the rising demands of modern agricultural machines and processes, development engineers at ATG collaborated with German agricultural machinery manufacturer Claas. They specifically looked at requirements to be met for efficiency, productivity, soil protection and service life of tyres. The aim for ATG's engineers was to meet these requirements at lowest total cost of ownership for the end user.
The 128 High Speed Flotation is available in size 800/35-22.5 LI 162B and equally suitable for high speed agricultural tasks and applications on and off-the-road. The centre-rib lugs are designed for comfort, low rolling resistance and a quiet, smooth ride whilst offering excellent self-cleaning characteristics, and the shoulder lugs for better grip and less slippage. The high load carrying capacity and the low inflation pressure of the 128 HS ensure that heavy loads can be carried with a high degree of soil protection on large loading wagons and trailers.
Going from existing patterns with closed bar lugs to centre-rib lugs, ATG's development engineers ensured that the tyre also offers excellent stability during high speed road transport with up to 40mph or 65km/h. Special compounds and nylon fabrics make for a strong construction, high load carrying capacity and low wear at the same time. The 128 High Speed Flotation is available in both the independent aftermarket and as an OEM fitment.
Dedicated team focusing on expanding OE business at ATG
Activity in the original equipment segment currently accounts for no more than 20 per cent of ATG's business in Europe, however the company intends to change this. Peter Baur, president of European operations at ATG, considers original equipment to be "an important future business and a focus where we want to grow more than average in coming years."
In order to place this greater emphasis on supply to OEMs, ATG has set up a dedicated original equipment team. The new OEM team is headed by Andreas Sarfert, who in April was named ATG's head of business development OE Europe. ATG introduced Sarfert and the team during the Agritechnica show.
Sarfert joined ATG from the GKN Group, where he spent a total of 27 years in various roles, most recently as director engineering and product management for GKN Land Systems. He views the experience gained at GKN as invaluable for his new remit at ATG. "It's important to understand the original equipment segment. The needs of OEM customers are quite different to those in the aftermarket," he comments. Sarfert studied engineering at Technical University Munich in Germany and received his Master's degree at Cranfield University in the UK.
Sharing details of his team's aims, Sarfert says the plan is to grow ATG's original equipment business at double the speed of its aftermarket business over the coming five years. He won't be working to this end alone – Sarfert is joined in the OEM team by four OE managers: Giorgio Gramegna, OE manager Italy; Romain Calvez, OE manager France; Ashish Tosar, OE manager Benelux & Nordics; and Gorjana Matic, OE manager DACH. Matic is also responsible for business with UK-based OEMS, such as JCB.
In addition to working with the more than ten major machinery brands in Europe that ATG is already associated with, the OEM team intends to expand the client portfolio. The tyre maker names Claas and AGCO as two manufacturers it is currently collaborating with in specific development cooperation.