Dmack presents enhanced 2018 WRC range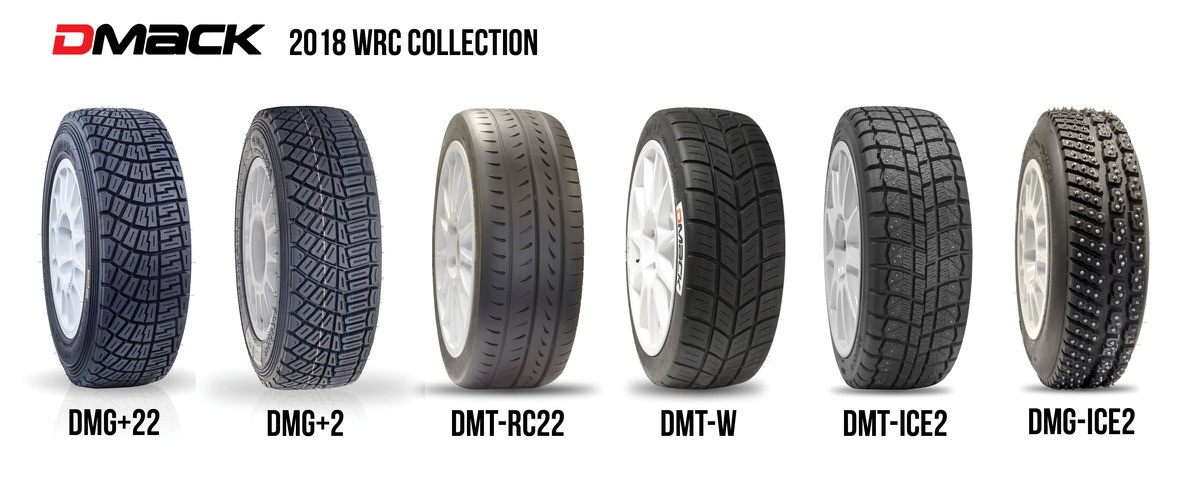 Building on its most successful season to date, Dmack will return to the FIA World Rally Championship for its eighth successive season in 2018 with a completely revised range of tyres for all championship competitors. Dmack says the products include a "a number of important enhanced features to optimise performance on all conditions."
Gravel: Gravel tyres for WRC 2 and R5 competitors now feature a reinforced, run-flat construction, identical to the WRC tyres that took Elfyn Evans to victory on Rally GB, and are available in soft and medium-plus compounds – still maintaining the DMG+22 pattern. This offers the optimum blend of performance, durability and puncture resistance.
The nominated tyres for WRC cars will revert back to the same DMG+2 pattern used in Argentina 2017, giving enhanced stability and the ability to again use the soft and medium-plus compounds.
Asphalt: Three levels of asphalt compound will be available in the DMT-RC22 pattern – hard, soft and extra soft – all with upgrades from 2017 to deliver greater performance on dry and damp asphalt. A completely new wet compound will be launched in 2018. Called WXS, it features enhanced wet grip and performance in conditions of full-wet with standing water.
Monte: A new compound has been developed specifically for the Monte Carlo DMT-ICE2 winter tyre to further optimise performance on ice and snow. It is available in both studded and non-studded forms. This new tyre took overall victory on its debut last weekend, helping Olivier Burri to win the Rallye Hivernal de Devoluy by over two minutes.
Sweden: A new construction for the DMG-ICE2 will deliver enhanced traction, lateral grip and stud retention on frozen gravel and ice surfaces.
After equipping the 2017 WRC 3 Champion, Dmack says both gravel and asphalt products for two-wheel-drive cars will also benefit from small upgrades in the coming season.
In addition to competing alongside Michelin and Pirelli as the three authorised tyre suppliers to the 2018 WRC, Dmack will also partner with key customer teams in WRC 2 and WRC 3 to ensure its products remain at the forefront of competition during next season.
"This year was not just our most successful, it was also a key period for development," says Dick Cormack, managing director of Dmack. "We had significant technical support on each event and that's helped us refine our products even further, to suit conditions on each event of the WRC. As rallies change and sporting rules evolve, we continue to develop and optimise our products to offer the best possible performance for competitors using Dmack.
"Although we are not running an official WRC car programme in 2018, our focus is firmly on keeping Dmack products winning in the open competition platform that the WRC offers. There will be even greater support for our customers in 2018, especially those competing in the official WRC support championships."