Slower August for UK new car market – registrations drop 6.4 per cent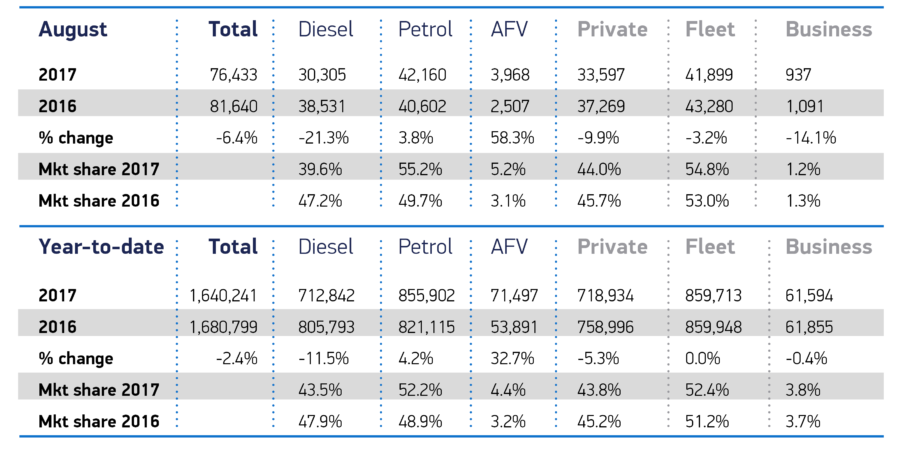 Year-to-date market steady at -2.4 per cent, 1.64 million cars join British roads
The Society of Motor Manufacturers and Traders has reported a fifth consecutive month of decline in the UK new car market. August registrations fell -6.4 per cent, following 2016's record August. The SMMT remained sanguine about the decline, pointing out that, at 76,433 new cars registered, it is still the third-best August in 10 years. The year-to-date has remained broadly in line with full-year expectations, down 2.4 per cent, with 1,640,241 new cars joining British roads in the first eight months.
Superminis and small family cars remained the most popular types in August, accounting for more than half (58.3 per cent) of registrations. However, SUVs, larger family cars and executives were the only segments to grow, up 7.9 per cent, 2.2 per cent and 1.1 per cent respectively. Notable top ten SUV bestsellers included the Vauxhall Mokka X (third, with 2,063 registrations, the Ford Kuga (6th, 1,769), the Kia Sportage (8th, 1,541), and the perennially popular Nissan Qashqai (10th, 1,484).
Meanwhile, more people chose to get behind the wheel of an alternatively fuelled vehicle (AFV) than ever before in the month, accounting for a 5.2 per cent share of the market. Demand for petrol hybrid and pure electric battery powered cars increased substantially, up 74.9 per cent and 62.5 per cent, while plug-in hybrid registrations rose 38.5 per cent. Conventional petrols grew 3.8 per cent and diesels fell -21.3 per cent.
Mike Hawes, SMMT chief executive, said: "August is typically a quiet month for the new car market as consumers and businesses delay purchases until the arrival of the new number plate in September. With the new 67-plate now available and a range of new models in showrooms, we anticipate the continuation of what are historically high levels of demand."
'Crucial' Euro 6 diesels not compared with older models – NFDA
The National Franchised Dealers Association agreed that the August decline was not cause for great concern. NFDA director Sue Robinson added: "August is usually a quiet month for the new car market and this is reflected in the decrease in registrations, down -6.4 per cent on the same period in 2016 and -2.4 per cent year to date, in line with forecasts."
"It is notable that Alternative Fuel Vehicles continue to grow market share, up 5.2 per cent in August to over 71,000 units registered year to date amidst the increased volume of diesel scrappage schemes being announced.
"Given the substantial decline in diesel registrations, it is crucial that modern Euro 6 diesel cars are not compared to older diesel vehicles. NFDA and its members are working hard to clarify the facts surrounding the whole diesel issue and helping consumers find the car best suited to their needs.
"We are now looking forward to see what the September plate-change month has in store, although we are anticipating a stable final quarter of the year for franchised dealers."