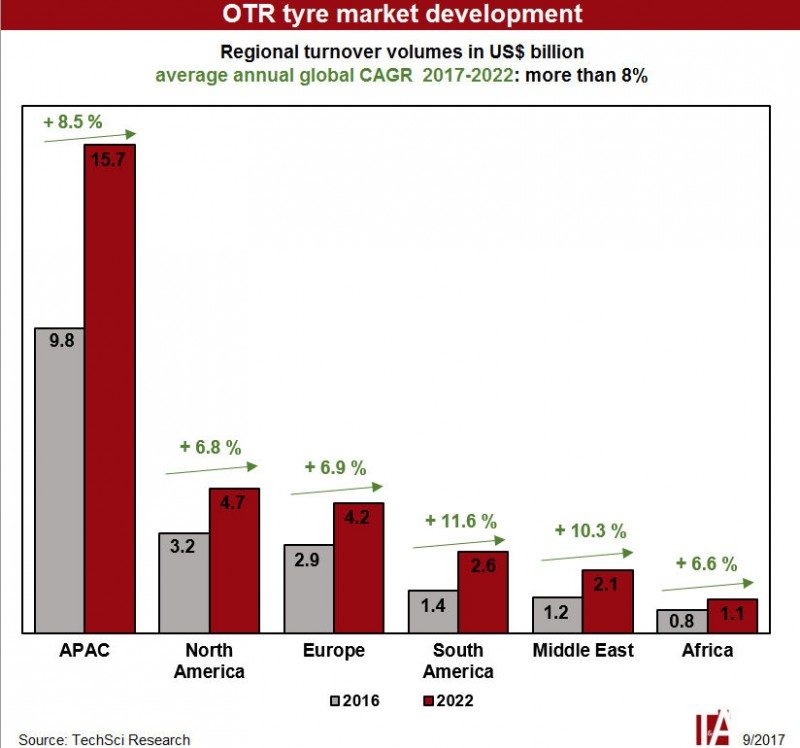 Strong growth expected in global OTR tyre market
Market research company TechSci Research has undertaken an in-depth study into developments within the off-the-road, or OTR tyre market. Numerous reports published by the company analyse what we can expect both globally and in various regions in the coming years.
Turnover volumes within the global OTR tyre business, which according to TechSci generated some US$19.2 billion, are expected to grow (at current exchange rates) to $30.4 billion by 2022. This level of growth corresponds with a Compound Annual Growth Rate, or CAGR, of more than eight per cent for 2017 to 2022. According to TechSci's forecasts, the APAC region will remain the largest sales market, accounting for approximately half the entire market. The greatest level of growth, however, is expected in South America, with forecasts suggesting average annual growth of 11.6 per cent during the period in question, followed by the Middle East, where annual growth of 10.3 per cent is anticipated. The healthy growth foreseen in the South American market will be driven by increased demand for OTR tyres for use in building, mining and industrial projects, with is government support in the form of tax subsidies and incentive policies for infrastructure development and megaprojects across the region also aiding the region's OTR tyre market.
"South America is one of the leading players in the global agricultural sector and accounts for approximately ten per cent of the world's agricultural product exports. South America also has many commercial farms, especially in Argentina, Brazil, Chile, Uruguay, and Colombia. Agriculture is one of the most dynamic sectors of the South America economy, and the sector registers huge demand for OTR tyres for agriculture vehicles.", added Karan Chechi, research director with TechSci Research.
With CAGR of just under seven per cent, growth in North America, Europe and Africa is forecast to be below average. Nevertheless, demand in North America is expected to benefit from its status as a major mineral producing region, and Chechi commented that the high demand for mining equipment tyres seen there is expected to continue over the coming five years.
Category: International News