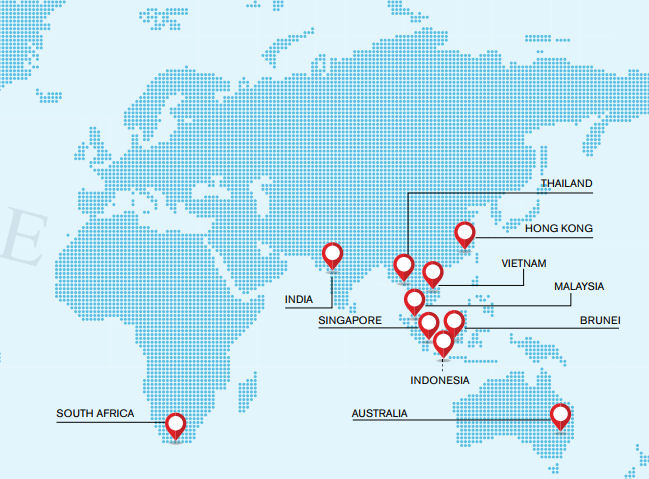 Stamford Tyres is active in a total of ten markets in Asia, Africa and Australia
Singapore-based tyre distributor Stamford Tyres Corporation Limited has reported a 213.6 percent year-on-year increase in net profit for the 2017 financial year, which ended on 30 April 2017; compared with 2015, net profit last year was up 376.5 per cent. This profit of S$8.1 million (£4.6 million) was accompanied by a gross margin of 26.2 per cent, up from 24.7 per cent in 2016 and 22.1 per cent in 2014. Total revenue for 2017 was $235.8 million (£133.1 million), 1.7 per cent lower than the previous year. Revenue derived from the distribution of tyres and wheels accounted for 87.2 per cent of total revenue while wheel manufacturing accounted for 12.8 per cent.
Wee Kok Wah, president of Stamford Tyres, attributes the company's improved performance to three factors. The first of these is "commendable performance" in Stamford's primary market of Southeast Asia, a region accounting for 85.8 per cent of group revenue. "It produced pre-tax profit of $7.8 million (£4.4 million) on revenue of $202.3 million (£114.2 million). The pre-tax profit was 43.7 per cent higher year-on-year on a 0.8 per cent dip in revenue," Mr Wee reported.
The second factor is that ventures in newer and emerging markets in India and South Africa broke even at an operational level after "several years of persistent and focused effort." The president reported that Stamford's business in Australia "narrowed its losses significantly on the back of a higher top line from more product offerings via its local distribution network."
Finally, Stamford Tyres' ongoing forex risk management, coupled with lower market volatility, resulted in it reporting net forex costs of approximately $68,000 (£38,400), the lowest in the past five years.
Stamford Tyres is active in a total of ten markets in Asia, Africa and Australia. In addition to supplying its proprietary Sumo Firenza and Sumo Tire tyre brands and the SSW (Stamford Sport Wheels) brand of alloy rims, the company distributes Falken, Dunlop, Continental and Maxam tyre lines.
Stamford Tyres Corporation Ltd's 2017 Annual report can be downloaded here.
Category: Company News