Providing inspiration through motorsport: Giti Tire partners with Team BRIT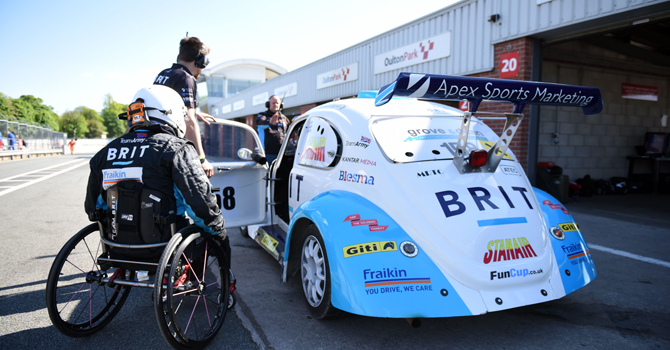 Last year, Giti Tire debuted as sponsor and tyre supplier to the Fun Cup UK, and the tyre maker says it is proud to return for a second year in 2017. In addition to sponsoring the Fun Cup series, this year Giti Tire is also partnering with Team BRIT, a charity set up to inspire veterans with disabilities, PTSD, and mental health issues by demonstrating what can be achieved through motorsports.
Team BRIT is competing in the Fun Cup Championship as part of its journey towards becoming the first all-disabled team to compete in the world-famous Le Mans endurance race. All Team BRIT's drivers are former or serving military personnel who have suffered serious, disability-causing injuries.
Through its partnership with Team BRIT, Giti Tire hopes to demonstrate how motorsports can "provide inspiration and achievement to everyone, and provide opportunity to disabled veterans who likely never thought racing in a high-profile motorsports competition could be possible."
"Team Brit is one of the hottest and most compelling stories in motor racing, so when the opportunity arose to become their official tyre sponsor, we made immediate plans to meet and secure the partnership," comments Brian McDermott, Giti Tire's sales and marketing director – Europe for Passenger Car and Light Truck (PCR) and UK country manager. "We see this as the start of a wonderful friendship whereby we can bring our global motorsport expertise to the table, and as they move into bigger and better events we intend to join them on the journey."
Team BRIT founder, Dave Player, adds: "We are delighted to have been joined by Giti Tire, as we continue our progress towards the highest levels of motorsport. The GTR2 is the perfect choice of competition tire for the Fun Cup series, and having these provided by Giti as a sign of their support really helps us to stay in the competition and provide our drivers with valuable race time to build their experience and confidence."
The current Fun Cup UK season began in January and continues until early December, with drivers competing in modified Volkswagen Beetles fitted with GitiCompete GTR2 street/circuit racing tyres.