Doublestar wants Kumho Tire stake for KRW 800 billion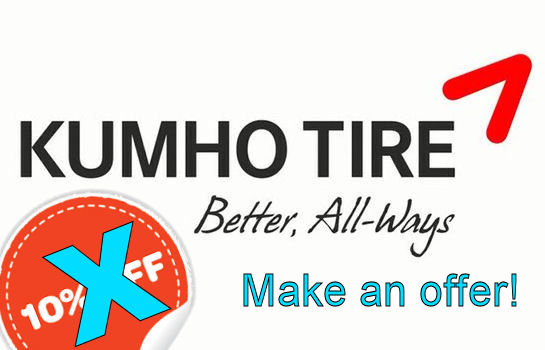 On Friday, we reported that Chinese tyre maker Qingdao Doublestar Tire was angling for a ten per cent discount on the 42.01 per cent stake in Kumho Tire it wishes to acquire. Not so, wrote The Korea Times over the weekend – according to its sources, Doublestar wants creditors to cut the price to KRW 800 billion (£544.6 million), a discount of 16.2 per cent on the original bid price.
Sharing this development, the publication comments that creditors are widely expected to accept Doublestar's demand, "because if they don't, the deal will fall apart." The Korea Herald writes that creditors will hold a meeting tomorrow to discuss the pros and cons of lowering the sales price to the requested KRW 800 billion.
Under the stock purchase agreement signed between Doublestar and the creditors, the Chinese manufacturer has the option of cancelling the transaction if Kumho Tire's operating profit falls by more than 15 per cent by 23 September, the closing date for finalising the deal. The tyre maker finished the second quarter of the current financial year with operating profit of KRW 204 billion (£138.9 million), a year-on-year drop of 34.4 per cent; in the first quarter, it recorded an operating loss of KRW 282 billion (£192.0 million), a long way from the KRW 151 billion operating profit achieved in the opening three months of 2016.
Doublestar considers a lower sales price its alternative to calling off the deal in light of poorer than expected performance, and if the creditors accept the request they will inform Kumho Asiana boss Park Sam-koo about the sales price and conditions, and ask him if he's willing to pay more than this to acquire the stake in Kumho Tire. "We haven't been contacted yet by creditors," commented an official from Kumho Asiana to The Korea Times. "When we hear from them, we will consider whether to exercise the buyback right or not." Once notified, Park will have 30 days to inform the creditors of his decision.
Should Park decide to exercise his right of refusal, he must still convince the creditors to allow him to form a consortium to finance the acquisition, something they ruled against earlier in the year.