AllSeasonContact – Continental's all-season tyre for European markets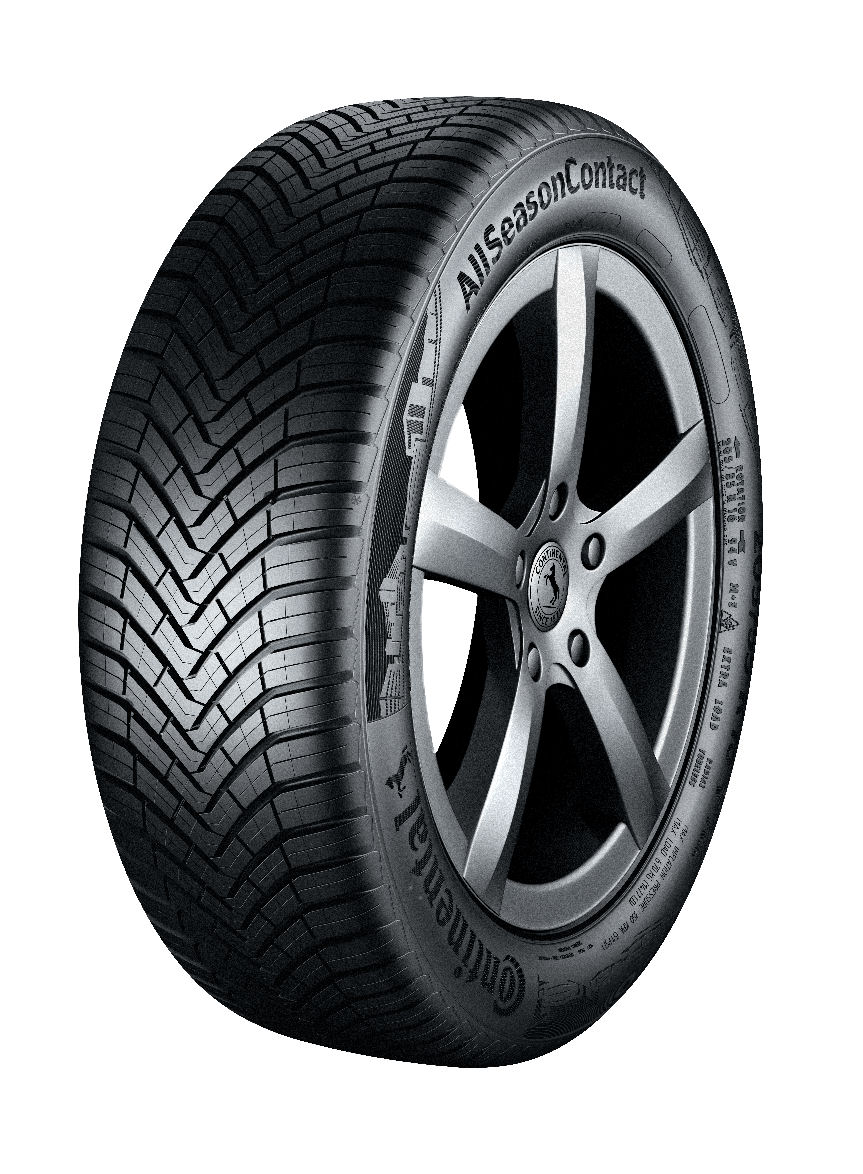 Never say never. These were the words uttered by Prof Dr Burkhard Wies, passionate physicist and vice-president of Tire Line development at Continental when asked at the end of 2015 about the likelihood of an all-season tyre range for Europe. These three words flew in the face of everything we assumed the staunch supporter of seasonal tyre fitment stood for, yet weren't altogether surprising in light of growth occurring in the all-season segment. What Wies didn't mention at the time was that Continental was already working on an all-season range that would come to market less than 18 months later.
Very little fanfare accompanied the launch of the AllSeasonContact in May. The first we saw or heard of the new all-season tyre was its listing amongst the passenger car range on Continental's websites for the UK and several other European markets. Despite an arrival that barely registered on the radar, the AllSeasonContact is here and settling into the market nicely. By the end of the year consumers will be able to choose between 33 sizes for 14- to 18-inch rim diameters.
In a promotional video, Continental shares that "under certain circumstances, an all-season tyre can be an alternative." Alexander Bahlmann, head of communications and public relations (Passenger & Light Truck Tires) within Continental's Tire division, elaborates on this change of heart. While seasonal tyres are still the preferred option, he tells Tyres & Accessories that Continental recommends the AllSeasonContact to drivers who "mostly use their cars in cities, only drive a limited amount of kilometres a year and are looking for a well-balanced offer which covers good winter properties." Tempering this recommendation, Bahlmann comments that anyone considering all-season tyres should "really be sure" the conditions they drive in, particularly in winter, wouldn't warrant the use of dedicated summer and winter tyres. Drivers covering more than around 9,300 miles (15,000 kilometres) a year, particularly on longer trips and motorway journeys, are advised to choose season specific rubber such as the WinterContact TS 860 and PremiumContact 6.
A recommendation of the AllSeasonContact, even a limited one, is an assurance of safe performance in the conditions it was designed for. That said, Continental would have happily continued its summer/winter programme had market developments not forced a rethink. In 2015, both Michelin and Pirelli joined the all-season party, and with the respective arrival of the CrossClimate and Cinturato All Season ranges, Continental found itself the sole 'top five' tyre maker not offering anything within this segment in Europe.
"The size of the all-season segment reached a volume at which we didn't want to leave it to the competition," reflects Bahlmann. Although Continental already offered all-season solutions within its mid-range and value brands, such as Uniroyal, Viking, Matador and General Tire, these target the aftermarket. "Fleet customers and OEMs are increasingly requesting an all-season solution," he adds. "They are looking for tyre suppliers who are able to offer them a complete product portfolio. As one of the leading tyre manufacturers we want to maintain our position as a reliable partner to them, and therefore needed to close this gap in our Continental brand product portfolio."
An innovative blend
Bahlmann talks of a "compromise" when discussing the design brief for the AllSeasonContact, and for a company that considers summer tyres for summer conditions and "real" winter tyres for winter conditions the optimal solution, the new all-season tyre can't be viewed as anything else. The trick was to ensure the compromise was a good one. The tyre development team at Continental's R&D centre in Hannover-Stöcken, Germany drew on the strengths of the WinterContact TS 860 and PremiumContact 6 and worked towards a balance that would work well in moderate climates throughout the year. The answer was an "innovative blend of tread design, compound, tyre contour and construction." The tyre maker opines that a combination of this nature significantly reduces the "weaknesses previously present in the winter and wet-weather properties of tyres intended for all-year use." At the same time, it allows for "the best fuel efficiency in the premium segment for all-season tyres" – Continental talks of "best in class rolling resistance," and Bahlmann points out that competitive rolling resistance performance is a must for all new Continental products and product lines.
Our first impression when viewing photos of the tyre earlier in the year was that its lightly-siped v-shaped tread pattern bore a resemblance to that of Michelin's "summer tyre approved for winter use" – the CrossClimate. There's a reason for this; while the directional pattern developed for the AllSeasonContact was taken from the current Continental winter range, including the WinterContact TS 860, like its French rival the Continental tyre relies upon a rigid pattern of sharp-edged tread blocks and a low number of sipes to take care of handling and braking on dry asphalt. The main focus, however, is winter performance.
"In light of the fact that in winter time the risk for challenging and extreme weather conditions is much higher than in the summer, our AllSeasonContact needs to have corresponding winter properties to support our safety oriented brand positioning," Bahlmann relates. "Our Continental premium brand represents a strong focus on safety, therefore our AllSeasonContact needs to offer good winter properties." When asked to rate the Continental tyre on a scale of one to ten (one being completely summer-oriented and ten completely winter oriented), he pinpoints the AllSeasonContact as a six, adding that the tyre's 3PMS certification "proves it offers a safe amount of winter performance."
Continental credits the AllSeasonContact's "impressive grip on snowy and wet winter roads" to an "adaptive all-season compound" – the Traction Silica Compound. This compound, it adds, contains "winter performance resins" and "a high silica fill rate." The tread design comes into play to a greater extent in the warmer months; Continental states that the pattern offers a "combination of open shoulders for high aquaplaning performance and stiff pattern with minimum sipes for better handling and braking on dry roads."
Elaborating on the claimed "best in class rolling resistance," Continental explains that the AllSeasonContact's designers needed to find a balance between material distribution, tyre geometry and material thickness. A comparison of tread depths illustrates this point: While a typical winter tyre has a tread depth between 8.5 and 9.5 millimetres, a typical summer tyre now has between 6.5 and 7.5 millimetres. The basic rule here is that low tread depth also makes for good fuel efficiency. With its tread depth of 7.5 to 8.5 millimetres, the AllSeasonContact sits right between the summer and winter products. "When combined with the optimised sidewall geometry, this guarantees very low rolling resistance, helping not only to save fuel, but also to ease the load on the environment."
Interest from OEMs
Aftermarket customers have been able to equip their cars with AllSeasonContact tyres since late spring, and while it is too early to determine much from initial sales figures, Alexander Bahlmann shares that Continental anticipates the tyre will be best received in non-classical winter tyre markets. He is also happy to say that OEMs have expressed interest in a Continental all-season product, however at this point in time the head of communications and public relations "cannot confirm" original equipment approvals for the AllSeasonContact. "But the number of OEMs requesting such a solution in Europe as well as the EMEA region is growing," he adds. "Therefore, we needed to close this gap in our Continental brand product portfolio."
Production of the new range is taking place in several tyre plants across Europe, and Continental has already reported the availability in 2017 of 33 AllSeasonContact sizes for 14- to 18-inch rim diameters, widths of 165 to 245mm, 40 to 70 series cross sections and T/H/V speed ratings. Most of the 15- and 16-inch sizes on the market at the time of writing have been given a EU tyre label rating of 'B' for both wet grip and rolling resistance. SUV tyres will also join the range in future. stephen.goodchild@77.237.250.82