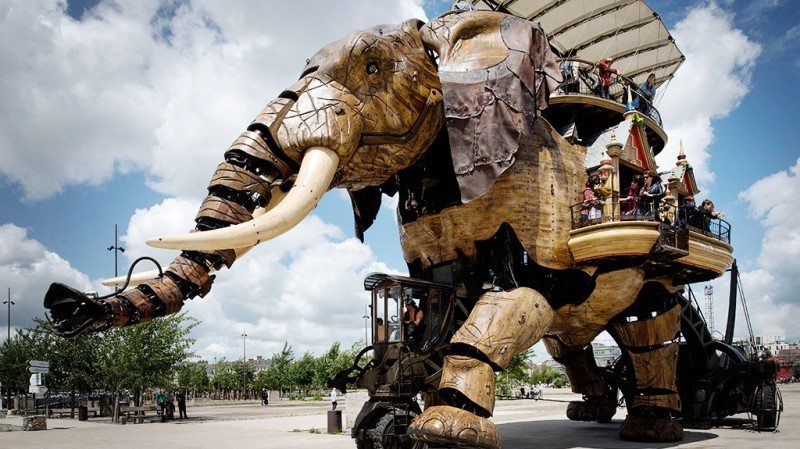 Like a bus, but more elephant-like. And shod with Trelleborg tyres...
Visions of pink elephants are said to trouble the inebriated, however the elephant that visitors to the historic French city of Nantes may encounter is very tangible and not at all pink. The Elephant of Nantes, as we've chosen to call it, is the creation of street theatre veterans François Delarozière and Pierre Orefice, and it gains a mention here as, despite appearing to stride along on fully jointed legs, the giant pachyderm is propelled by – you guessed it – tyres.
The 12-metre high Elephant of Nantes wanders the city's recently renovated shipyards on the Île de Nantes, the island in the city's centre, carrying up to 50 passengers and spraying water from its trunk. It is part of an artistic and cultural project called Les Machines de l'Île, an outfit founded by Delarozière and Orefice with the aim of making a connection between urban and cultural development through living architecture.
The Elephant of Nantes travels at speeds of up to two miles an hour and can blink its eyes, flap its ears and wave its trunk. Its jointed legs appear to walk, however the beast's 450HP "heart" actually powers a row of wheels at the rear. And what kind of tyre do you fit to an elephant? Why, they're Trelleborg Elite XP forklift tyres in size 16.00-25. The manufacturer claims some experience as an OEM partner to large replica land mammals; Trelleborg Wheel Systems comments that it "supplies similar products to other amusement parks and elephants."
Category: International News