July launch for Point S all-season tyre range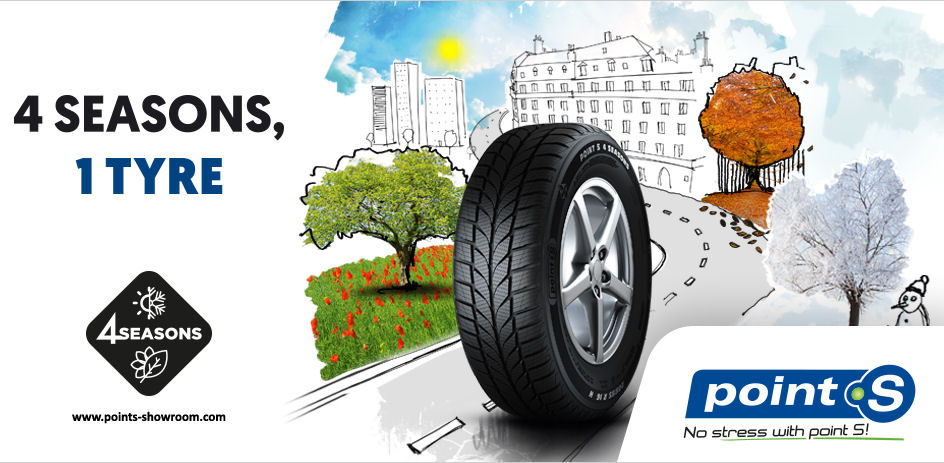 After gaining a favourable response from its SummerStar and WinterStar tyre lines and in response to market demand, Point S Development has added an all-season product to its private brand range. The new tyre is called the Point S 4 Seasons and, as is the case with the existing private brand lines, is designed and manufactured by "one of the largest manufacturers in Europe." Although Point S Development doesn't disclose the identity of this tyre maker in its announcement of the 4 Seasons' launch, it is well known that the retail network collaborated with Continental (which recently launched its first all-season tyre for Europe, the AllSeasonContact) to develop its private brand.
Point S notes that all-season products continue to gain market share in Europe, and therefore it decided to offer a product of its own, even though the company's official stance is that seasonal tyres are preferable. "We do not try to encourage our customers to prefer this type of tyre as we strongly recommend the fitting of winter and summer tyres, but for those who are determined, we want to be able to offer them an alternative to the major brands," comments Point S product manager, Émilie Faure.
The 4 Seasons features a summer-optimised shoulder and a winter-optimised centre, and as the snowflake marking on the sidewall attests, it is 3PMSF certified. Faure insists, however, that the "Point S 4 Seasons is not destined to replace a winter tyre." She adds: "It is supposed to meet the needs of customers who do not change their tyres twice a year, offering optimised and balanced performance during the four seasons of the year."
The 4 Seasons range has a European tyre label wet grip rating of 'C' and 'E/F' rating for fuel efficiency. A total of 20 passenger car tyre dimensions for 13- to 17-inch rim diameters are available exclusively through Point S outlets. "We are glad of this new product development, which enables us to satisfy all customers' needs," says Faure.