From doodling to tyre testing – the GIC*L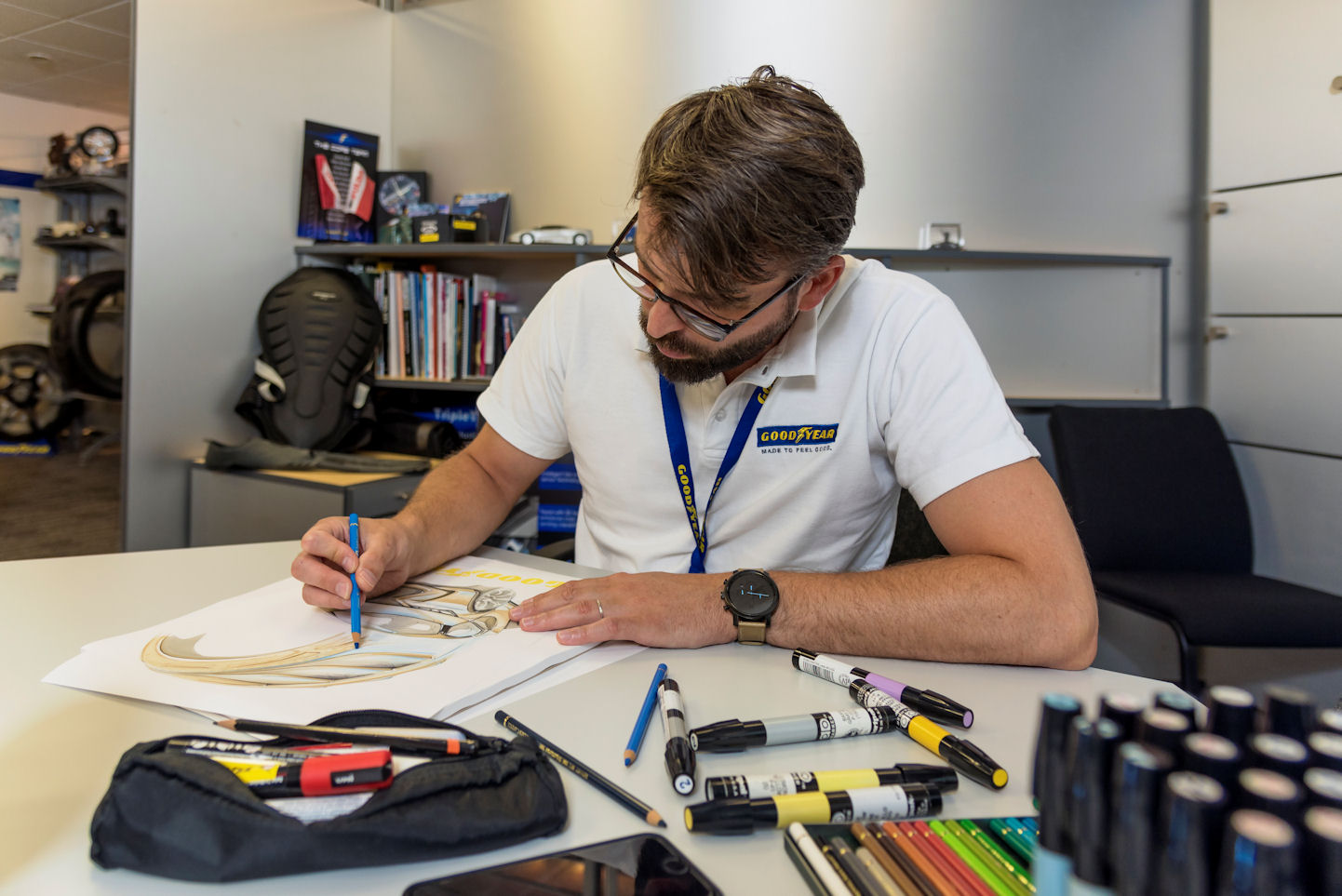 Some artists specialise in the human form, others find inspiration in landscapes and nature. And then there's the guy who sketches tyres for a job. He's part of a four-person team responsible for design at the Goodyear Innovation Center Luxembourg (GIC*L), and upon visiting at the end of June we were surprised to discover that the global top-ten manufacturer's tyre design process begins with a very low-tech pencil and paper drawing.
Old school is sometimes best. Elena Sperotto, marketing product manager for Goodyear EMEA, explains that freehand drawing permits designers to more sensitively and precisely attune their design to their sources of inspiration and the ideas they have in mind.
Technology returns to the forefront once the design team is satisfied with the artwork. IT modelling simulation tools are employed to digitise the drawing, and further down the track a laser carving facility is used to create tread patterns on prototype tyres. Employing a computer guided laser carving machine to produce a pattern speeds along the tyre development process and enables multiple prototype tyres to be produced in one go, however a place still exists for hand carving. Sperotto comments that hand carving is most frequently performed when modifying designs during the testing of prototype tyres prior to the selection of a final version. "A lot of finetuning is done on the track during testing. Tyres can be carved and the tread pattern modified to see how it reacts and how the performance changes."
SUV and 4×4 tyres are developed at the GIC*L, with a new product typically requiring the equivalent of a year to 18 months' full-time development. Examples of the design team's handiwork are on display within the GIC*L. Most are models now in or destined for volume production, however concepts such as the Goodyear Urban Crossover concept tyre that featured on the Lexus UX concept at last year's Paris Motor Show are also present.
The GIC*L isn't just about design. In April, Goodyear opened its new Tire Test Laboratory within the complex. This state-of-the art facility includes the latest technology for testing car, light truck and commercial truck tyre, such as a rolling resistance test machine that measures rolling resistance according to ISO 28580 using both the torque and force method. "Our investment in machinery here went in the direction of indoor testing for the new regulations and legislation associated with EU tyre labelling," comments Elena Sperotto. "The equipment within the Tire Test Laboratory allows us to constantly monitor the performance of our tyres and ensure they comply with all regulations."
The new laboratory is equipped to perform three key testing activities. It can conduct tyre development performance measurements, where all new tyre developments need to successfully pass certain performance criteria. The new lab also conducts regulatory and homologation tests to measure tyre compliance with a large variety of global and international standards, as well as the monitoring of production performance and quality control.    stephen.goodchild@77.237.250.82