A dozen of the biggest Chinese tyre manufacturers exhibiting at Tire+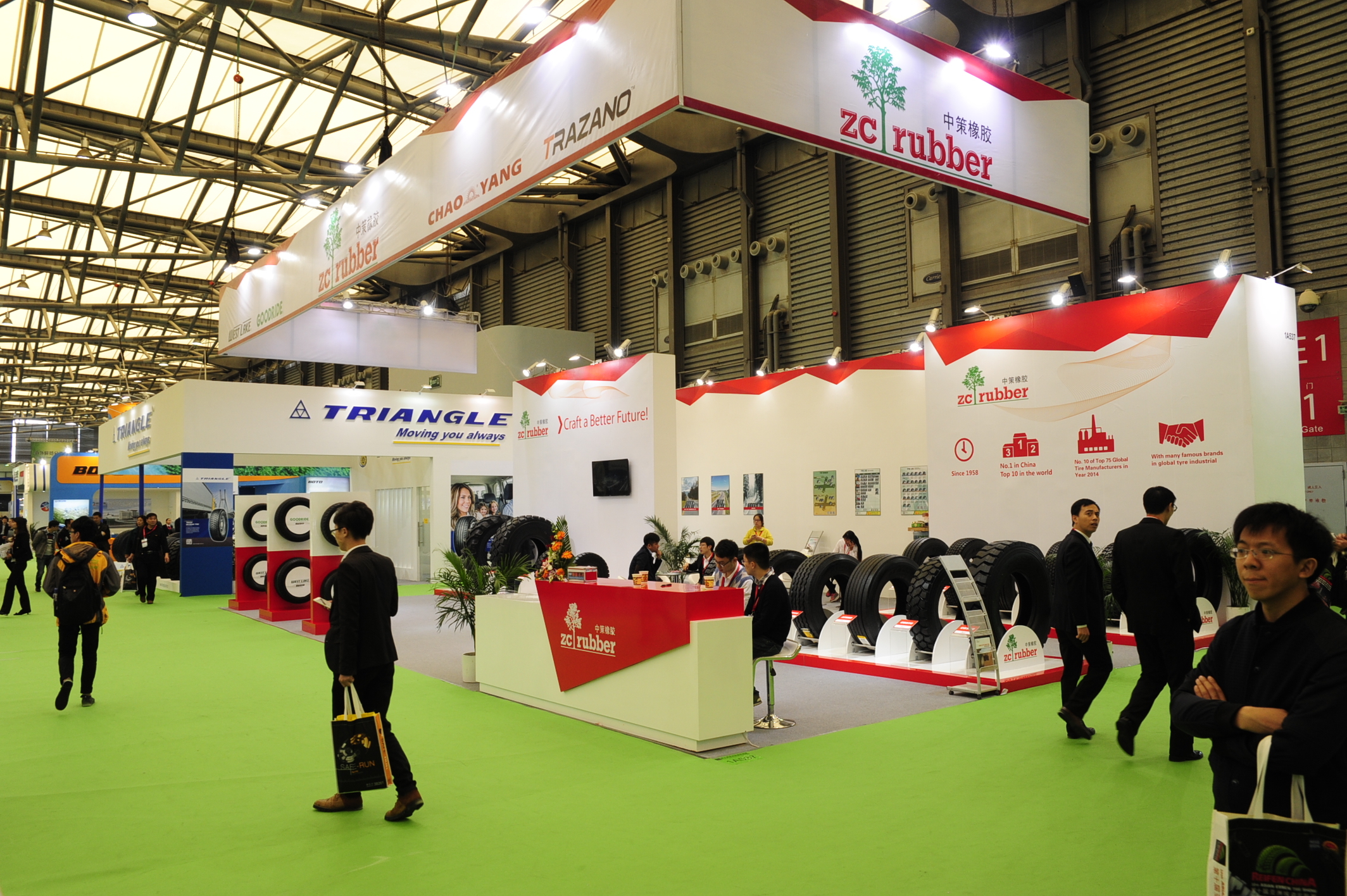 In order to give an impression of the kind of clientele Tire+ is attracting, it worth looking a little closer at the show's exhibitor list. With this in mind here are 12 of the biggest tyre manufacturers exhibiting at the events inaugural show:
China National Tire & Rubber Corporation – is a wholly owned subsidiary of ChemChina, with registered capital of 1.6 billion yuan and assets of 16.8 billion yuan. It was formerly the China National Tire & Rubber Corp, and became the China National Tire & Rubber Co., Ltd., in February 2013. The China National Tire & Rubber Co., Ltd. mainly involves in research, development and operations of tires, rubber, and related products.
Double Coin Holdings Ltd. has listed both A stock and B stock on national stock exchanges and is majority-owned by Shanghai Huayi (Group) Company. The company is a famous for its "Double Coin" and "Warrior" brands and reports that it places a strong emphasis on "technological research and development" especially at the company's state-level technical centre.
Shandong Yinbao Tyre Group Co., Ltd. was established in 1996 and combines tyres and carbon black manufacturing and distribution in domestic and overseas markets. The Yinbao group was awarded as Shandong Growing Company award from the agricultural Bank of China AAA Credit Enterprise. It has also won Shandong Enterprise of Good Standardizing Practice, Shandong Cyclic Economy Demonstration Enterprise awards as well in succession.
Shandong Linglong Tyre Co., Ltd. Founded in 1975, Shandong Linglong Tire Co., Ltd. is a specialized and large-scale tyre manufacturer. Currently known in Europe for its efforts to build a European factory, Linglong has established manufacturing bases in Zhaoyuan, Dezhou, Liuzhou and Thailand. Furthermore, Linglong has R&D centres in Zhaoyuan, Beijing and North America and a testing office in Europe to develop its technology.
Qingdao Sentury Tire Ltd is based in Qingdao, China. Since establishing production in 2009, Sentury has continuously focused on developing and producing "environmental, high performance and best quality semi steel radial vehicle tyre and aircraft tyres". Sentury owns three tyre brands, which are Sentury, Landsail and Delinte. At present, the two factories, which located in Qingdao and Thailand, have 27 million annual radial tire production capacities. However, the first is also building a state-of-the-art facility in the USA.
Prinx Chengshan (Shandong) Tire Company Ltd. is a wholly-owned investment of Prinx Investment Company Ltd. (Hong Kong). Prinx Chengshan describes itself as "a modern enterprise focusing on tyre research, tyre development, tyre testing, sales and marketing." The main plant is located in Rongcheng, a scenic coastal city, with over 5,000 employees.
Zhongce Rubber Group Co., Ltd. – ZC Rubber, as the firm is branded, is expanding from a Chinese-oriented company to a global tyre manufacturer. Subsidiaries located in Southeast Asia, North America, South America are said to be serving customers without time delays or language barriers. There is even talk of a European subsidiary coming soon. In addition, ZC Rubber reports that its newly established Thailand plant will produce "suitable products for local and nearby markets".
Sailun Jinyu Group  continues to grow after the strategic merger of Sailun Tire Co. and Shandong Jinyu Industrial Co. After the merger the group became the first A-listed Chinese private enterprise (stock code: 601058) on the Shanghai Stock Exchange. The group has also established extensive sales networks and logistics centres abroad including Canada, Europe.
Triangle Tyre Co., Ltd.  Formerly known as Shandong Tire Factory established in 1976, Triangle Tire Co. Ltd. was founded in 2001. Triangle Tire Co. Ltd., the main body of Tire Industry Tech-innovation Strategic Alliance in China, has a national technology development centre, a national industrial design centre, a post- doctoral scientific research station, and an American technology research and development centre. Triangle owns the only national engineering laboratory for tyre industry in China.
Guizhou Tyre Co., Ltd. was founded in 1958 and went public in 1996. It's one of the top 10 tyre manufacturers in China and produces truck and bus radials as well as OTR, agricultural, industrial and mining tyres under several brands. As far as brands are concerned "Advance" is Guizhou Tyre's flagship brand.
Shandong Wanda Boto Tyre Co., Ltd. Is located at the beautiful and fertile Ken Li County, Dongying City, Shandong Province, a central city of the China Yellow River Delta. As a leading subsidiary company of China Wanda Group which is one of the 500 top national industrial enterprise in economic strength, Shandong Wanda BOTO Tyre Co Ltd is a largescale of professional tyre production enterprise. It is mainly involved with development, production and sales of truck tyres, radial OTR tyres as well as light truck tyres and passenger car tyres.
Shaanxi Yanchang Petroleum Group Rubber Co., Ltd. is a modern radial tyre company backed by Yanchang Petroleum Group. The firm products more than 200 kinds of truck tyre products including light truck tyres, tube truck tyres, tubeless long-distance tyres, mining tyres, military tyres, and foreign trade tyres as well as 27 sizes, 24 patterns, which are widely used in urban transport, long-distance high-speed transport, mining loading, battlefield trekking and other road conditions.