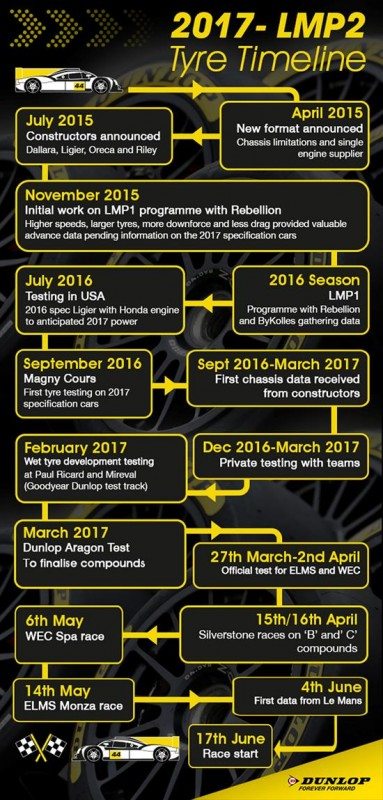 Video: Vincent van Goor explains Dunlop LMP2 tyre development for Le Mans
Dunlop has released a new video with senior engineer, racing car tyre development, Vincent van Goor explaining its tyre development ahead of this year's Le Mans 24 Hours. A record number of LMP2 cars will compete on the manufacturer's rubber – 22 of the 25 entrants. All of the cars are racing on the La Sarthe track for the first time courtesy of new regulations for 2017. The race starts at 15:00 CEST on Saturday 17 June.
Typically Dunlop gathers data over the seasons from car and tyre combinations and the tyre designs evolve; Jota Sport's Mighty 38 Gibson began the 2016 Le Mans race with 80,000km of set-up data. This year the team has just 7,000km of experience and information for its Jackie Chan Racing Oreca. Making tyres suitable for all four new cars has meant Dunlop started from scratch, as van Goor explains.
In the LMP2 class, which has open tyre competition, though the vast majority have chosen Dunlop, the tyre-maker will supply soft, medium, medium-plus, intermediate, and wet specification tyres. 28 dry weather tyres are permitted for use in free practice and qualifying, while 56 can be used for the race.
In LMGTE Pro & Am, Dunlop supplies soft, medium, medium-plus, intermediate, and wet tyres. Two out of 13 LMGTE Pro entries and seven out of 16 LM GTE Am entries have chosen Dunlop. 32 tyres are available for free practice and qualifying, while 60 are supplied for the race.
Unlimited wet tyre use in all classes is permitted only when the race director declares a wet track – wet tyre use unlimited. Tyres used for pits to start grid are not included in allocation, while allocation of tyres for the race will be counted from its start. A three minute stop and go penalty will be served by any car breaching tyre regulations.
Category: Motorsport, Product News